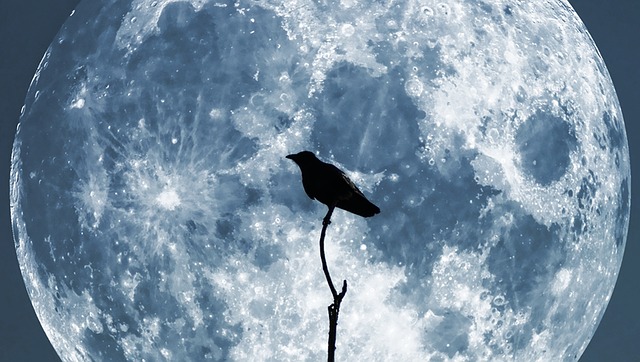 "The idea is to just stop. Just wait. Don't react. Therein lies the whole universe…." ~ Yogi Bhajan
Driving back from a glorious day-trip to the east shore of Lake Tahoe, my friend and I were talking, seemingly without pause, about everything from marital taboos to old loves, mistakes along the path and the existence of God. 
As we zipped along, I saw something flicker from the left of the highway.
Right. Into. My. Windshield. 
It was a blackbird. We circled back to make sure it wasn't suffering and then continued on. Isn't there some law of aerodynamics preventing this from happening?
Just as our moods began to lighten again, a second bird bounced off my windshield. I fought back tears and my friend's wide eyes screamed Oh my god, what is happening? We wanted some pseudo-spiritual answer about signs and symbols and messages from the Universe. Two dead blackbirds in ten minutes. We were silenced. 
Once home, we referenced Native American animal medicine cards. Under Crow it read:
There is a medicine story that tells of Crow's fascination with her own shadow. She kept looking at it, scratching it, pecking at it, until her shadow woke up and became alive. Then Crow's shadow ate her. Crow is Dead Crow now.
We had been trying to solve a host of problems over my friend's week-long visit; her recent divorce, several heartbreaks, an impending move.
The crow's message was clear: Stop looking to why something happened. Stop trying to solve the problem. Stop scratching at the scab. There is no problem. Staring at the shadow too long will only make you believe that you are in darkness.
The fact is, we only see our own shadows when we are looking in the opposite direction of the greatest source of light.
Sometimes, things come out of nowhere—make no sense at all, seem to challenge basic laws of nature, such as gravity and velocity—and slam with shocking force. Whether a suddenly strained relationship, unforeseen illness, a death or the loss of a job, it can feel like a high-impact crash.
These shocks are our best opportunities to snap to a waking state. Shadows remind us to get present, to lift our eyes off the ground and look in the direction of the brightest spot on the horizon.
No amount of dissection will take us where we want to go. Rather, tuning in to now and moving with crystal clear presence will lead us faultlessly to our desires.
When something hits your windshield—the marriage falls apart, the job is terminated—try to be still and allow your heart to rule. Don't react. Don't dissect. Just feel every emotion and trust that your infallible intuition will clear the way to your destination.
Every day we have the choice to live in shadow or embrace the future with full confidence that we are on target. High impacts will undoubtedly change us. We must remember that they are opportunities to come into our own light and greatest good.
~
Author: Brandy Kolmer
Editor: Caroline Beaton
Photo: Pixabay
~
Facebook is in talks with major corporate media about pulling their content into FB, leaving other sites to wither or pay up if we want to connect with you, our readers. Want to stay connected before the curtain drops? Get our curated, quality newsletters below!