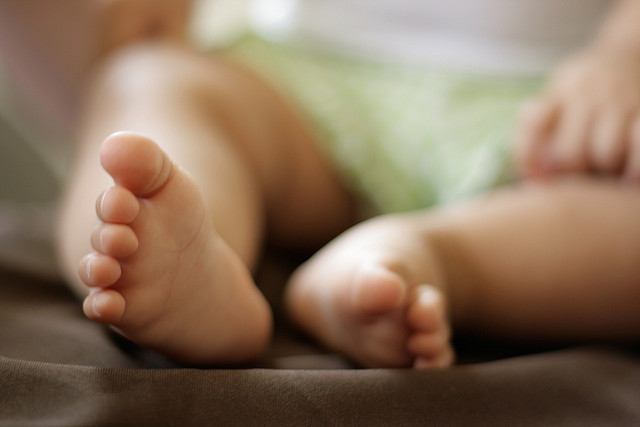 My third daughter was born six weeks ago.
I am back to my exercise regimen, regular sex with my husband (since week two) and full time work (from home). I have 10 pounds till I am back to my pre-prego weight, and I'm finding it easy to lose.
How'd I do it?
Kicking and screaming (and crying, of course!).
Anyone who's had a baby knows, things do not "go back to normal" easily—or sometimes, ever! In fact, with my first daughter, I wasn't ever planning to go back to any of the activities above.
Six weeks after my eldest daughter was born, she was still sleeping in the same room as my husband and me (despite the fact that we had space and were not philosophically in alignment with that strategy). I was still carrying 20 extra pounds. I had set up a little childcare here and there so I was squeezing work in "when I could," and I was still totally frazzled trying to balance everything. Sex? Ha! It wasn't even on the radar.
And worse, I was totally justified. After all, I was exhausted. I was responsible for a new life. And nobody else had seemed to figure out how to do it any better.
Well, that's not actually true.
I knew this one other person who actually seemed to have it together, and we had had our babies within a month of each other. Six weeks out, she was happily back at work, her kid was sleeping through the night within the first month or two, she was back to her fighting weight and her relationship looked like it was better than ever. She didn't even seem tired.
That was Lauren Zander, inventor of The Handel Method®, who happened to be in the same parenting group I was in. I hired her to coach me when I realized the completely different realities we were living in.
So, she started teaching me about her reality.
In her reality, it was okay to plan out a baby's general day—feeding and sleeping patterns, you name it—instead of planning the day around them. In her reality, it was okay to prioritize and make sure she rested. It was okay to ask for, pay for and receive paid and unpaid help. In her reality, "food" did not serve as comfort, taking actions did. In her world, having a baby wasn't an excuse to abandon her bigger purpose or her commitment to her husband.
Man, I wanted that. But I knew I had many obstacles to overcome. Interestingly, they are the same ones I have battled for the last 6 weeks, too!
My inner "brat."
This is the voice in my head that justifies watching TV late at night because a baby crying "is stressful," and then justifies eating cookies because I deserve them—rather than figuring out how to help my baby get to and stay asleep. There are methods, many of which work with persistence, just like anything else. My inner "brat" says, "I'm up late anyway! Might as well watch one more episode of House of Cards!"
My inner "chicken."
This is the voice in my head that doesn't want to say "yes" to help, because what if it means I am not good enough, or I am judged by others? I'm trying to work as much as I did pre-baby and don't need to be juggling so much so soon. When I do ask for help, it's not in a nice way. So consumed by fear and self-pity, this voice of the chicken backs up the brat and keeps me tired, trying hard, sad, powerless to change my circumstance and a little nasty.
My inner "weather reporter."
This is the inner voice that looks around and observes many postpartum women with the same struggles and uses that to justify "how it is." Just like it's always hot in August, it's always hard to "get your life back" with a newborn. Because this is just the way it is in general, there is nothing I can do, I say to myself. And since I believe it "is hard," I don't look for solutions, and I stay stuck.
This time around, I knew what I was up against the first six weeks after having a baby.
But I also knew that I had the option to choose a different reality.
I used what I know about designing my life and making promises to help insure that it was the voice of my true ideals that guided my actions, not those other inner voices I mentioned above. I envisioned all the elements I wanted for the "first six weeks" in advance and wrote them down.
Then, I came up with a plan that would get me there. I made food rules and promised to start exercising again after six weeks. I made the rule to make "sexy" time with my husband once a week at first, now twice a week. I asked for, accepted and hired help. This made it possible for me to really focus on work when I was doing it, and focus on my baby when I was doing that.
Seems simple, but it was a big deal to me.
These are such practical, logical, simple agreements to make—and they altered my reality.
Committing them they did more than just help me lose weight, connect with my husband, continue with my work and care for my new baby. These promises to myself helped me remember my power. Not just my power over the pitfalls of postpartum calamity, but my power to change and improve any aspect of my life.
I'm not fully "back to normal" yet and that's cool—I am loving the process of watching this new life take shape, both literally and figuratively! And, of course, I'll never be out of the woods when it comes to monitoring and quieting those negative voices (everyone has them sometimes!), but I can no longer pretend that I'm powerless over them.
This is the example I wish to set for my daughters, and women everywhere.
 Relephant Read: 
Author: Laurie Gerber
Editor: Emily Bartran
Photo: Robert Valencia/Flickr
Facebook is in talks with major corporate media about pulling their content into FB, leaving other sites to wither or pay up if we want to connect with you, our readers. Want to stay connected before the curtain drops? Get our curated, quality newsletters below!