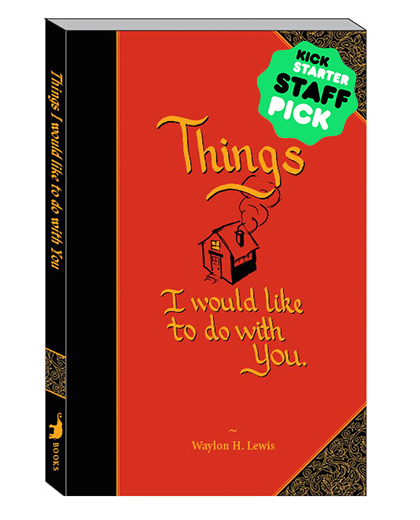 Read the first chapter, you might like it: 
"The simplest things are often the truest." ~ Richard Bach
I would like to go a way's away, to a Cabin, and I would like to look you in the eyes, and you look me in the eyes, as lovers do, a soft invisible smile, quiet, warm, calm. I would like to not come back for ten days (ten days is not long enough, but it is longer than I have taken for myself in eleven years). It would be a first visit, a return to the woods of my youth. I can cut wood quite well, and show you how. I can pick too much mint, because I am distracted by you. The mint is strong, almost bitter, in the wild.

I would like to walk with you in the moonlight. The grass is wet. I can see you clearly in the dark, only you are black and white, but I cannot see how the gate opens, so I have to feel for it, and the ground is uneven so…walking, talking, listening to and with you…I walk left then right, as if tipsy. The ground is not flat out here, and I love you. I mean, I love that about nature: it is uneven.
I would like to love you, but I do not know you, and I value space more than even love, for in space we can play. I would make a fort in our cabin out of sheets and we can go inside and just lie there. I am looking at you, into you, and you are looking at me, into me. And we could read a paperback. I have a good reading voice. And we could have a fire, though it is not cold, but it would light up the fort, flickering, warmly, with shadows of our future. I would like to love you and you love me, for love can only be shared, but my luck does not run that way, these days, or for awhile, and I have a feeling that I will not love and be loved again until all my luck is run out.
"A good traveler has no fixed plans, and is not intent on arriving." ~ Lao Tzu
I would like to talk with you about things I care about that others do not care about because they do not care about me, and hear you care, not because you care about me, but because you care about the things I care about.
I would like to listen. I could do it half the night, hour turning over hour, until I fall asleepinyourwords. I need make up time: I need to listen and breathe and take you in and just…read the rest, here.
Get my first book here.
Nearly two years after writing my first word of Things I Would Like to Do with You., I am happy, nervous and excited (with help from my friends) to have just launched a 29-day Kickstarter to
1. print Things on ecopaper at one of the last great American printhouses.
2. If successful, I'll book tour it…
3. and launch Elephant Books, which will pay elephant authors 5x what conventional publishers pay authors.
Join: Things I Would Like to Do with You. on Facebook to see the video that elephant's videographer Meredith Meeks has worked so lovingly on.
My first book has been tough to write, and easy to write, but always vulnerable and fun and, even, beautiful. I felt a joy in being a part of it—it's far better than I am, day to day.It's not about me—it's about our love, our longing for love, for a love that is not a Mad Men claustrophobic you-complete-me love but a love with space, appreciation, room for change, a sense of humor, even an edge of tenderhearted sadness. It was written as I approached my 40th birthday as a contemplation of love, and what I have learned, and what I long for, and it is something like poetry, or fiction, or an autobiography—whatever it is, I hope it's a pleasure to read and you'll help me by reading it and seeing me on my book tour, and our indie book publisher. It's all up to you—I'd be honored if you even checked it out.


Waylon Lewis
Editor-in-Chief: elephant journal; host: Walk the Talk Show