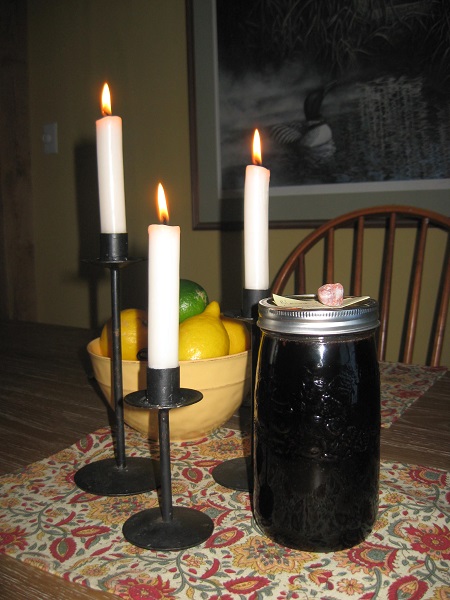 Author's note: This is a beginner's tutorial on tincture making. Not intended as medical advice. Do not harvest any plants unless extremely well-versed in plant identification—there are many poisonous varieties of Sambuca.
~
I love the idea of "simples" for well-being.
As a nutritionist, I often recommended remedies to my clients—various vitamins, salves and supplements that could form part of their healing journey.
There were several reasons why I began to look to tinctures as possible remedies.
1. They were often created from one ingredient, easily made or sourced, easily absorbed by the body and required the uncomplicated ritual of a recommended amount of drops in water, taken once daily. Anyone can do that.
2. They allowed the body to work with one botanical at a time. Quite often, less is more when it comes to creating a shift from illness to health. Our bodies and psyches understand the one to one communication between the sacredness of one plant and the organ or system that needs adjustment.
3. Tinctures are not expensive…generally. The healing powers of Nature must be available to all. It was a painful process for me to know that most clients could not afford the remedies they needed.
And so, my journey into simples began, bolstered by the belief that the inner intelligence of the body would respond to the essence of one plant at a time.
So what exactly is a tincture?
A tincture is an herb or plant prepared in liquor such as vodka, brandy or vinegar. They act very quickly when taken under the tongue, can last for years once prepared, and are inexpensive to make.
Recently I made some immunity tincture from Sambucus Nigra, or Elderberry.
Recorded health benefits of Sambucus Nigra are as follows:
> Antioxidant activity
> Lowers cholesterol
> Improves vision
> Boosts the immune system
> Improves heart health
> Helps with coughs, colds, flu, bacterial and viral infections and tonsillitis (Bioflavanoids and other proteins in the juice destroy the ability of cold and flu viruses to infect a cell).
I remember being fed Elderberry juice as a child in Europe every winter to keep colds away. My grandmother got it from an herbalist (read: gypsy) who was the trusted medicine woman in our village.
I was not able to gather fresh last fall as I was away when it was in season in the wild, but a friend gathered and dried some and I used that, but prefer and suggest using fresh berries.
When making a tincture from dried plants, use 60 grams of plant material to 300 ml of vodka.
1. Add plant material to a sterilized canning jar.
2. Fill with vodka, (100 proof is best), make sure all the plant material is covered, cap the jar.
3. Label clearly, plant name, date and type of liquor used.
4. Check levels of liquor the next few days and add more if needed (them fairies get thirsty!) Plant material must stay covered.
5. Allow mixture to stand for six weeks or so, I like to put up when the moon is dark and decant when it is full. This might not always work out, but you can work towards that.
6. When ready, strain and store in a clean jar. Check with a certified herbalist as to the dosage right for you.
When possible, I like to create my own remedies because I enjoy the process, but then again, when needed, I purchase tinctures from reputable companies at my local health food store.
~
Author: Monika Carless
Editor: Emma Ruffin
Photos: Courtesy of the author
~
Facebook is in talks with major corporate media about pulling their content into FB, leaving other sites to wither or pay up if we want to connect with you, our readers. Want to stay connected before the curtain drops? Sign up for our curated, quality newsletters below.