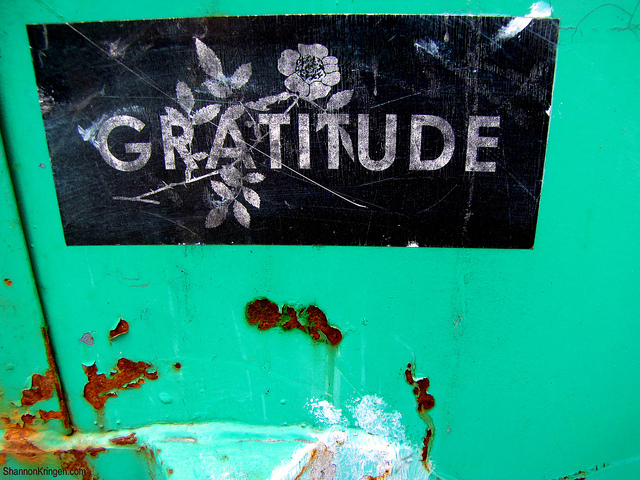 Recently my husband, Oded, and I began a gratefulness practice.
Each morning and each evening, we tell each other three things we are grateful for. We share big themes and also small details. In the first few days of this practice, I told Oded that I was grateful he made my morning coffee, that he sang our children to sleep at night and that he kissed me often. He told me he felt grateful to sleep next to me at night, for my butternut squash soup and also for my patience.
The theory is that if we do this consistently, we will feel ten percent happier. Oded and I generally try to live intentionally, but with a move from Boston to Tel Aviv on the horizon, this practice seemed even more urgent.
The second part of the exercise is to list fifty things that we are grateful for over two to three minutes. It's designed to make you write fast so that you won't think too hard. So I sat down with my morning coffee, a blank piece of paper and a pen.
I didn't write super quickly, but I did write whatever came to my head. I ended up with a list that included the following: hearing my children's voices when they first wake in the morning, drinking good coffee and going for walks (by myself and with the kids). What I realized from the list (and what I assume the exercise was intended to teach me) was it's the little things that make your day happy.
Now that we are on the other side of the ocean, continuing this practice helps our family in five specific ways:
1. Without a house, your bed becomes home: We moved from our two-bedroom apartment in Boston and have taken our almost four-year-old and two-year-old on a two-month adventure. We sleep everywhere from hotels, planes and floors to Oded's 88-year-old grandmother's house. The only place and space that we have to connect and talk about the highs (and the lows) of the day is in bed. Instead of sharing our thoughts over the breakfast table, we found the only place that is ours and use it.
2. Creating new forms of alone time: When living with extended family, alone time vanishes. Kids are one thing—they nap, they go to sleep early, they let me push them endlessly in our double stroller. But traveling together is a whole new thing. Rather than talking about what we are grateful for when Oded and I are alone (because we are never alone!), we point out gratitude for small, random things during the day—when my kids are laughing or when some endless bureaucratic process resolves itself. The practice of sharing these moments has left the confine of the two of us and has entered the familial realm.
3. Turning negative into positive: Even though I have been to Tel Aviv countless times, there are lots of things that are hard for me. It is easy to focus on the driver who was so busy with her phone that she literally rolled into us at a light or the constant effort to avoid stepping in the dog poop that populates the sidewalks in maddening amounts. Rather than dwelling on these things (which are seemingly unchangeable), it helps to talk about the good things: the beautiful weather, the delicious ice cream and the very fresh vegetables.
4. Putting words into action: In a time where things feel stressful and overwhelming, knowing what Oded and I are grateful for helps us actually do those things. I know that he loves drinking his coffee in bed before actually waking up and I can make that happen, even in our impermanent state of housing. He knows that I need a little real alone time to start the day balanced, so he lets me escape for a morning walk or run while the kids wake up and eat breakfast. Because we know what makes the other smile, we are able to help each other with small actions when the big day seems daunting.
5. And when all else fails, practice makes perfect: There is something to the notion that a practice is not actually a practice if you don't do it. Even after our two-year-old daughter ran up and down the halls of our small apartment giggling until two in the morning, we managed to wake up and ask each other the question: what are you grateful for today? We were grateful for the sun coming through the window, the sounds of morning noises from the street, and we were grateful that she finally, finally fell asleep.
When Oded and I decided to get married, we wrote our own marriage contract (the ketubah traditionally used in Jewish wedding ceremonies). We wrote that we wanted our home to be a welcoming place with food and music, a place where were thoughtful about the world and justice and that we wanted to always be respectful and supportive to each other. With our home moved so drastically from one place and way of living, this practice of being grateful, of reminding each other of our intentions, is indeed helping our actions.
~
References:
~
Author: Abbey Onn
Editor: Caroline Beaton
Photo: Flickr
~
Facebook is in talks with major corporate media about pulling their content into FB, leaving other sites to wither or pay up if we want to connect with you, our readers. Want to stay connected before the curtain drops? Get our curated, quality newsletters below!