If there was ever an article I didn't want to write, it is this one.
Why? Because the subject is negativity, a force I energetically try to distance myself from at every opportunity. Nevertheless, this needs to be written. It is a sad story about America.
Last week I had the opportunity—largely based on my being a white, middle class, educated American, to hike in some bewitchingly beautiful Arizona locals; Camelback, Pinnacle Peak and North mountains in and around Phoenix, the south rim of the Grand Canyon including Bright Angel Trail and the Rim to Rim trail, and most arduously, to Havasu Falls, a less well known destination which involves an 11 mile grind down into and within a desert canyon to reach the storied blue green waters of the Havasupai, an ancient Native American people.
I really cannot overstate how intensely beautiful and unique Havasu is, and am including a few snaps here just to give you an idea.
The first picture shows the massive canyon walls as they soared above us on all sides. The second is the initial series of falls and aquamarine pools which hint at the majesty to come, and the third is of Mooney Falls, the largest of hundreds of waterfalls lining the far end of the canyon.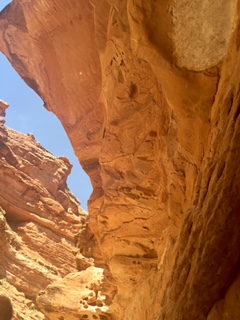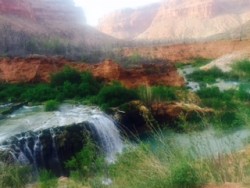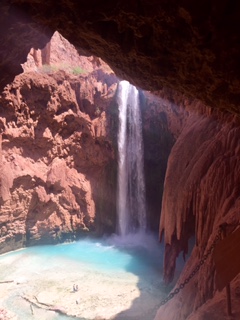 Note the two tiny people at the bottom of the third shot—that's how immense these falls are. The color of the water is created by lime deposits, and I'll tell you that I have never seen anything quite like it in all my travels. It redefines "magical."
So what's the problem, you say? Sounds like a cool trip, a memorable spring break—all good, right?
Wrong.
Roughly nine miles into the Havasu trail, hikers come upon what's known as "Supai Village." This is the settlement of the Havasupai, a people who have lived here since well before America even existed. They are, in fact, the only Native American tribe who fought for and won the right to remain on their tribal land. For that reason and countless others, they have a heritage of which to be extremely proud.
But "proud" is the last thing they seem to be.
Upon entering the village we saw decrepit houses, filthy and diseased stray dogs, mules so thin they looked like x-rays tied up to rotting cars, and most notably, the angry, silent faces of the locals. Their contempt and dislike for us was palpable.
My family and I straggled into the lone hotel hoping we might find a kinder reception. The two women behind the desk did not even look up when we entered, but sat, stony faced and rigid while we stood there. After a long uncomfortable pause and several repetitions of "excuse me?" one of them finally grunted an acknowledgement of our presence. We handed over about $800 in cash for two nights, were thrown a big plastic key, and filed out in relief.
We still had no idea what we were in for.
We had two adjacent rooms on the ground floor of what looked to be a decent building, though it was surrounded by warped chain link fences and bald patches of earth. Above us, the ubiquitous canyon walls leaned in, red and striated, heavy with timelessness.
We let our kids in the first room without incident and went to our own door, which looked as if it had been on the wrong end of a punishing altercation.
We had to kick it just to get it open and we quickly discovered the lock was broken. Behind the door was a pile of dirty linens which had evidently been forgotten the last time the room was "cleaned"—a good thing in the sense that it stopped the door from banging into the wall as we went inside.
We dropped our backpacks on the ground and looked around, noticing that there were what seemed to be bullet holes over one of the beds. They were easy to see because the headboard which might have covered them had for some reason been removed and was shoved against a ratty, sagging couch. In the bathroom, we found mold crawling all over the ceiling and towels that looked a lot like rags amid a burgeoning population of strange long legged insects.
The Four Seasons, it was not.
Nevertheless, we weren't there for the accommodations, and were sincerely grateful just to have any kind of roof over our heads. We washed up and decided to venture out into the village and explore.
Our first stop was the general store, the only place to buy anything including food, except the restaurant across the dirt road. The store was in terrible disarray, and was semi-stocked with dusty boxes of cereal, tons of junk food, soda, cheap t-shirts and a few downtrodden looking bits of produce on one shelf of a small refrigerator.
It would soon become clear why almost everyone who lives in Havasu is morbidly obese: just like most low income public housing everywhere in the U.S., this place is a food desert.
Unhealthy food is not only cheaper and more filling, but more readily available than healthy food, making it the go-to choice, meal after destructive meal. Particularly here, in a place so remote it is inaccessible by car, and people must either hike in and out or take a mule or a helicopter, the ability to maintain any kind of sound diet is next to impossible.
The restaurant was no better, with a menu almost entirely comprised of fried, processed food. The only two vegetables offered were the iceberg lettuce in the side salad (which also came with ranch, cheddar cheese and croutons) and the Gardenburger, which was served on a white hamburger bun with pile of French fries.
More striking, though, than the poverty and the obesity of the people of Havasu, was their abiding negativity.
Here is where the chorus will rise, indignant, at my observation. Native Americans have been exploited, displaced, deprived of their culture, their land and their pride and have been systematically oppressed by the American people and government. Despite meager attempts at reparations, there is really no other word to describe what has happened to them than genocide.
I understand this. But what I saw was a community marinating in its own hatred and resentment—a community that has a real opportunity to turn things around based on a hand they were dealt which includes their magnificent surroundings, but which chooses instead to succumb to anger, laziness and squalor.
From the general store cashier who literally whipped a paper bag at me, to the little girl who told me to watch out or she'd make her dog bite me, to the guy in charge of the helipad who refused to speak to me or answer any questions about the helicopter price, schedule or seating capacity, to the waitress at the restaurant who got so agitated when I asked for my order to go that she stomped off into the kitchen never to return, to the profane graffiti that has been carved into genteel old Cottonwood trees, to the horse which was bleeding under it's harness, obviously starving and being beaten by his rider—the entire culture feels broken.
It was profoundly sad.
But despite the fact that the people of Havasu have some undeniably good reasons to feel desolate, angry and resentful, the truth is they are simply hurting themselves. Anytime we choose to live in negativity we are creating a self fulfilling prophecy—and denying our own power to create a new reality.
I don't know what the answer is for the Havasu Nation, nor would I pretend to, but I do know this; every single day, each of us, no matter what the circumstances, has choices to make. Some choices are easier than others. Bucking the trend in Havasu would be a much taller order than say, me choosing to write this article.
But I still believe it can, and should be done.
I wept for the people I encountered in that red rock canyon—a community so obviously disconnected from its true self that only chaos and despair remain. May it always serve as a reminder to me to cherish my own blessings and pray for the peace and healing of every being far and wide.
Relephant:
Author: Erica Leibrandt
Editor: Catherine Monkman
Photos: Jeremy Stapleton/Flickr, Author's Own
Facebook is in talks with major corporate media about pulling their content into FB, leaving other sites to wither or pay up if we want to connect with you, our readers. Want to stay connected before the curtain drops? Sign up for our curated, quality newsletters below.