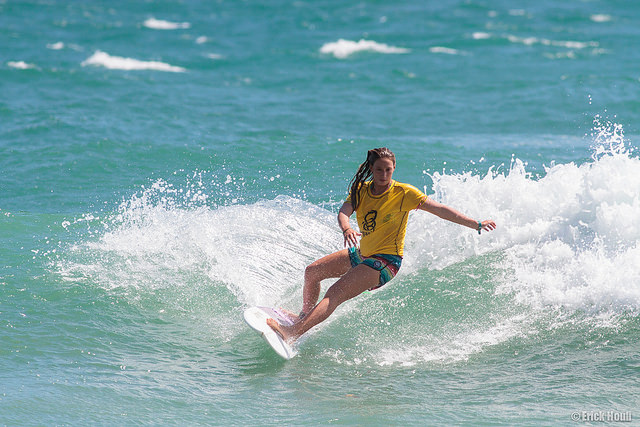 "Always be a beginner at something." ~ Marianne Williamson
I set an intention for 2013 to be my most fearless year yet.
As fate had it, I spent the last months of 2013 surfing my way through Central America: just me, a surfboard and a backpack. Now, if I was an experienced surfer perhaps this wouldn't be such a big deal; but the intention was to go from being a beginner, with experience in a beginner break in my hometown of Cape Town, South Africa, to being proficient enough to surf wherever I found myself. 
I hit the road with a brand new board that I used for the first time on a remote island off mainland Panama. The first day out was exhilarating and scary. The waves were bigger and more powerful than anything I had surfed and I hadn't even begun to contemplate the challenge of surfing a board more than two feet shorter than anything I'd used before. 
It was tough and very, very intimidating.
I found myself in similar situations many times during the seven months I was on the road. I was bruised, battered and dunked repeatedly. In this time, surfing also became an incredible teacher. Each day I discovered something new, and most of it had absolutely nothing to do with the act of surfing itself. 
It turned out, surfing is a lot like life: if I wanted to succeed, I had to be willing to be scared; I had to be willing to surrender to a power that was greater than me; I had to accept all that was happening and all of who I was.
Sometimes it was spectacular. Other times, not so much. One session I could do no wrong; the next I felt totally incompetent. Those moments when I got it right, when it all came together perfectly, I'd wonder how and when that happened—as though practicing for hours every day had nothing to do with it. 
It was the constant change that taught me the most. Nothing was predictable. I'd find myself vacillating between hating surfing and loving it. Sometimes, whilst riding a single wave. Upon reflection, this revealed a clear pattern that I look external circumstances personally, and I allowed this to determine whether or not I enjoyed myself.
Of course the ocean is not personal. An insanely big set didn't roll in simply to upset me. Rather, it is the nature of the ocean and I had chosen to enter it. I was left with two choices: accept what was without judgment and continue surfing, or get out and give up. It is the same with life. Too often we judge a situation, struggle against what is, take things personally.
Our moods are in a constant state of flux as a result of what we experience. 
While I have long known intellectually that what I experience is impersonal and that the best way to go through life is with a sense of detachment, surfing has shown me how to do that. It has literally enabled me to go from theory to practice.
The poundings, as I call them, took their toll; there were times I'd hesitate and miss waves solely because I was afraid. On more than one occasion, I was dumped so badly and repeatedly that making it to the surface before I ran out of air felt somewhat uncertain. 
I never expected one of the greatest fears I'd face as they year came to an end would be of the ocean—a place I had always loved without reservation.
In those moments of angst I'd consider giving up. But, somewhere along the way, it had all become very important to me. And I realised it wasn't actually about surfing. Rather, it was an exercise in determination. I felt that if I could keep going, I would grow stronger and be better able to cope with the 'tough stuff' in life. I'd know I could face fear head on and thus diminish the power it held over me. Ultimately, I'd have greater courage.
Being a beginner challenges and tests us. This is how we grow. Herein lies the beauty of dedicating oneself to something new, something that isn't easy. These beginner things, trivial as they may seem, can be our best teachers. 
I chose surfing.
It is the hardest thing I have ever tried. I didn't give up. As long as I continued to grow (and have fun), I kept going. I learned more in those seven months than I had in years.
Is there anything you've always wanted to learn? Why not start now?
~
Author: Bianca Marks
Editor: Caroline Beaton
Photo: Flickr
~
Facebook is in talks with major corporate media about pulling their content into FB, leaving other sites to wither or pay up if we want to connect with you, our readers. Want to stay connected before the curtain drops? Get our curated, quality newsletters below!