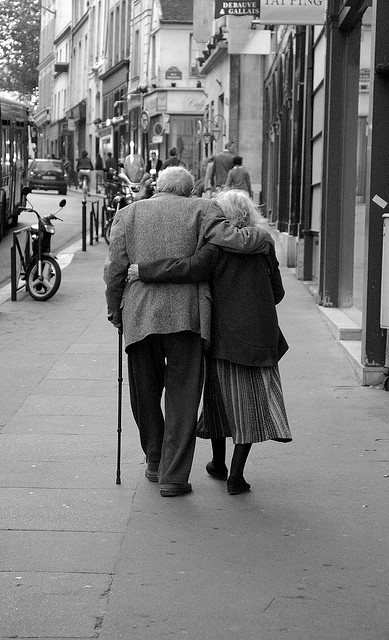 I asked a question once, and I don't think I asked it clearly. A little voice at the bottom of my mind has continued to wonder…
Will you still want me when we're really old?
Not older, or aging, or "mature," but really, truly old.
Will you kiss the deep grooves around my lips with the same reverence as you now kiss the smooth skin of my stomach?
Will you stroke the thick-veined, paper-soft backs of my hands with as much tenderness as you now caress my muscled, stubborn back?
Will your body reach for mine with the same instinctive longing; your heart for my heart with equal passion?
Will you still want me when I am really old—
When we have turned the pages of the calendar seven-hundred times;
When we have sat down to supper twenty-thousand nights;
When we have wandered dozens of years through the labyrinth of existence?
Maybe you will forget my face first; maybe I will forget yours.
Perhaps I will lose the physical strength I so cherish, or perhaps it will be yours that suffers.
One thing is certain:
One day, our pace will slow; our steps will falter; our thoughts will cloud.
If our bodies soften, shrink and fade, and if our minds do the same, will you still want me?
Will that part of you that does not shrink—that does not fade—burn with undiminished intensity and reach for my hand in the dark?
Where will you hold your love when everything leaks?
I will kiss the space between your eyebrows when it is heavy with decades of memories. I will reach for your hand when there are no more calendar pages to turn.
I will hold my love in the space between us that is older than our bodies and minds and never leaks.
I will still want you when we are really old. Won't you?
Relephant Read:
Author: Toby Israel
Editor: Emily Bartran 
Photo: Flickr
Facebook is in talks with major corporate media about pulling their content into FB, leaving other sites to wither or pay up if we want to connect with you, our readers. Want to stay connected before the curtain drops? Get our curated, quality newsletters below!