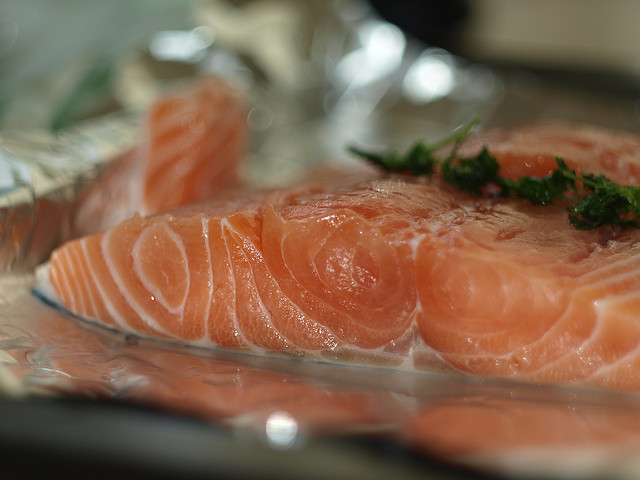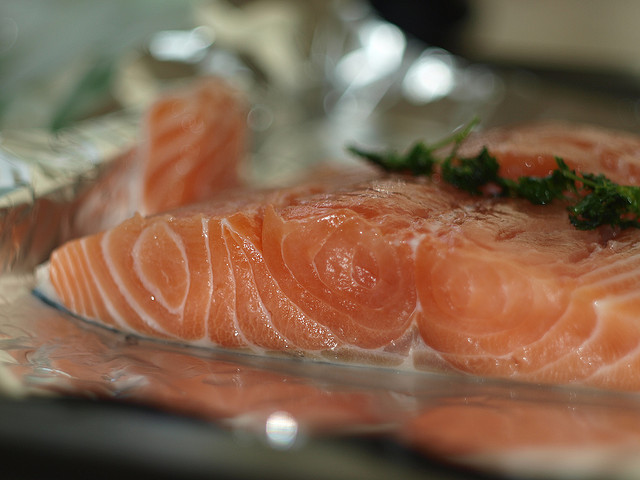 Salmon is one of the healthiest types of food on the planet.
It packs loads of vitamins and minerals, and it might even help prevent the development of several diseases.
Chum, sockeye, Chinook and Atlantic salmon are some of the most common. Whether poached, grilled, broiled or baked, the fish is delicious.
Here are 5 easy recipes that will satisfy even the most carnivorous guests.
Salmon with Couscous and Sautéed Tomatoes
Simple and delicious, this recipe with leave guests speechless. Ingredients:
couscous (1 cup)
grape tomatoes (3 pints)
black pepper
kosher salt
olive oil (2 tbs)
dill (chopped, ¼ cup)
skinless salmon fillets (4 pieces, 6 ounces each)
Check the couscous package for directions on how to cook it, and follow them attentively. Then, grab a large skillet and heat it with 1 tbs of olive oil over medium-heat. Add the tomatoes and cook with kosher salt until they become soft (for about 4 to 6 minutes). Transfer the sautéed tomatoes to a plate.
Season the salmon with salt, pepper, and olive oil, and cook in the same skillet in the remaining oil from the tomatoes. Let the fish roast for about 5 minutes per side. Now grab a plate. Add couscous, the salmon on top and tomatoes on the side. Enjoy!
Roasted Salmon and Pesto Veggies
For this easy yet delicious recipe we need:
bell pepper (2, thinned sliced)
red onion (1, thinly sliced)
bread (4 slices)
olive oil (2 tbs)
skinless salmon fillets (4 pieces)
pepper
kosher salt
pesto sauce (1/4 cup)
The pesto sauce can be bought or made with basil leaves, walnuts, garlic, olive oil, parmesan cheese, salt and pepper. Make the over has been pre-heated to 4500F.
Grab a rimmed baking sheet and toss the bread, peppers and onion in with a drill of olive oil. Then add the salmon fillet to the mix. Season with salt and pepper, and roast until the fish has become opaque.
This shouldn't take longer than 8 to 10 minutes. Serve on a plate with pesto on top.
Salmon Tacos and Cabbage Slaw
Who doesn't love tacos? This reinvented recipe with salmon will definitely make an impression.
The ingredients:
skinless salmon (1 pound, fillet)
cumin (1 tbs)
salt and pepper (3 tbs)
olive oil (2 tbs)
chopped avocado (1)
red cabbage (thinly sliced, 2 cups)
lime juice (3 tbs)
corn tortillas (8 pieces, warmed)
cilantro
Season the fish with salt, pepper and cumin, and cook in a nonstick skillet with 1 tbs of olive oil for about 6 minutes on each side until it changes color. In the meantime, mix the avocado with cabbage, lime juice, olive oil and salt. Grab a tortilla, and fill it with the cabbage slaw and salmon.
Add cilantro at the end.
Spicy Salmon with Rice and Bok Choy
Don't get intimidated by the fancy name of this recipe. In fact, it is incredibly easy to make. The ingredients:
long-grain rice (1 cup)
honey (1 tbs)
soy sauce (1/4 tbs)
red pepper (crushed)
salmon (skinless, 4 fillets)
baby bok choy (1 pound)
For those who haven't cooked with bok choy before, the ingredient is a type of Chinese cabbage that is available in numerous sizes and shapes. Grab a pan and cook the rice according to the instructions on the package. In the meantime, mix the soy sauce with honey and red pepper.
Broil the salmon on a rimmed baking sheet until it becomes opaque.
The recommended time is 7-8 minutes on each side. In the last 3 minutes pour the honey mix. Cut the baby bok choy in quarters and steam them until they become tender (for about 8 minutes). Serve with the cooked rice and salmon. Bon appetite!
Buttery pasta with leeks and salmon
Pasta, in almost all recipes is delicious! But in this salmon and leak recipe, the taste is truly unbelievable. Ingredients:
spaghetti  (3/4 pound)
salmon fillet (1 pound)
black pepper
kosher salt
unsalted butter (4 tbs)
leeks (2, sliced)
chives (chopped)
First we cook the pasta according to package instructions. This should take longer than 8 minutes. During the boiling process add salt to give the paste a pre-taste. Afterwards, season the salmon with kosher salt and pepper.
The fish is cooked in butter on a skillet over medium heat for 6 to7 minutes per side. Remove from the skillet, and add the leeks.
Cook for another 4 to 6 minutes until they become soft and tender. On a plate, toss spaghetti, the cooked salmon, chives, the remaining butter, and leeks. Enjoy!
Author: Peter Smith
Editor: Renée Picard
Photo: Steven Zolneczko at Flickr