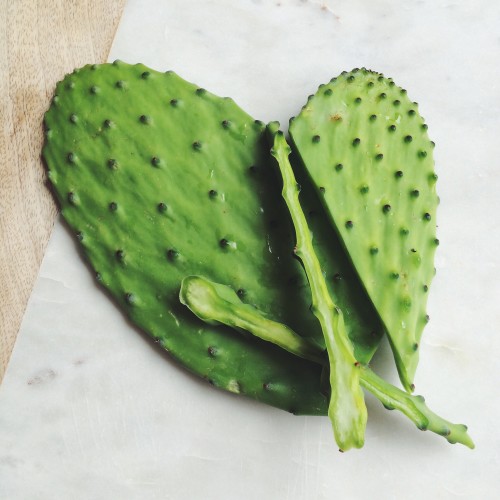 After scoring some sweet cactus pads at my local organic food store, I've been experimenting with all sorts of green smoothie adaptations.
Cactus pads are surprisingly low in calories, while high in fiber, vitamins and minerals—essentially, the perfect addition to your regular juice or smoothie mix.
In this recipe, I paired my cactus pads with bee pollen. If you've yet to add bee pollen to your smoothies, you should try it out. Bee pollen is rich in proteins, amino acids, vitamins and antioxidants, and is also a natural energizer.
These two ingredients complement each other well, in both nutrient value and taste.
Cilantro-Lime Cactus Pad Juice with Coconut Water and Bee Pollen
1/2 cup coconut water with pulp
1 cup chopped cactus pads
1/2 cup diced cucumbers
1 tablespoon fresh lime juice
1 tablespoon chopped mint
1-2 tablespoons agave syrup
1 teaspoon chopped cilantro
1 teaspoon organic bee pollen
Combine all ingredients in a blender and puree until liquefied. Pour into a tall glass and garnish with shaved cactus, cucumbers and a pinch of bee pollen.
Enjoy!
~
Author: Maegan Lukian
Editor: Evan Yerburgh
Photos: author's own