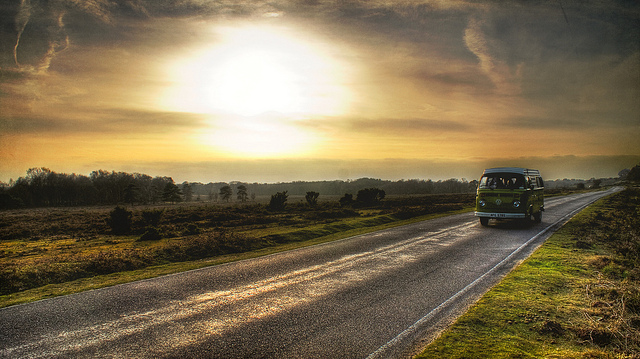 You will recognise someone with wanderlust immediately.
You only need to take a look into their wide eyes and you will see them sparkling with a longing to escape to the outdoors and explore the vast terrain of the forest. Or the desire to drive with the roof rolled down while their curiosity untangles the glistening webs weaved all through your mind.
You will have found a new playmate, so loosen your imagination and prepare to run wild.
Whether you date once, or spend a lifetime embroiled in adventure, date someone one who seeks the thrills and the magic hidden out on the rolling road.
Opening new doors to the wonders of the world is the entrance to passion, romance, mystery, wonder and enchantment.
Date someone who won't worry about what's in their suitcase, or whether you take a map; oversize shirts, shorts, bare feet, tousled hair and the compass of their heart is all that's required.
With no destination, the plans can't go wrong; there will not be a clock or hourglass to dissolve the time. You will drive and then stop when you notice a path that's never been trodden, and then accept nature's invite to embrace you and invite you along to roam on her land.
You will bathe naked with the sea, dry off with the sun, recharge energy and howl to the moon. Amazed at the sky, you will place extravagant wishes that dare to come true on the trailing light of free-falling stars.
You will bask in abandonment, wings will un-clip and exhilarating, liberating freedom will seep in. Exploring, surrendering, rambling, sleeping, and breathing in time with the regular beat of the earth's inner drum.
Trips won't be spent in expensive restaurants, you will create your own setting for meals—a picnic on a blanket by the side of a lake, a campfire at sunset, or a small local eatery at the end of a long forgotten dusty road. You'll talk with the locals, drink home made wine and sing along while the owner strums proudly on the strings of his old acoustic guitar.
You will sleep under trees, camp out with owls, and watch sprinklings of stardust land on your skin.
Like two fearless wolves, side by side, a strong but small pack, you will venture into new territory, never afraid, trusting your intuition, trusting the other, fully alive absorbed in the glory of love and in life.
You will find inner treasures while immersed in the other, talking of tales as elves listen in with envious eyes that marvel in awe as your spirits collide and spark colourful flames.
You'll turn back to see your paw prints traced out in twists and in turns as you chaotically spin trails on this rock jeweled earth.
There will be no need for technology, cameras or phones; the memories will be tattooed and imprinted in the blueprint of your soul never to be forgotten.
When traveling with a wanderer everywhere feels like home, whether it's the mountain ranges on the horizon, the sprawling sea, or the branches of trees you climb. You will settle momentarily, find peace in the moment before the craving to breathe deep and tread new pastures takes over.
You will discover secrets in dirt and birds tracks, and in leaves on the ground, under toad stools and in fireflies dancing when day reaches dusk.
But most of the magic unearthed on the road will derive from your gypsy spirit, embedded with long forgotten power, which once awakened, cannot be denied, or cured, or forsaken or cast aside.
Wanderlust is a blessing and also a curse.
To deny it means to search for an antidote that will never be found. The only option is to surrender, and be charmed, seduced and mystified. As the sunset looks different each time you look, depending not only on the land you rest on, but also where you choose to open and place your mind.
And at the end of each day, you will take a little piece of the world with you, while leaving a small part of yourself behind in exchange.
Relephant Reads:
~
Author: Alex Myles

Editor: Travis May
Image: Flickr/Steve Wilson