Big oil has done it again.
With the memories of the epic BP Gulf Oil Spill still fresh in our minds, we are once again seeing thick black tar wash ashore beaches, endangering not just the habitats of birds and sea life, but also the overall health and sustainability of our planet.
On Tuesday, May 19th, an underground pipeline located near Santa Barbara ruptured, causing a 24 inch break on the line. As of last night this break has caused over 100,000 gallons of crude oil to be leaked in the ground and nearby Pacific Ocean.
Of this they believe about 21,000 gallons was leaked directly into the ocean, with Refugio State Beach already seeing the thick black tar balls wash up and become entangled in seaweed.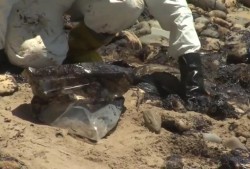 However in a statement released by Plains All American Pipeline, they state that ultimately they won't know how much oil has spilled for a few days because of the pipe's location. The company responsible for the pipeline has already issued a public apology for the damage done to wildlife, the environment and the disruption of lives as a result of the incident.
According to Plains All American Pipeline, the spill occurred on its Las Flores-to-Gaviota line, which was built in 1987, and apparently recently inspected. The company said the leaked oil reached a culvert, and then spilled over into the Pacific Ocean. The culvert was later blocked to stop the flow of oil from going directly into the sea.
By immediately declaring a state of emergency, California Gov. Jerry Brown was able to mobilize over 100 people from the office of EOC (Emergency Operations Center) to begin the clean-up operation on both land and sea.
The California Department of Fish and Wildlife as well as The Coast Guard are currently on the scene with 16 vessels collecting oil and laying down protective measures to help prevent it from spreading further into neighboring shorelines, or farther out into sea.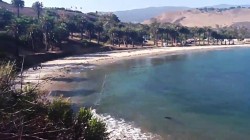 Residents of the area are hoping that the efforts of these first responders will be enough to save this area that was once renowned for its pristine beautiful shoreline, great surfing, and wonderful diving opportunities.
Right now along the coastline near Refugio Beach, workers are dressed in white protective suits raking up balls of tar from the shore and putting them into plastic bags. The painstaking process of clean-up is one done by hand by volunteers and workers. The biggest problem with cleaning up oil is that it is incredibly sticky—think of trying to clean up large oily globs of peanut butter from stones, sand, plants, and animals.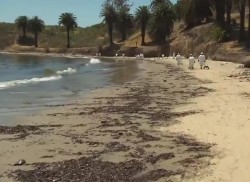 At this point it is too early in the recovery phase to know exactly how much damage has been done, and how long the clean-up will need to be going on for.
According to the EPA (Environmental Protection Agency) almost 14,000 oil spills are reported each year, with the mobilization of thousands to help clean and protect the areas that the spills occurred in. Many are small spills, or leaks, and are just not brought to the attention of the media, and so they go unknown by the general population.
This is just one more wake up to the people not just of the United States, but to the world. Oil is not environmentally friendly, or a successful long term plan as a source of fuel and energy. Fossil fuels are not a readily available and able to be regenerated like that of corn or hemp.
It's time to see these small spills as warnings; warnings for those of us in charge of making decisions to start thinking about the kind of world that we want to leave behind for our children and future generations.
As Colorado Senate hopeful Steve Fenberg says, "We're the first generation to really experience the effects of climate change—and also the last to really be able to do something about it."
~
Sources:
Relephant: 
Author: Kate Rose
Editor: Catherine Monkman
Photos: Youtube Screenshots