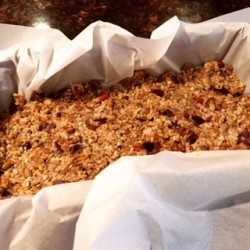 For any of you who, like me, have accepted with great despair the dictate that gluten is evil and bread is the enemy, I give you this "Life-Changing Loaf of Bread."
Brought to you by Sarah Britton in her book "My New Roots," (which was brought to me by my excellent sister), this recipe redefines bread.
What it lacks in flour, it makes up for in seeds, grains and nuts. It is so dense and nourishing, one can imagine packing it in a saddle bag for month-long treks through the most hostile places on earth—Death Valley, Mount Kilimanjaro, the Sahara—or maybe just enjoying it as a snack on the way to grab the mail.
Either way, make it once and you'll be hooked.
Oh, and did I mention it's easy? Yep, another dish my dog could make if I just taught him how to use his dew claws as opposable thumbs. Some day…
Life-Changing Loaf of Bread
You'll need:
Parchment paper
Loaf pan
1 cup sunflower seeds, raw or toasted
1/2 cup whole flax seeds
1/2 cup hazelnuts, chopped
1 1/2 cups rolled oats
2 t/l chia seeds
4 t/l psyllium husks (find in the health food or supplement aisle of most stores)
1 tsp fine sea salt
1 t/l caraway seeds
1 t/l maple syrup
3 t/l melted coconut oil
1/2 cup chopped Kalamata olives
1 1/2 cups water
In a medium mixing bowl, add sunflower seeds, flax seeds, hazelnuts, oats, chia seeds, psyllium, salt and caraway seeds and mix well.
In another bowl, whisk together the maple syrup, water and coconut oil.
Add liquid ingredients to dry ingredients and mix thoroughly. Press dough into a parchment paper-lined loaf pan and smooth the top. Cover and let sit for at least three hours and as long as overnight.
Preheat oven to 350 F and bake loaf on the middle rack for 20 minutes. Flip loaf over and remove pan, setting directly on the rack to cook for another 30 to 40 minutes.
Let cool completely before serving and store, refrigerated, in a tightly sealed container up to five days.
~
Author: Erica Leibrandt
Editor: Evan Yerburgh
Photo: courtesy of author