I was a horrible mother today.
I didn't intend to be, but I failed at doing all of the things mothers are supposed to do.
I was up late into the wee hours writing, so when the sun rose this morning all I wanted to do was cuddle down between my sheets and quilt for as long as I could. When my three-year-old came and asked if she could have tortilla chips I said yes, because that meant I could sleep just a little bit longer.
When I woke up I found my daughters having a floor picnic with apple cider and chips while they watched a show on T.V. I saw them laughing and giggling. They were sharing their chips and cuddling against each other under soft blankets.
But, I had places to go and people to see, so we accidentally left the house in a rush—I still hadn't given them a proper breakfast. We did have our water bottles with us, so I figured the day was up for an adventure and I was ready to see where the wind would take us.
We went to a greenhouse to pick out herbs for our garden and I let all of us walk around barefoot. At one point I turned around and saw my youngest stomping on the dusty ground kicking clouds up around her and giggling. So, I decided to join her, we both became dirty and dusty and laughed until our bellies hurt.
Nearing noon, I realized we would have to eat soon, but it was one of those days that begged to be driven in. Cornflower blue skies, white puffy clouds, warm soft breezes—so we drove, up around mountains, through valleys and over clear bubbling streams, with the windows down and the music up.
I surprised them by taking them for ice cream at a general store tucked into a neighboring small town. I let my youngest walk around barefoot and we ate chocolate ice cream until it was melting and staining our chins and shirts.
We sat on the railings of the store, in the sun and my oldest exclaimed, "So this is why it is called Sunday Funday!"
After we finished, I felt like lying in the hot sun and so we drove farther north, the breeze through the windows giving our hearts permission to take flight on this beautiful day. We travelled down dirt back roads along a rambling river until we got to one of my favorite swimming holes. It's a place where giant boulders sit like giants sleeping in the sun and where we can do one of our favorite activities––rock hop.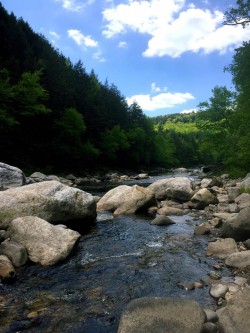 I took off my shirt and lounged on the rocks in my cut off yoga shorts while my girls stripped down bare. They danced along the edge of the water and took turns being queen of the mountain. They broke and crushed small rocks with larger ones and collected rocks.
They were naked, dirty and unbelievably happy.
We all got sweaty from the hot May sun, and decided to go swimming, so I dove in first, still topless letting the cool water wash away all of the little bits of doubt and fear I still had staining my skin from the long winter. We sat in the middle of rushing waterfalls—talked about how important it is to go with the flow of life and to always take advantage of moments like this.
As my girls sat on a rock in the middle of the river, wet hair creating rivers down their bare backs, their shoulders pink from the sun smiling, I remember looking at them and thinking I won't ever forget moments like these.
On the way home, they both fell asleep—the scent of the mint and lavender plants I bought earlier filling the car, my wet hair blowing around my face as I sang along to lyrics that my heart knows so well.
Back at home, we got our hands dirty with the planting of new things, and I was slightly redeemed because I cut up cucumbers for dinner. My oldest had told me that I only had given them junk food to eat all day, so I felt a green vegetable was slightly in order.
After dinner we didn't retire to the living room, or even our porch. I pulled an old quilt out of the closet and told them to follow momma. We laid the quilt out in a field next to a hedge of honeysuckles and we talked about our day. We cuddled and kissed and listened to the buzz of bees and talked about how important they are to this world.
But, we stayed too long, and so I let them go to bed without taking a bath.
Today, I was a horrible mother.
We didn't eat anything proper until dinner time—we were barefoot and naked for much of the day.
No naps were given, our faces still held the kiss from the afternoon sun and they cuddled into their safe beds with the scent of river water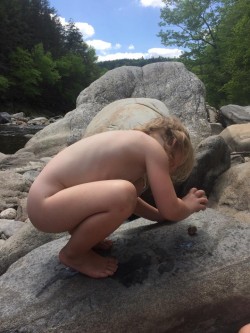 still hanging in their hair.
I may have been a horrible mother today, but what amazing memories we made and what lessons my daughters learned.
Life is a series of wake up calls that continually push us to not do or be what everyone else is, but instead challenges us to become our true-self.
I have no desire to be the perfect mother who serves three well balanced meals a day and who bathes her children each evening.
I am content at teaching my children to love life—and sometimes we have to get a little dirty to do that.
I hope other mothers will join me in being a horrible mother, so that all children can know what it feels like to let the sun heat up their small little bodies while they catch minnows and how soft momma's embrace is while listening to the songs of the bees.
I hope we can all find the benefits of being a horrible mother.
~
Relephant Read:
~
Author: Kate Rose
Editor: Ashleigh Hitchcock
Photo: courtesy of the author, pixabay