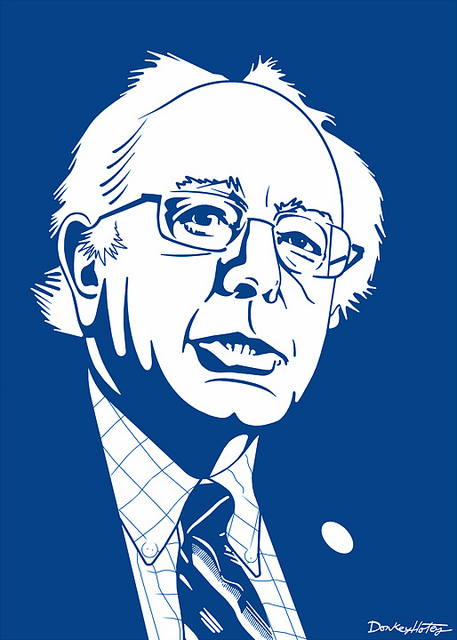 I read an article recently, about presidential candidate Bernie Sanders, that I thought was pretty 'effin awesome.
It was a Vice magazine article about how Bernie Sanders helped contribute toward shaping the Northeast punk scene.
Naturally, the punk rocker in me was intrigued…
As I read, I learned about an all-ages music venue in Burlington, Vermont named simply "242 Main Street."
"Nearly 30 years after opening its doors, it [242 Main] is now one of the longest running all-ages music venue in the country, beginning as an offbeat government-funded effort to overturn a draconian city ban on live music, that resulted in the transformation of an old administrative building into the municipal youth center that exists to this day."
This Vermont punk music venue has been compared to the likes of CBGB in New York and 924 Gilman St. in Berkeley, California.
So what the heck does Senator Bernie Sanders have to do with a punk rock venue in Vermont?
Well, he had a hand in bringing the all-ages establishment to fruition, roughly 30 years ago. Although, a great majority of credit should be given to his wife, Jane O'Meara Sanders, who is the one who really spearheaded the effort to create the youth establishment.
See, back in the 80s, Jane O'Meara Sanders (then still going by her maiden name, Driscoll) was the director of the "Mayor's Youth Office."
Bernie Sanders, the new mayor of Burlington, was seeking to improve the lines of communication between the city's politically active youth and the civil government. To accomplish this, he delegated this task to Driscoll.
Wait, what—he wanted to involve the kids? Pretty awesome that there's a politician actually wants to communicate with the youth, and not disenfranchise them.
The Mayor's Youth Office (MYO) was set up in the City Hall, and was operated by a combination of volunteers and civil servants.
The MYO accomplished the creation of several new programs during this time. For instance, a Burlington public access TV show run by youth was established. (Wayne's World anyone?)
In addition, the Mayor's Youth Office started a sliding-fee scale daycare, that is still in action to this day.
The participating youth also busied themselves with tasks like helping the elderly with their snow shoveling, and creating a newspaper authored by teenagers that would address relevant youth issues like teen suicide and the local school budget.
However, the biggest goal on the MYO's agenda was to was to establish a youth center in Burlington. Somewhere that kids of all ages to go to hang out and listen to live music.
However, there was pre-existing local legislation, passed during the previous mayor's administration, which prohibited the performance of live music on public property. (Damn the man!)
Driscoll wanted Burlington's youth to have the opportunity to participate in a Battle-of-the-Bands, so she petitioned the city to have the ban lifted, and Mayor Bernie Sanders was able to oblige on a provisional and temporary basis, to start.
Awesome, Bernie!
That first show was a huge success, and the MYO office started using a local auditorium as a place to host music events for the kids. However, that auditorium wasn't quite the space the cities' youth needed—they really required a space to call their own.
So, an abandoned office of the Burlington Water Division became the new headquarters for the Mayor's Youth Office—242 Main!
Per the aforementioned Vice article:
"242 Main started out as an all-encompassing youth center, but by the end of Sanders's tenure as mayor in 1989, it had become renowned for its punk scene…the space played host to local punk acts like Hollywood Indians, as well as legends like Fugazi and Operation Ivy. To this day, it hosts independent music of all types."
When Driscoll (now O'Meara Sanders) was asked why she wanted to participate in creating this youth center, she responded that it was just something the youth community needed and wanted:
"They didn't ask us to give them anything—they asked us to provide the opportunity… For us, it was a belief that if kids feel that they're respected and needed and that they're a component of a greater good, then that's fantastic."
Um…I think you're pretty fantastic, Mrs. Jane O'Meara Sanders! She has my vote for future First Lady.
But all jokes aside, it's no secret that I support Bernie Sanders for President in 2016—I mean, he is standing up for issues like economic reform, and getting big money out of government, an issue I feel strongly about.
Senator Sanders is a politician who actually cares about people—not just rich people, who can fund a political campaign—but real every day people, like you and me.
He cares about veterans, he cares about students trying to pay for school, and he cares about people working minimum wage jobs, who are struggling to make ends meet.
He also cares about people being involved with government and electing officials they want to see in office. He's sick of corporations, or the extremely wealthy, being allowed to buy politicians and push their own agendas.
So when I hear about a story like this—about Bernie Sanders (and his wife!) making changes and doing things to help create a better community, as well as respecting and empowering the youth in that community—I find it truly inspiring.
We need more people in authority who are legitimately looking out for the citizens in their community. We need more leaders who care about the future and well-being of our country, rather than power and money.
I feel Bernie Sanders is that leader—but don't take my word for it! A simple Google search on Bernie's political history shows us that he has been saying the same things for years.
He doesn't waver or flip-flop. He is outspoken and honest regarding his agenda and the issues he cares about. He refuses to run a "negative campaign," even when when baited by other politicians or reporters.
And in regards to his contributions to punk rock youth culture?
Thank you Senator Sanders, for being an example, and giving us hope that government can have a positive influence in people's lives—rather than perpetuating a government system that causes young people to be jaded and apathetic.
Relephant Reads:
Author: Yoli Ramazzina

Editor: Travis May

Photo: Flickr, via DonkeyHotey & Forrest Norvell