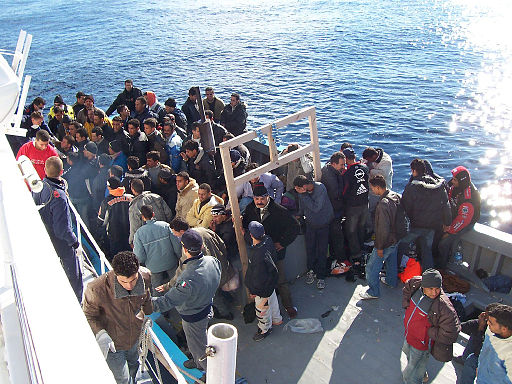 Last month I wrote about the devastating migrant deaths in the Mediterranean.
Amnesty International had organized a petition to raise awareness about the European migration crisis and to hopefully persuade European countries to open their doors to those fleeing war torn Africa.
Here is an excerpt from that post:
Between 500 and 700 migrants are feared dead after a boat capsized in the Mediterranean Sea last week.
The International Organization for Migration says this about the recent tragedy:
"IOM is calling for swift action from the European Union following the worst tragedy in living memory involving migrants crossing the Mediterranean from North Africa. Up to 700 migrants are missing and feared drowned after the wooden fishing boat on which they were crammed, capsized near Libya as a cargo vessel was coming to its aid. By late Sunday night, one of the survivors was reported to have informed Italian authorities that there may have been up to 950 on board." ~ IOM
The European Foreign Council are to meet with "migration" on their agenda. We must act quickly to show that citizens of the world a concerned about the lives lost each year by migrants fleeing their countries.
Every year millions of people around the world are forced from their homes by conflict, persecution and poverty. Only a small proportion of these seek sanctuary and a better life in the European Union. But EU countries are increasingly determined to keep them out. In the last few years they have been busy building fences, real and invisible, that have raised the stakes for those still desperate enough to risk the journey.
In the past Sweden and Germany have been two of the main countries accepting refugee migrants. The debate continues within the EU about the lack of unified immigration policies and funding for migrant rescue missions.
The United Nations called the current crisis in the Mediterranean "a tragedy of epic proportions," Humanitarian organizations such a Amnesty International are calling for the EU to come together with unified policies that can only save lives.
The main crossings occur en route to Italy over the Mediterranean Sea, with crossings to Greece on the rise. There is expectation of crossings to remain high this year. In the first 17 days of April, 11,000 people have been rescued in the Mediterranean Sea.
Many of the refugees are transported via trucks through the desert and into Libya.
The business of transporting refugees is a sad industry at best. Citizens of war torn countries with hopes of a better life and safety for their children are preyed upon by human smugglers whose only intention is the money earned on the misery of others.
It is understandable how European countries would worry about the influx of refugees whose well-being is then tacked onto the back of taxpayers. Not everyone is sympathetic to this cause. The tragedy of the migrant boat drownings easily fall on deaf ears when the EU is already struggling with financial woes and other political upheavals.
Some think that cracking down on the trafficking/smuggling business of migrants is the key to this burgeoning issue. And certainly, this is one part of the problem. Opportunism in the face of human tragedy is despicable. But I fear that in itself, this action will lead to more deaths.
Jean-Claude Juncker, the president of the European Commission arm argues that refuges must be distributed throughout all of Europe.
But not everyone agrees.
Britain and Hungary, for instance, are in more fierce opposition to accepting forced migration rulings. They cannot see how one country can take in refugees and then hope to distribute them to other countries, citing asylum policy as a matter of sovereignty, and oppose Brussels interfering with domestic immigration laws.
It remains to be seen what the EU will agree upon but there is movement in the decision-making and it cannot come soon enough for those deterred in temporary situations while waiting for their permanent homes.
But this is not a new story.
For centuries, millions of people have looked to the kindness of others to allow them escape from tyranny and death. And many have found peace on the distant shores of welcoming countries.
And sometimes they have faced worse than what they were escaping.
And some of the future generations of those migrants have forgotten those stories of hope and relocation.
We must remember.
They were our people, and still are.
For further reading: 
What's Behind the Surge in Refugees Crossing the Mediterranean Sea. New York Times. May 5, 2015.
Boat With Hundreds of Migrants From Myanmar Heads Farther Out to Sea. New York Times. MAY 15, 2015.
Author: Monika Carless
Editor: Renee Picard  
Image: Wikimedia Commons