Over 10 million people have now watched the above video.
The sad reality is, millions of people all over the world have real difficulty accepting and loving their own bodies, which can have detrimental effects on their emotional and mental health.
On January 18th, 2013, Taryn Brumfitt posted to her blog her true feelings about how she felt about the way she looked at the time:
"You are so disgusting. You shouldn't go out. Your husband doesn't want to be with you. You are gross. Look at how your tummy wobbles. Look at those stretch marks—you are scarred for life. You're not so desirable any more, are you Taz!
Who was this day passenger inside my head? Where did she come from? Who was this nasty person talking to me when I looked in the mirror? When did my mental theatre become so ruthless?

I am lying on the bathroom floor in tears. I just want to smash my head on the tiles. I am so frustrated and I feel so alone. I love my new baby more than life itself. I am so blissfully happy yet I keep having these crippling moments of absolute despair and sorrow.
I grab the fat on my stomach aggressively and show the dark passenger in the mirror how revolting I am. 'Look at this,' I declare, 'Look how much fat I can hold in my hands.' I pick up my boobs like they are a dirty tissue, 'Check out these puppies; sexy, aren't they? Look how I can pick them up and pull them north, east and west before they drop back down south to where they permanently live.' My dark passenger enjoys these bathroom mirror performances. My pathetic demonstration fuels her sadistic appetites.
No one knows how much I am hating myself right now. I don't want to talk to anyone about it because all they are going to give me is lip service. If I said to any of my friends, 'I feel really fat and frumpy,' they would say, 'Oh no you don't, you look amazing, you've just had a baby, this is normal.'
Well, this isn't f*cking normal for me. Normal isn't wetting and shitting your pants, normal isn't looking like this. Normal isn't riding your husband only to find that you are squirting milk from your nipples and your tummy spills all over his chest as you try to kiss him. This isn't normal.
I hate you. Who would ever want to be with you? You are disgusting.
I am beginning to hate myself. I am falling apart. I loathe my body.
It's time to go out with my husband and our friends for dinner. Matthew yells out to me, 'Are you ready?' I pick myself up from the floor, apply some lip gloss, smile at the mirror and reply, 'Sure am, I'll be just a minute." The mask is in place. Where is my award?"
Taryn Brumfitt is a mother of three, a writer, speaker and is also the founder of the Body Image Movement.
Ms. Brumfitt aims to deliver a positive body image message by teaching women how much value and power there is in loving their bodies from the inside out.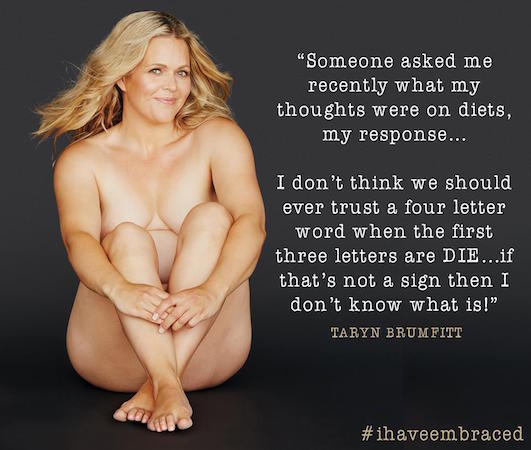 It was while Ms. Brumfitt was contemplating her upcoming plastic breast surgery to achieve perky breasts and also to have the excess fat tucked away on her stomach that she had an epiphany while observing her daughter playing. She realised that by making these changes to her body, she will have difficultly in encouraging her own daughter to love and accept her body as it is, when her own body had been surgically enhanced.
Instead of opting for surgery, Taryn chose to focus instead on providing a positive role model for her daughter's future.
Ms. Brumfitt cancelled the surgery, however, she was still aware that she had a body she did not love and parts of it that she detested. Ms. Brumfitt was at rock bottom and hated her body more than ever.
After crying on the bathroom floor, she went to the mirror, wiped her eyes and heard the voice of her old friend Taz that was inside her head saying, "You can do this."
Ms. Brumfitt then committed herself by entering a body building competition which resulted in her physique becoming sculpted and achieving what she hoped would be the "perfect body."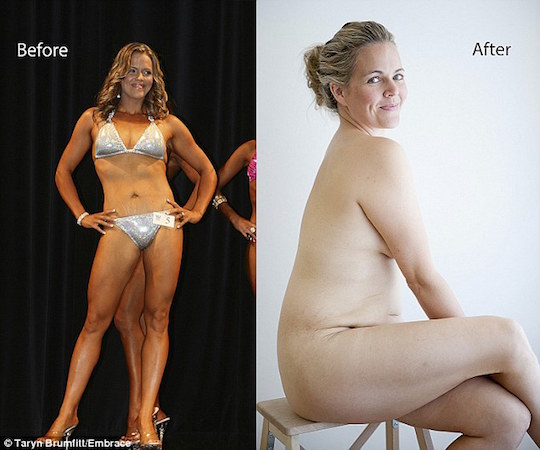 Looking back, Ms. Brumfitt sees this phase as a social experiment that led her to discover how differently she would feel with her body being in shape. However, wearing bikinis on stage without an ounce of fat on her body, she noticed that inside nothing had changed at all.
Ms. Brufmitt discovered that no one can be judged for their decisions and we certainly shouldn't judge health purely by looking at an outer image of the body. What Ms. Brumfitt hopes for is to pass on the message that health is not only physical, it is emotional, mental and spiritual too.
This transformation is what led Ms. Brumfitt on a journey to lead a global campaign for change, which begun with posting before and after images of herself to her social media account. The images have now been seen by over 100 million people around the world.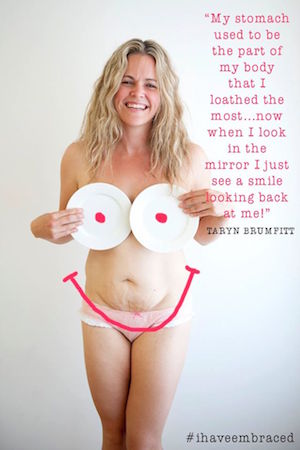 Today Ms. Brumfitt is passionate about creating a shift in the way we view ourselves, her desire is to educate and shout out to the world that loving your body can bring happiness and change your life forever.
I spoke with Ms. Brumfitt and she explained that her mission was to alter the way we perceive health. She explained, "We have a culture of body shaming. Not just our own, but other people's too. As a society we have become heavily focused on judging one another on looks alone."
She continued, "When I had the 'perfect bikini body' people thought I was inspiring  They said to me, 'Look at your body, look how amazing it is; you are so inspiring.' Why is a so-called perfect body something that is inspiring. We have become superficial with how we value other human beings. We judge health and worth on whether or not we have tight abs or whether our bodies are bikini fit. Does that make me inspirational as a person? I don't think so."
Ms. Brumfitt also went on to explain how having what people perceive as the "perfect body" does not necessarily make someone healthy or happy, saying:
"During the before picture, which shows me at the peak of my 'health,' I was running four to five times per week, I was regularly in the gym, I ate healthy food, however, the funny thing is, I was not at the peak of my emotional health. I was recently looking at a picture of myself where I was dressed in a mermaid outfit and thought about how different I look just two years on now that my body has lumps and bumps. The truth is, I am much happier and feel far more confident now than I ever did then, and also my mindset is much more inspirational now."
Before achieving the "bikini body," Ms. Brumfitt thought that by being toned she would "feel better about herself inside and out." Instead she found the opposite saying that today she has "more balance, more love, self-acceptance and self-esteem" for herself than she ever did back then.
Ms. Brumfitt wants to send out the message that we all need to stop judging ourselves and one another and instead celebrate and accept our own and each other's diversities. She told me, "We all have the right to a positive image, we should all embrace our bodies so that we are kinder to other people. When we accept ourselves completely we can begin to accept all others too." We need to do this without feeling the need to criticise or judge.
One of the things that Ms. Brumfitt said to me that really stood out was:
"When you take your final breath on this Earth, what is it that you will be thinking about? I have asked tens of thousands of women this same question and no one has ever replied cellulite, big bottoms or stretch marks. No one. I want to get people to understand that our bodies keep us alive and they are not an ornament, they are a vehicle to our dreams"
When Ms. Brumfitt looks back at how she used to view her body, her perception has changed dramatically. She used to feel such hate for her body parts and now she perceives them differently, explaining:
"I used to hate my breasts. After breastfeeding three children they had seen better days. Now I look at them with awe and admiration thinking about how they fed 4,000 meals to my children. We should look at our bodies for what they can do for us. When women tell me they hate their thighs, I ask them, "What do your legs do? Can you walk, can you jog?" If someone says they hate their underarms, I tell them those arms hug and embrace others and they are used to feed us." She explained, "We need to shift the focus from not what our bodies look like, but what they can do for us."
Another mission of Ms. Brumfitt's is encouraging a change in the way we, as a society, fight and try to defy aging. Ms Brumfitt said:
"We use quick fixes, lotions and potions, yet we all have the access to great change within ourselves right here right now by changing our mindset. We need to keep a joyful perspective and a liberating feeling of being alive, yet we look in all the wrong areas. I would love people to get back to the here and now while they are living and capable of breathing and have respect and gratitude for their life."
One of the ways Ms. Brumfitt wants to challenge this is by looking at, and changing how, the media shows just one stereotypical body type. She wishes to drive for body diversity in the media so that we don't just see the same shape on fashion magazine covers and on the Internet. Ms. Brumfitt says:
"Social media gets a bad rap for some things, however, for others it is a platform for life-changing campaigns and ultimately for care. People can connect and this gives hope. I am excited for the future as their is real grounds for a huge shift in conditioning, especially with other women such as Jade Beall and Jess M Baker working on similar body acceptance campaigns. Women are coming together."
We waste so much energy on fighting against ourselves and judging and as Ms Brumfitt explains we could, "spend energy on fighting human trafficking, world hunger and not fighting ourselves."
Ms. Brumfitt also explains that everything she speaks about and stands for is "transferable to men. Men can take all of this onboard, challenging our value systems, how we value ourselves and others and what really matters in our lives."
We have experienced decades of the fashion and beauty industries constantly highlighting Photoshopped and airbrushed images of what they perceive to be beautiful people. Social media, magazines and billboards all focus on a stereotyped image of slim, toned women with perfect skin.
Not very often do we see images of real women without camera tricks and beauty experts on hand. Recently social media campaigns led by pioneering women are changing the face of that for the benefit of today's and future generations.
Ms. Brumfitt explains that her brother was handsome, charismatic, everyone thought he had it all and he looked from the outside as though he was in great health, yet he was a heroin addict. She said, "If you stood an overweight man next to my brother, people would have said my brother was the healthier one. Yet, he was a heroin addict. We just cannot judge based on the outside looks alone."
The point this campaign highlights is that health is not what we find on the outside. It is impossible to judge a person's health purely by judging the look, shape or size of the outer body.
Self-loathing can be one of the most destructive things we can do for ourselves and to change the habit, we have to press repeat time and time and again, telling ourselves to accept and love the skin we are in. We need to drown out the negativity we put into ourselves and also the judgmental and critical attitudes we sometimes pass on to others too.
Creating this positive model for ourselves then serves to send out an inspiring and empowering role-model to all those around us too. When we are happier within ourselves, we are more motivated, liberated, positive, cheerful, passionate and in a far more powerful place to change the health for our bodies as well as our minds.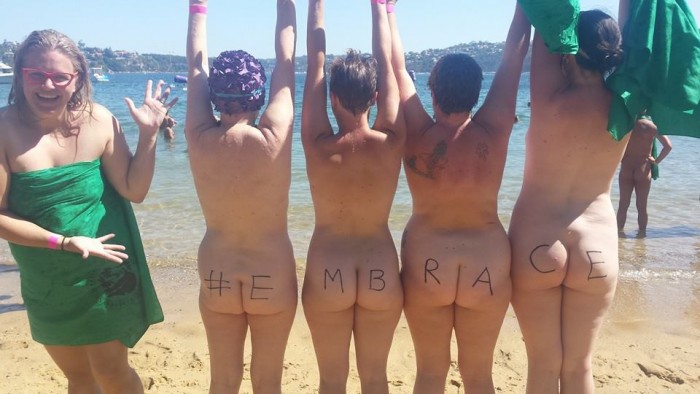 Our self-worth is not based on what we see in the mirror. Far more beautiful than what is on the outside is the exquisite, radiant and diverse personality and the quirky characteristics that makes each one of us unique. All women and men should embrace and celebrate the true, natural individual beauty of the person we have kept hidden beneath our skin.
Relephant read:
~
Author: Alex Myles

Editor: Travis May

Photo: Taryn Brumfitt (used with permission)