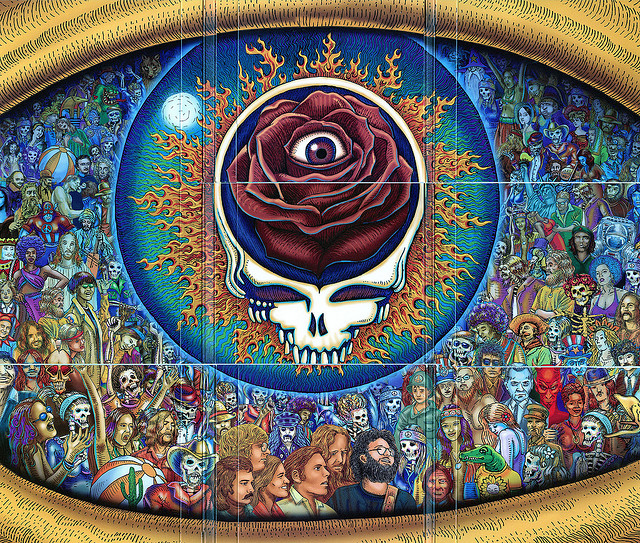 Long before I experienced high school romance, I first fell into love with Jerry Garcia and the rest of The Dead.
I was twelve when I discovered my dad's old vinyl records—I remember sitting and running my hands over the album covers of The Doors, The Who, The Grateful Dead, Janis Joplin and the Woodstock Album—I was in heaven.
These musicians and songs spoke to me, and to a place in my heart that nothing else ever had. On nights that my parents would go out and leave me home alone I would lay on the floor of the office and play record after record with a candle as the only light in the room. I was transported to a different time.
I loved the way the vinyl sounded—there was just something more emotional about it than how we currently can download and upload whatever song we want, whenever we want.
I remember crying over the way Jim Morrison's voice spoke to something inside of me that I didn't know was there, and I'll never forget the first time Jerry Garcia sang to me about a sugar magnolia.
It's not a huge jump for me to believe that I was most definitely alive in a previous life during the sixties.
While I am a huge fan overall of all the music from that era—my mom sang me Janis Joplin as a baby after all—my heart ultimately belongs to The Grateful Dead.
For me, there is nothing like driving around on a beautiful day, the wind through the windows, the blue sky above, my bare leg propped up against the door as 'Box of Rain' blasts from the car and my lips.
It's pure magic.
I love the guitar solos, and the way that the music doesn't only sound good, it literally makes my body and heart feel good, too.
It lifts me, and makes me smile at the joy of just living.
I love to spread love and good vibes, and this playlist embodies all of that. It's the perfect track to accompany a backyard BBQ, a drive up into the mountains or a quiet day spent contemplating life.
So, kick back, turn it on—and turn it up.
~
Author: Kate Rose
Editor: Alli Sarazen
Photo: Don LaVange/Flickr