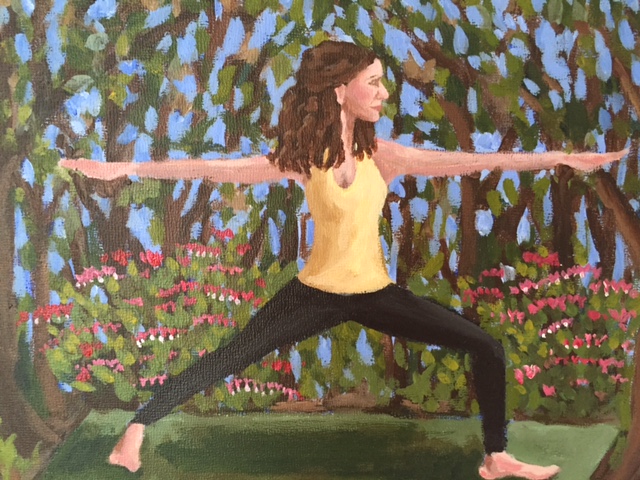 When I was asked what yoga posture best describes me, I immediately felt it was Virabhadrasana II (Warrior Two).
In Hindu mythology, Virabhadrasana was a great warrior who fought for Shiva. Virabhadrasana I, his first aspect, is his arrival at battle with swords in both hands, thrusting his way up through the earth from below. In his second aspect, Virabhadrasana II, he sees his opponent, drawing his swords, ready to fight. In his third aspect, Virabhadrasana III he moves swiftly with his swords toward his opponent.
I was five years old when doctors discovered something wrong with my kidneys.
I was 14 years old when I had a biopsy that revealed I had Focul Segmented Glomeralscolosis (FSGS), a disease that creates scarring on the kidney's filters and eventually leads to kidney failure. I was 26 when my kidney's failed.
I was living in New Hampshire, having recently started my work with refugee resettlement. I was at an annual national conference in Washington, D.C. and I did not feel well. My ankles and feet were swelling up and I felt a bit dizzy, but I pushed through, not realizing what was happening.
The following week, I went to my nephrologist to see the results of recent lab tests and he told me that he nearly fell off his chair when he reviewed my labs. My kidney function had plummeted and he felt that I needed to go on dialysis right away. We called my parents and they came over and we took a tour of the dialysis facility next door. I'll never forget that. It was a terrifying moment. I actually felt so overwhelmed seeing all of the machines and sick people that I passed out on the floor.
I woke up in a back room with my parents around me, wearing the same look of terror that I was feeling. The next day I had surgery to implant a port into my chest, with a line running straight to my heart. The next day I started dialysis. The treatment was so powerful that I could not walk out of the center, and my mom had to wheel me out in a wheel chair. I think we both cried all the way home.
But then I called upon Virabhadrasana for strength and power to face my opponent.
It took a couple weeks, but I adjusted to the four hour treatments, three times a week, and the limited diet. I gained emotional strength through my parents and brothers' dedication and love for me. I went back to work and switched my dialysis treatments to the evenings so I could serve my refugee clients and help them find a sense of peace and hope in their new lives. This also helped me by creating a sense of normalcy amidst a reality that was far from it. And my mother was so amazingly strong and supportive that she empowered me to be like Virabhadrasana, strong too.
The hope for every person on dialysis is a kidney transplant.
I was tasked with carrying a pager with me that would buzz if a match was found, signaling my need to report to the hospital immediately for a transplant. The pager never buzzed. Both of my brothers volunteered to get tested to see if they could donate one of their kidneys, but neither worked out. Family friends also came forth which was especially touching.
In the end, it was my dear mother who volunteered to give life to me for the second time, and she was a perfect match.
The transplant surgery was a success. We both recovered quickly. And my gratitude toward my mom is beyond measure.
It will be nine years since I received the transplant and was given a second chance at my life. I am filled with so much gratitude for my health and the love I have received and every time I sink into Virabhadrasana I am reminded of my own inner strength and power to face the challenges in my life.
Relephant Read:
Author: Megan Bracy
Editor: Catherine Monkman