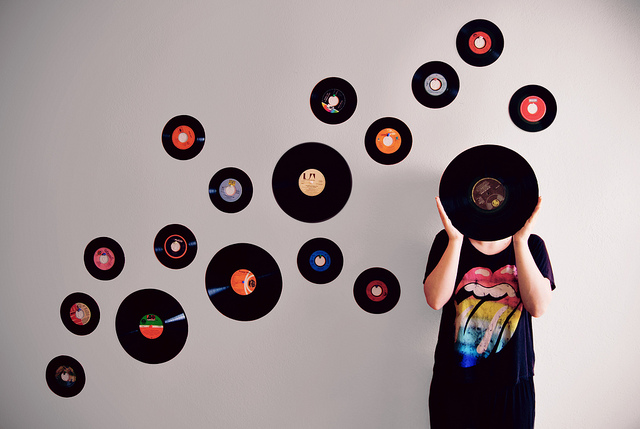 When you commit to creating a breakthrough in your life and to achieving your goals, it is imperative to take charge of your thoughts and your state of mind.
It is vital to be able to visualize and connect with the goals you are committed to achieving and to what it feels like to live in that space.
We are vibrational and rhythmic beings. We are made up of energy that is constantly vibrating and we live with the constant rhythm of our heartbeat, our breath and more. Music is also made up of sound vibrations and rhythms.
Findings from numerous studies show that humans experience spontaneous entrainment when exposed to music. This means that the rhythms in human bodies and brains synchronize to the external rhythms of the music. When the rhythms in your brain and body change, your state and the mode from which you are functioning change.
This is why harnessing the power of music, which is a universal language that is present in every known culture, can be a powerful way to break through a sticking point and help you move to that next level you have been struggling to reach.
Music is an effective way to change your state almost instantly. It can connect you with certain feelings or sensations, change your breathing patterns, help you visualize, keep you energized, motivated, inspired and focused. These are all things that you need to have when crushing those goals that you are after.
Here are seven ways in which you can consciously use music in your every day life to help you move past those sticking points you are ready to move beyond. I am giving examples that work for me although what does the trick for each person is very individual.
1. Meditation.
Use slow, calming, instrumental acoustic or ambient electronic music, perhaps with some nature sounds incorporated to help create open space in your mind, to release and clear out the old thought patterns and worries, to evoke gratitude and re-calibrate your state of mind, leaving you more optimistic and ready to consciously create your day and your life.
For example, "Temple Air" by Lemongrass:
"Any Other Name" by Thomas Newman:
"Watermusic" by William Basinski:
"7th Chakra – Sahasrara" by Shajan:
2. Inspiration.
Use laid-back, grooving, happy, uplifting music, either instrumental or with positive messages, to set intentions, inspire goals, clarity and connect with what makes you feel alive.
For example, Incognito's remake of Stevie Wonder's "Don't You Worry 'Bout A Thing":
"Happiness Is Free" by Onda:
"Gobinday Mantra" by Mantra Girl:
"Good Day" by Pumpkin. Here it is mixed with Bill Withers' Lovely day and they both do the trick for me.
"True To Myself" by Ziggy Marley:
"Peace Love Happiness" by G Love and Special Sauce:
3. Motivation.
Use mid-tempo to up-tempo music with strong, energizing rhythms and chord progressions, instrumental or with positive messages to get you into action to manifest intentions.
For example, "Starlight" by Supermen Lovers:
"Use The Force" by Jamiroquai:
"Lose Yourself" by Eminem:
"Unwritten" by Natasha Bedingfield:
"Don't Stop Believin'" by Journey:
4. Focus.
What you focus on expands so when you find your mind wandering around the neighborhood of counterproductive thoughts, use music with strong rhythms and both acoustic and electronic elements, either instrumental or with positive messages and uplifting melodies to keep you looking in the direction you are working on moving toward.
For example, "Golden" by Jill Scott:
"All Inside" by Bondax:
"Light" by Dr Toast:
"Hey (Omganic Mix)" by Stolen Identity:
"Beautiful Moment" by Hideo Kobayashi:
5. Energizing.
Whether it's an invigorating workout or a lengthy to-do list, there are always a million things to get done so use up-tempo, uplifting music with danceable rhythms and joyous melodies that feel fun to keep you going and feeling full of energy and joy.
For example, "Beam Me Up" by Cazzete:
"Walking on Sunshine" by Katrina and The Waves:
"Where Have You Been" by Rhianna:
"Hideaway" by Kiesza:
"Sing A Song" by Earth Wind and Fire:
"Love Shack" by the B-52's:
6. Calm, Effective State.
The more important and/or urgent a matter is, the more important it is to keep a calm, clear head so you can see and resonate with solutions not problems. When you are tempted to panic or get frenzied while on task or while handling situations that have popped up, use laid-back slow to mid tempo instrumental, grooving acoustic or electronic, chillout music with acoustic elements to help you breathe deeply and stay positive and calm in the midst of chaos.
For example, "Homebase" by dZihan & Kamien:
"Oooh Child" by The Five Stairsteps:
"Here Comes The Sun" by The Beatles:
"Closer" by XXYXX:
7. Relaxation.
One of the most important steps to manifesting is surrender and releasing while trusting and allowing the work you have done to take effect, much like the benefits of a killer yoga class set in during savasana. Knowing how to relax at the end of the day in order to enjoy balance, a good quality of life and a restful, body-and-mind-repairing sleep is essential when you have important things to do and be.
Use relaxing, slow, instrumental, acoustic or ambient music to help you unwind, evoke gratitude for who you are being and for all the things you are up to and to release it all for the night and fall asleep so you can get up and tackle tomorrow with all you've got.
For example, "Moonwalk" by Lemongrass:
"Let It Be" by The Beatles:
"Is This Love" by Corinne Bailey Rae:
"True" by Inaia:
"Dreaming Wide Awake" by Lizz Wright:
Relephant:
Author: Inaia Jimenez
Editor: Catherine Monkman
Photos: Vesna Tiricovska/Flickr