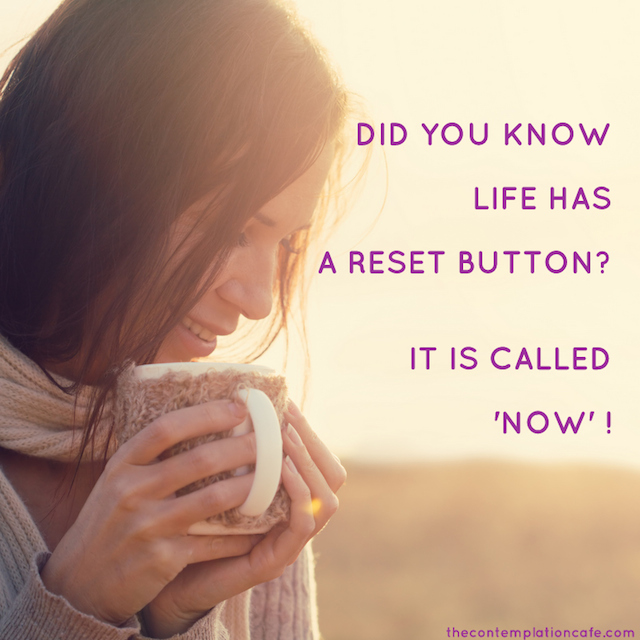 As we draw an end to the workweek, we might feel a bit worn out and depleted. It happens.
Life around us gets hectic—especially at the workplace or at home with the kids. With demands from all sides, we get caught up, disconnect and spread ourselves thin. Know the feeling?
So how can we avoid coming home and sliding into a "slouch-on-the-couch" haze? By getting proactive with a five-minute reset during the day. Instead of using our precious evenings to get rid of our daily overwhelm, why not try a five-minute reset during the day to bring us back into the now.
Here are my all time favorite reset buttons. They've helped me stay sort of sane over the years and should do the same for you:
Pay attention to your breath
The famous one: Slowly breathe in for a count of five. Hold your breath for a count of five and slowly breathe out for a count of five. Feel your body relax and repeat.
Do a five-minute check-in
The powerful one: Become aware of your state of mind. Where do you feel tension or stress? What emotions are present? Where is your mind in this moment? Is it in the future? Gently bring it back to the now. Is it in the past? Gently bring it back to the now and breathe. You're here again!
Take a tea break
My favorite one: Make a cup of steaming hot tea. Sit down, wrap your hands around the cup and slowly sip the tea while it's still hot. Gently blow the steam with every sip you take. Relish it; feel the warmth flowing in your mouth. Slowly swallow, sip by sip, and breathe. See the bottom of the cup? You're ready to go!
Create a moment of gratitude
The soft one: Sit down and list three things you're grateful for in this moment. Write the three things out and be specific. Read them over and focus on the feeling of how it feels to be appreciative of what you have right now. Welcome back!
Get outside and move
The fast track one: No matter what the weather's like, step outside. Squint your eyes into the daylight, fill your lungs with fresh air, feel the warmth (or cold) on your cheeks, the wind in your hair and slowly start moving. Put one foot in front of the other, feel the ground beneath your feet. Talk a walk around the block, notice your mind and body in motion, settling and aligning. And you're back!
This top five is nowhere near complete and I'm sure you've discovered some great reset buttons of your own. You've probably also experienced that the form isn't important; it's the intention that counts—five minutes of genuine intention—it makes a world of difference.
Author: Elles Lohuis
Editor: Evan Yerburgh
Image: Author's own