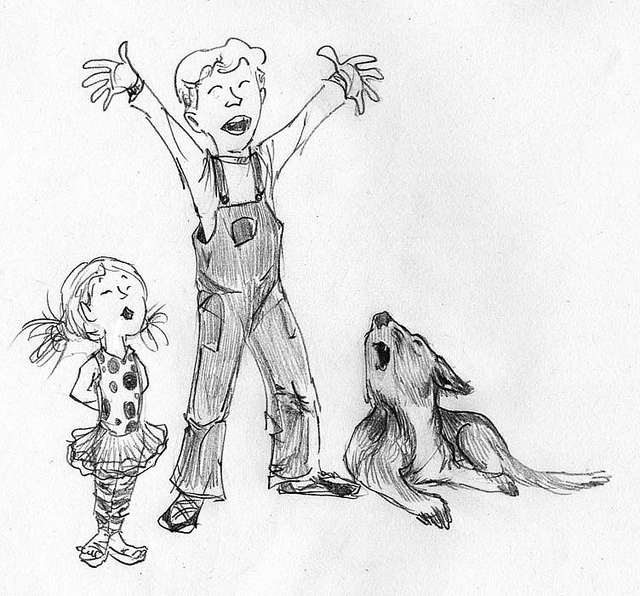 While my father was himself born in the United States (almost 90 years ago), his mother and father and all of his eight brothers and sisters were born in Italy.
As a "change of life baby" he was 20 years younger than his next oldest brother and like so many bilingual children of today, had the advantage of learning English in school. This of course gave him the language without the Italian accent.
In my father's day, Italians were looked down on as "immigrants who had come to America to steal everybody's job," (sound familiar?) and he swore to himself that he was not going to allow his children to suffer from such racism.
Thus, his obsession with correct English.
He was a firm believer that if my sister and I spoke English correctly, the fact that we were of Italian descent would not hold us back and ironically enough, decades later, when I was studying creative writing, much of what I learned at my father's knee about diction, using the right word, and not being a lazy speaker were echoed by my writing teacher.
So, here's to my father. "Salute Poppa. Salute for giving me the English language and for making me the writer I am – before either one of us knew I was one."
Words.
Oh, how I am in love with them.
How they burn in me
All the words I have learned
The sounds of them
The shapes of them
The feelings they evoke
I remember my father with his admonitions:
Always say it right,
Always pronounce it correctly,
Make the sounds the way they're supposed to be made.
People won't respect you if you say "ain't."
Say "isn't" instead.
If you want to get a good job
Speak proper English.
If you want people to pay attention to you
Don't use idioms
"What's an idiom, Daddy?"
I remember the Reader's Digest "Word a Day."
"What's your word today, Daddy?"
Ambiguous.
Never say something is "stupid" my non-ambiguous Daddy would tell me.
Never say "these ones," or "those ones."
Speak proper English.
Don't be lazy about your words
be colorful
be engaging
be inviting
don't just use a word because it pops into your head
or because everyone else uses it
or because it shocks people
or because you want to show off
always use exactly the right word
the one that means exactly what you want to say.
Don't spell like the language isn't your own.
Spell correctly.
People who go far in life
Can spell.
Talk to people in a way that makes them want to listen to you.
Let the words you use force them to pay attention.
Use your words to tell stories.
People love stories.
People remember stories.
You can change people's lives with stories.
Never forget your mother tongue.
Remember the vowels.
In Italian you pronounce every one.
Ah. Eh. Eee, Oh, Ooh.
It's an easy language to speak.
An easy language to sing.
It sings in your ears
Listen!
Listen to the words.
"Be impeccable with your word."  ~ Don Miguel Ruiz
~
Relephant read:
~
Author : Carmelene Siani
Editor: Ashleigh Hitchcock
Photo: flickr/Larry Wentzel