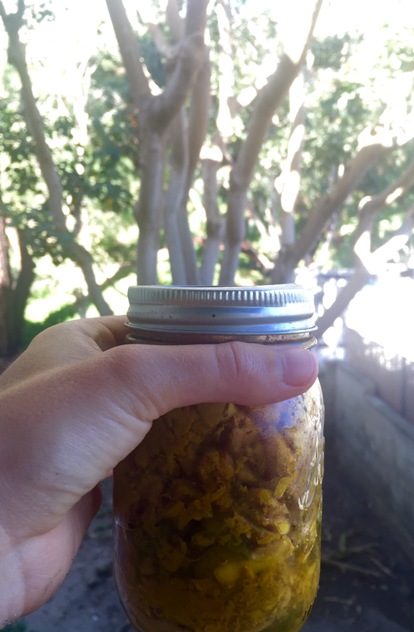 *Editor's Note: This website is not designed to, and should not be construed to, provide medical advice, professional diagnosis, opinion or treatment to you or any other individual, and is not intended as a substitute for medical or professional care and treatment.
I'm always looking to Mother Nature to provide a cure for my ailments.
Tonics, pills, extracts, homeopathic, naturopathic, mind, body, soul…blah, blah, blah. I've tried everything under the sun in the name of good health! After a year-long battle with candida, I was in search of something that would boost my immune system, something affordable and ultimately, something that would keep bad bacteria from infiltrating my insides like a clan of stealthy ninjas.
After many months and dollars spent, I finally came across a remedy that really worked—not just kind of worked, but really worked! This little secret I like to call "magic" is by far the number one thing I've incorporated into my life. Not only did it help me win my battle with candida but it also helped my digestion, revved up my energy levels and improved my skin.
"Magic" is a natural tonic made of apple cider vinegar, raw garlic, raw onions, Habanero peppers, fresh ginger, fresh horseradish, and turmeric. Together these help to fight bacteria, fungus and parasites, while also boosting immunity, regulating digestion, reducing inflammation, promoting detoxification, and stimulating circulation.
This is such a simple thing anyone can do to better their health and I recommend it to all as both a maintenance procedure and/or a targeted remedy.
Uses:
Colds, flu, and seriously every kind of infection, irregular digestion, candida, acne, fatigue. (Note: I had a friend cure a staph infection with this stuff.)
What we need:
32 oz. bottle organic Apple Cider vinegar (raw/unfiltered)
1/4 cup chopped garlic (raw)
1/4 cup onions (raw)
1-2 Habanero pepper (or hottest peppers you can tolerate)
1/4 cup grated ginger
2 tablespoons of grated horseradish
2 tablespoons of turmeric or 2 turmeric root chunks
How-to:
1. Prep the veggies: chop, mince, slice, dice, whatever style you like (I suppose using a high quality blender would work here, although I've never tried it so I can't vouch for that method.)
2. Combine all the ingredients in a bowl, except for the vinegar.
3. Transfer the mixture to a large Mason jar and fill it about 2/3 full.
4. Pour in the Apple Cider vinegar and fill it to the top.
5. Close well and shake.
6. Keep the jar in a cool, dry place and let ferment for two weeks (the longer the better). Shake well several times a day.
7. After two weeks, strain the liquid. For best results use a cheese cloth and squeeze well so you get all the juices!
Dosage:
It's really up to you. I take a shot glass full every day. If you're fighting any kind of infection, feel free to up the dosage—just do so mindfully. Listen to the body!
Tips: 
1. Be careful with the turmeric! I can't even begin to count how many walls, counters, towels and shirts I've permanently stained bright yellow.
2. After the tonic's been strained, save the dry ingredients. They're great for cooking or compost!
3. I keep mine in the fridge, though this is unnecessary. (I think it's more palatable that way.)
4. If the spice is a bit much, feel free to add a bit of raw honey. (Note: For those fighting candida this is a terrible idea; the sugar will feed those little monsters.)
5. Did I mention the turmeric? It stains!
That's it. Enjoy a happier, healthier existence!
~
~
Relephant:
3 more tips how to stay healthy this winter:

Author: Danica Taylor
Editor: Catherine Monkman
Photos: Author's Own