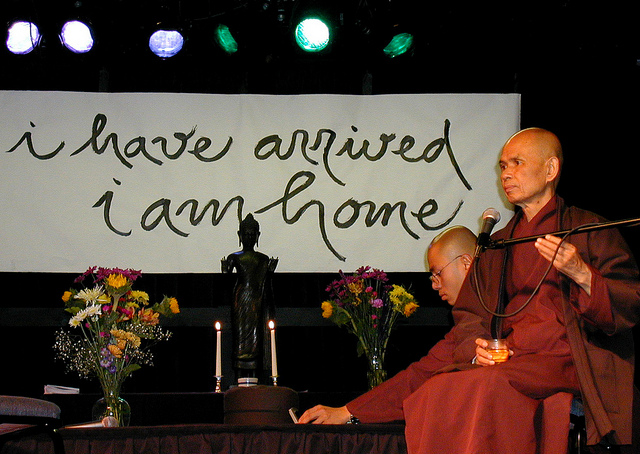 "Nothing is more precious than being in the present moment. Fully alive. Fully aware." ~ Thích Nhât Hanh
Thich Nhat Hanh has spoken his first words since suffering a stroke last November.
The Buddhist monk and teacher recently came to California to undergo further therapy—including speech therapy—and is making progress.
Thay, as many of his devoted followers affectionately call him, is the author of  many books teaching the wisdom of mindfulness and how to practice it in everyday life.
Living Buddha, Living Christ, The Art of Communication, Anger: Wisdom for Cooling the Flames, The Miracle of Mindfulness and Start Where You Are are but a few of his books that have guided me on my path of practicing a mindful way of life.
To me, Thay is the embodiment of Buddhism—a beautiful, gentle soul who teaches with love.
He teaches the wisdom of Buddhism in such a way that anyone, regardless of religious upbringing, can embrace the practices of mindfulness and being present.
Many of us were deeply saddened by news of his stroke last November, and many of his followers have been praying and sending healing love to him, including the nuns and monks of Plum Village, Hanh's Sangha (Buddhist community) in France.
The official update given by Plum Village in a letter spoke of the joy felt in hearing that Thay had managed his first words since the stroke, and that his beautiful words were much like one of his guided meditations.
Pathos.com shared an excerpt from the letter released by Plum Village:
"It has been two months now since Thay arrived in America, with the hope of getting more intensive treatment to recover from his stroke. Thanks to the incredible support of our Beloved Community we have been able to obtain the very best doctors and therapists for Thay, across all treatment modalities. We are happy to be able to share that Thay is benefitting from the best of Western, Eastern, conventional, and alternative medical approaches. Thay is receiving acupuncture every day, as well as physical therapy, speech therapy, osteopathy, and neurofeedback, with the support and oversight of a phenomenal team of doctors at UCSF.

With Thay's advanced age, the severity of the hemorrhage, as well as various complex health issues, recovery is extremely challenging. When Thay first started physical therapy, Thay was very engaged and enthusiastic with his therapists and the program that they had created for him. Preparing for Thay's sessions of physical therapy, we could all feel the joyful determination in his body language. We would tell him, "Thay, let's get ready for physical therapy" and Thay would raise his fist in the air and smile, as if to say "Let's go!"

However, the level of fatigue and physical discomfort that Thay was experiencing when we first arrived in the US limited his ability to participate in the sessions. With the help of the whole team of doctors and therapists we have been able create an integrated program of treatment which allows Thay to have restful sleep, and more alertness, ease and peace in his body, enabling him to more fully participate in the sessions of therapy.

A recent breakthrough has been that whilst using a partial weight support walking frame, Thay's right leg has started to make small movements, initiating the stepping motion.

Thay has received training from three different speech therapists over the last two months, one of whom was able to help Thay speak his first words since the stroke. It was a legendary day. We are happy to be able to share his very first words:

In, out (several times)
Happy (several times)
Thank you (several times)

and "Vui quá" (meaning, "so happy" in Vietnamese).

It was like a guided meditation. Everyone was crying and laughing at the same time, including Thay.
I can't imagine more beautiful and fitting first words from him. Thay embodies the true warrior spirit of his teachings, remaining positive and in love through his trials. Even his first words after almost a year of not being able to speak were of someone practicing mindfulness to breath and the present moment.
The love felt around the world for Thich Nhat Hanh continues, and we will all continue to and him love and healing as he journeys on this path to wellness.
Join me in taking a moment to send warm, healing thoughts to the man that has helped so many.
~
Relephant Read:
~
Author: Lindsay Carricarte
Editor: Toby Israel
Image: Flickr/Anissa Wood
~