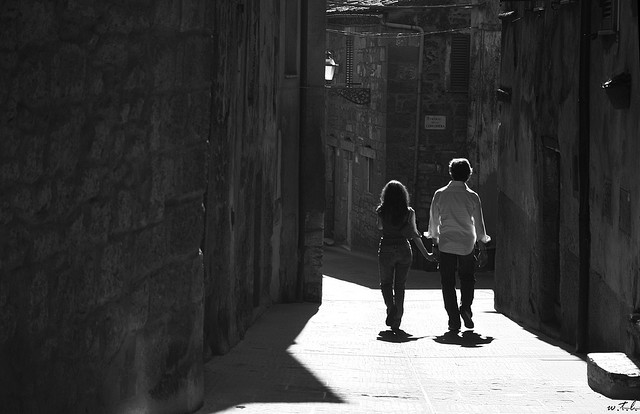 ~
~
We chose each other, on a morning that began with silent raindrops on our window pane.
Together forever it seems, our bodies in an intimate embrace, curled against each other's hearts. Our breath flowing between us as if there was only one—suspended when we kissed, warm and full of hope.
You smiled at me, as you have done so many times before. I swear I know every curve of your lips, every hopelessly beautiful emotion that spills through your eyes.
I smiled in return, and saw myself reflected in your soul. My love, for you, I would take leave of good sense and traipse half the globe in your devastating wake.
But you have never asked me to do anything that wasn't part of my destiny.
You have never held me captive with promises of forever, or dreams of being claimed.
We did not wait for one of us to choose the other, or wonder if we'd ever be enough.
We did not question what tomorrow would bring, we lived each day as it came.
Your soft, "Good morning," has always been enough. The way you became part of my everyday life—your arms around me in bed the only security I've ever craved.
We've been satisfied with midnight love and your mouth exploring every inch of my skin. We've been satisfied with walks on frosty evenings, under the waning moon.
Our love needs neither rings, nor proposals, nor a certificate of our commitment. The future of us is sealed with each heartbeat.
We are free, my love to stay or to go.
We are only passing through this life. The beauty of our relationship is made strong by how fleeting and fragile our hold on the world is.
Our love is enough for this moment, for today, for the exquisite anthem of agony that comes with knowing that one day it may end.
We are dragonflies in flight—our gossamer wings lit by the rising sun. We have found delight in the season that our love was meant to survive. We shall, still, love completely while it does—swim in the deep end, risk the steepest heights, free-fall into whatever is to come.
You looked at me, and I knew. I knew that I could count on you. Your hand in mine as we stared soul deep, your silent tear as you felt my heart space swell—in that moment, we chose each other.
There was only the silence that follows in the footsteps of two souls colliding.
There was only the stir of the wind as it danced all around us, the thunder of storm clouds, the lighting of illuminated devotion.
There will never be a document to say that forever was in the cards—no vows to be broken, no rush to the altar. I chose me, and you chose you—soulmates unto ourselves spilling our wholeness upon each other.
Thank you for a love that abandons convention, bonded by the deep unknown.
.
Relephant:
.
Author: Monika Carless
Editor: Yoli Ramazzina
Photo: Flickr/Dr. Wendy Longo