There are no words to describe the power of the Yosemite National Park.
But I am going to try.
Welcome to the Eastern Sierra Mountains in Yosemite National Park, California. By far, in all my travels the most magnificent display of nature I have seen.
Tioga Pass climbs up to almost 10,000 feet elevation into the Sierras, twisting and turning—hugging dramatic, sharp granite peaks to the right and a deep plunge into the valley thousands of feet below to the left.
I open the windows so we can smell the air. Crisp, clean, pine and ice tinged air, free from the cloud of smog that surrounds Los Angeles. I can breathe here—figuratively and literally. 
As we drive up the pass, I can feel it in the air. That tingle that is the energy of Yosemite. The feeling that we are entering yet another powerful and old place of the Earth.
It is one of the most beautiful places I have ever laid eyes on.
The stillness of this place is electric. It is as though you can reach out and touch the greater consciousness here. It is truly a place of God.
I'm a traveler, as you all know from my previous articles in this series on Arches and the Grand Canyon. I get around the world. The Yosemite Valley will forever be one of my favorite places to come back to, and never does it get any less magnificent—no matter how many times I lay eyes on it.
This visit, though, has been special and different for many reasons—a couple of which I will share. One, I am showing it to my fiancé, the love of my life. I am blessed to share this place with him. And I get to watch him take it in for the very first time.
Two, I get to make amends here. Not long ago, I made many trips blowing through this place, just to get to the other side—to the cities and the parties, cursing its existence because it made my trip longer.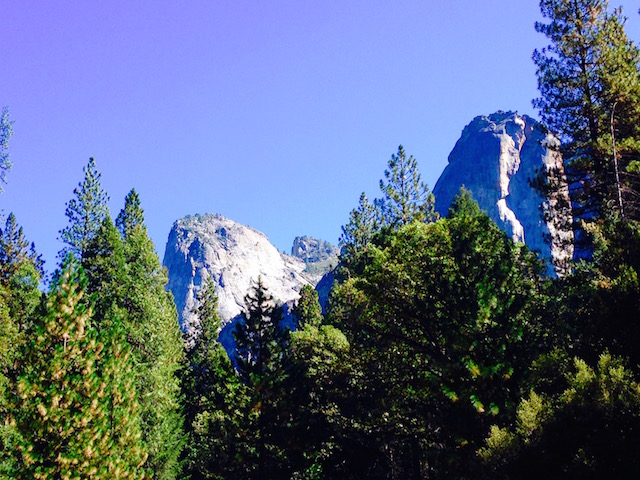 As we cruise through Tuolomne Meadows I can't help but cringe at the memories of blowing through this place, paying no mind to the grand displays of nature that I have been blessed to lay eyes on over and over again. Of actually wishing it wasn't in my way. Ugh. That person is a stranger to me now.
I bow my head in gratitude knowing that this was a different time, and a different life. And the Earth forgives. God forgives. Thus, I forgive myself.
I honor this place now, as I honor my existence here.
The usually lush, green meadows are brown and dry, an effect of the major drought California is having. Another glaring show of the detrimental effect of humanity on our planet. It's no less beautiful though, it's just tinged with a touch of sadness, feeling that this is what we do to our home.
Stopping at Olmstead Point, we view the dramatic granite valley leading to Half Dome (which,at 87 million years old, is the baby of the rock formations) and I get to watch the face of my fiancé—the face of someone taking this awe-inspiring sight in for the first time.
I am overcome with gratitude. I tell him, "Wait—it only gets more amazing."
We make our way down to the Merced River in the Yosemite Valley, where we drop down several thousand feet to take in Half Dome, El Capitan, and Bridal Veil Falls from ground level. The cliffs rise up 3,000 to 4,000 feet above us. Here is where it really hits home for me; I am truly humbled looking at these ancient (87 million to 114 million-year-old) glacier-carved rock formations in all of their splendor and glory.
It's as though God whispers to me, "Do you think I made all this by accident? No? Why then do you insist on questioning my management of your little life?"
Ah. 
Like a granite boulder that realization hits me, and I smile to my inner self, and take the moment to bow my head in homage to the Powers That Be. I've just been hit with a whole new perspective, and I honor that.
In that moment I feel that pure Oneness, serenity and contentment that I have mentioned before. I feel the spirits of all those here with me, and those that have worshipped Earth before me.
I am speechless with the gratitude I feel at being privileged enough to come back to this place so many times, and to come back this time to make my peace and my amends with it. I honor the plan and for a few moments am at complete peace with knowing nothing.
And the perspective of it all:
~
Relephant Read:
~
Author: Lindsay Carricarte
Editor: Toby Israel
Images: Author's own
~