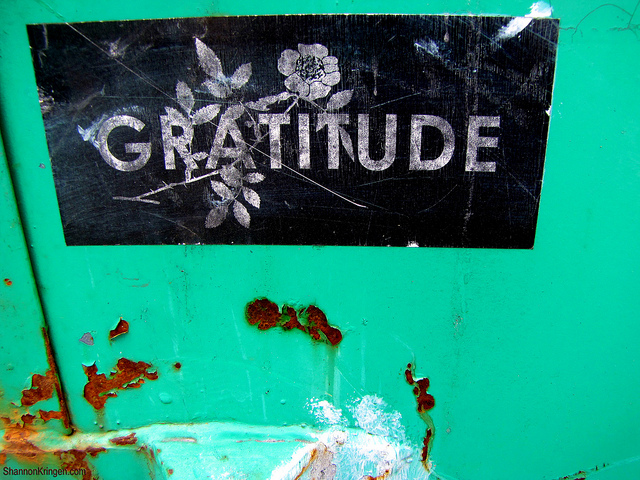 Gratitude has become a popular practice.
There are gratitude books, journals, apps and hashtags. And rightly so, gratitude is a game-changer. It's been linked with improvements in happiness and decreases in depression. It can cut complaining off at the knees. Said out loud, gratitude can form friendships, strengthen bonds, and make someone's day.
Around this time last year, I was having a hard time. I was fed up with my job; the monotonous routines, the endless meetings, the constant hum of stress just under the surface. Nothing new and exciting had happened in my life outside of work for quite a while either.
I felt like my life exemplified that saying, "Same sh*t, different day."
I tried gratitude, and it helped, to a degree. I noticed and appreciated more of the little things. I became aware of exceptions to my overall opinion of my job and daily existence.
But, I needed to amp things up a bit.
That's when I hit upon what I refer to as "gratitude on steroids." I often reflect on what will be important to me when I come to the end of my life as a way of gaining perspective on difficult situations, or motivating myself to take action.
Gratitude on steroids comes from the same line of thinking.
It goes like this:
Imagine you have passed away.
Your life has ended, through whatever means. But somehow, you are granted one day back among the living.
No-one else realizes how miraculous this is but you. You still have to go to work, commute home, and cook dinner, that's part of the deal. But, you're fully aware this is your very last chance to do these things.
Pay attention. How does it feel?
How does it feel, to drive a car for the last time?
How do you act, getting your coffee, passing strangers in the street, greeting the receptionist?
What's it like, to chop herbs, hear the pan sizzle, smell the onions as they sauté in butter?
How do you greet, listen to and hug your loved ones, no matter what their mood?
This mindset makes me gentler. My heart feels expansive, because with only one day left, there's nothing to defend.
I listen more, because there's no urgency in needing to make my point. Empathy grows for how we are all struggling and all doing our best. Frustration melts, because well, what's the point?
My words and hands are kinder. My eyes are softer. I feel less rushed, and take more notice of my environment and those in it.
For once, I come out of my habitual seat up in my mind and experience what's right in front of me. I feel no concern for how my body looks, but appreciate only the opportunity to run or dance or hold someone.
I enjoy all the elements. Instead of judging sun or warmth as "good" and wind or rain as "bad."
If you need to up the gratitude-ante, try this practice.
You don't need to tell anyone you are doing it. They might notice a difference in you, especially if you've been wound up or distant lately. If they ask, just tell them you've decided to focus on gratitude. Or share this information with them, if you wish.
I write this on hearing of the passing of the inspirational Scott Dinsmore of Live Your Legend, a man who promoted the need for us all to live with passion and make the most of our lives.
I can only imagine that those who have passed on would give us this exact advice—take notice and appreciate all the tiny beautiful moments that make up our lives, no matter how routine, for we will never know when they may be our last.
~
Relephant Read:
Author: Averil Linn
Assistant Editor: Elizabeth Brumfield/ Editor: Travis May

Photo: Flickr/Shannon Kringen, Flickr/Britt-knee