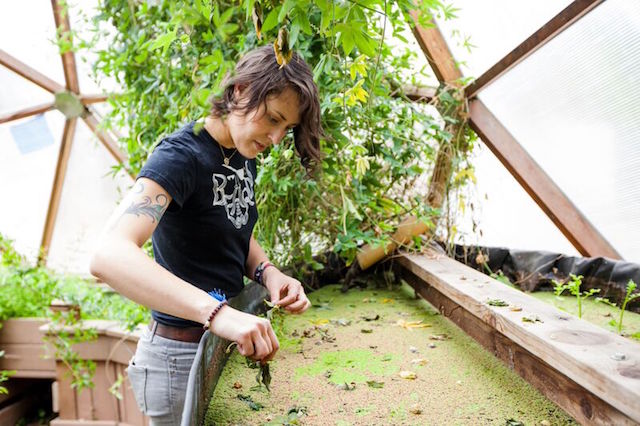 This post comes from Naropa University, an elephant partner. The elephant team is honored to share their work. May it be of benefit!  ~ Ed.
"Permaculture is a philosophy of working with, rather than against nature; of protracted and thoughtful observation rather than protracted and thoughtless labor; and of looking at plants and animals in all their functions, rather than treating any area as a single-product system." ~ Bill Mollison, Introduction to Permaculture
As finding ways to create a more sustainable planet is becoming increasingly critical, it isn't any surprise that people are becoming more and more interested in permaculture, or permanent agriculture.
As both a theory and practice, permaculture looks at how can we create a human civilization that actually improves the health of the planet, local ecosystems, and human culture. Today, people are coming together in different ways to look for new solutions, build community, and spread the word about the value and necessity of sustainable living.
Last month, about 600 people attended the 12th annual International Permaculture Conference in London. In the US, electronic music artist The Polish Ambassador is hosting a "Permaculture Action Day" in every city on his tour the day following his concert. The tour stopped in Denver this past weekend, and more than 1,000 people RSVP'd to participate in the local "Action Day."
Naropa University is also getting in on the permaculture movement, as part of our commitment to teaching students about environmentalism, ecology and sustainability.
Read on to get a glimpse of what some of our faculty are teaching about permaculture at Naropa, then check out our Environmental Studies and Environmental Leadership programs for ideas about how you can get involved and help save the planet with mindful practices.
Permaculture at Naropa
by Jason Gerhardt, Naropa Permaculture Program Faculty
The ever-growing field of Permaculture Design has a longstanding home in Boulder, Colorado. Down in the Boulder Creek floodplain sits Naropa University, where a growing collection of permaculture inspired projects and classes have been taking place for over a decade.
In 2008 the Naropa Greenhouse was constructed as a student-led initiative and has served as an active space for students and faculty to experiment with ecologically regenerative food production, passive solar heating and cooling, innovative water use, heritage fruit tree preservation, and so much more. While none of these practices define permaculture, they can all be pulled from the toolkit to design and develop a human culture that is not only less harmful to the environment, but surprisingly beneficial—the actual aim of permaculture. The greenhouse acts as a complete system to learn from during the cold winter months.
When the outdoor landscapes on campus aren't caked in ice and snow, students get to work in different contexts than the subtropical conditions of the greenhouse to understand permaculture. They have been designing and planning a large space to build an outdoor food forest for the last few years, and in the Fall of 2015, ground was broken to provide the experiential learning Naropa students crave.
Undergraduates of Environmental Studies and graduate students in Environmental Leadership are now working to set up fruit tree communities, channel runoff irrigation water, build living soil, propagate new plantings, and observe the cultivated ecosystem working. These students become a part of this ecosystem as they learn by doing, an essential aim of the environmental curriculum, to develop a sense of belonging on the planet with a role to play.
In the undergraduate and graduate Environmental Studies classes at Naropa, where permaculture research, theory and methods make up a big part, food production is not the goal, but a by-product of using gardening as a means to deliver an ecological design education. We aren't a farm or intending to commercially produce food at any scale. It's more about creating opportunities for learning how ecological systems work, and experimenting with the positive role human hands can have on the planet.
Design, or the conscious arranging of elements to form a functioning system, is an essential trait of being human that seems to have been left out of much of modern education. Naropa attempts to fill that void through exposing students to ideas and theories around permaculture, where design is the practice. Understanding how ecosystems function is the lens.
Ripe figs plucked from the tree are just a bonus during break time.
Photos: Naropa University