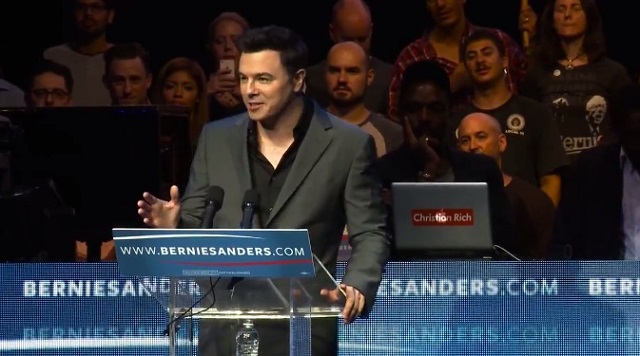 "Doesn't it seem that things have swung so far in one direction that just a little bit of Democratic Socialism maybe is not the worst idea?" ~ Seth MacFarlane
On the day following the first Democratic Debate, Bernie Sanders held a fundraising event in Los Angeles, California.
Seth MacFarlane—filmmaker and creator of the animated television series, Family Guy––was given the privilege of introducing Senator Sanders to the excited crowd, and he did a terrific job of it!
Not only did he do a compelling job of iterating the moment  when, in his mind, Bernie Sanders won the previous night's debate—but he also managed to keep the  introduction lighthearted and fun. (Not that we'd expect anything less, from MacFarlane.)
We can watch the video here, on Bernie Sanders' Facebook page (I think the audio quality on this one is a little bit better), or check out the YouTube version:

Of course, the major media channels have been reporting that Hilary Clinton won the debate Tuesday night, despite the fact that Senator Sanders was dominant in all the various online polls and focus groups.
Who do you think "won" the first democratic debate? Leave a comment below!
.
Relephant:
.
Author: Yoli Ramazzina

Photo: Screenshot.