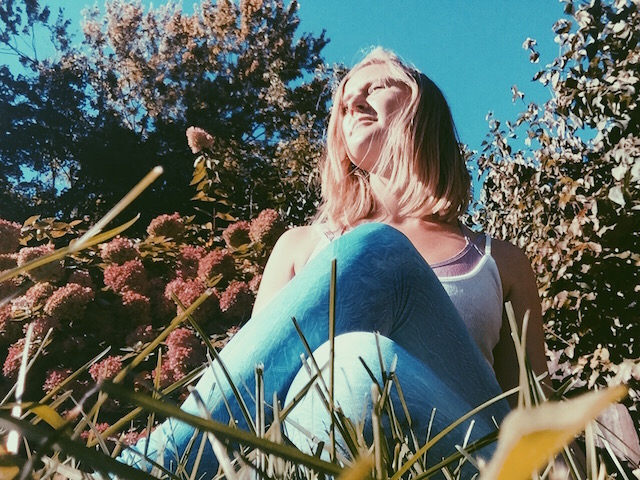 Note: elephantjournal.com received these review items for free, in return for a guarantee that we would review said offering. That said, we say what we want—good and bad, happy and sad.
When it comes to yoga clothes, my body and I have a few basic needs that need to be fulfilled before we can enter into a committed relationship:
Comfort, versatility (Yoga class? Check. Casual dining? Check. Young-professional-in-yoga-pants-and-blazer? Check.), and eco-factor.
Here's how SoloSol Movement stands up against that list:
Comfort: 
I would not be lying if I said that the Bali Bra is second only to no bra at all.
It's soft and stretchy. It doesn't pinch. It stays put. The intricate looking straps on the back are actually incredibly user-friendly, look fancy, and are practical—they allow for a few different ways to tie, so you can customize the fit.
The Baja Leggings, fair warning, are tight. That said, once they're situated, they're hardly noticeable. The fabric is so soft and lightweight that they don't leave seam-imprints on your legs, they don't get sticky and clingy with sweat, and the waistband tucks everything in just so.
Throughout an entire power yoga sequence, this outfit stayed in place—no pulling, no tugging, no readjusting mid-down dog.
If comfort was all we needed, we'd be down on one knee.
Versatility: 
Admittedly, I'm more of a my-entire-wardrobe-is-black-white-and-grey kind of gal, but these patterns work for me because they're relatively neutral in color and don't force me to walk out of yoga class and into bookstore with a howling wolf going up my thigh.
They've also managed to make a line of totally different patterns that all look good together. A mix-n-matcher's paradise.
Plus, I'm pretty sure if I dove in the ocean in the Mystic Sky leggings I could pass for a mermaid, and that's really all I've ever wanted (dream big!).
The Bali Bra can easily jazz up a plain yoga tank for class or a plain top with jeans, and the Gypsy Long Sleeve Top's awesomeness pretty much speaks for itself—wear it with a SoloSol outfit and it looks flawless, wear it for a night on the town and you'd never know it was a yoga shirt. Plus, it's made of a great fabric, which brings us to…
Eco-Factor: 
SoloSol gets most of its eco-points from the trade-offs they make for some of their non-eco qualities.
Most of the bras and leggings are a polyester-spandex blend—hardly biodegradable, pretty energy-intensive to produce, and not organic. But, it's locally sourced in Bali (where all of their clothes are made by a family-owned business), incredibly durable, and the upkeep is so low-maintenance that over its lifetime, it's actually more energy-efficient to own than cotton.
The prints on the pants and bras use dry sublimation printing, which means no sweating into dyes and chemicals, which gets two thumbs up.
The Gypsy Top appears to be their most eco item, made of Tencel, which is sustainably harvested from Eucalyptus wood. It looks like the production process can use chemicals and be a bit energy-intensive, but it's not clear whether that's the case across the board or based on place of production.
They also donate 10% of their sales to BARC, a dog rescue in Bali that not only cares for and shelters strays, it educates children and communities on how to best effect much-needed change. Swoon.
Soft and stretchy comfort at its finest, cute, and a valiant attempt to offset some of the ouch to Momma Earth?
SoloSol Movement, let's go steady.
Author: Emily Bartran
Photos: Author's Own