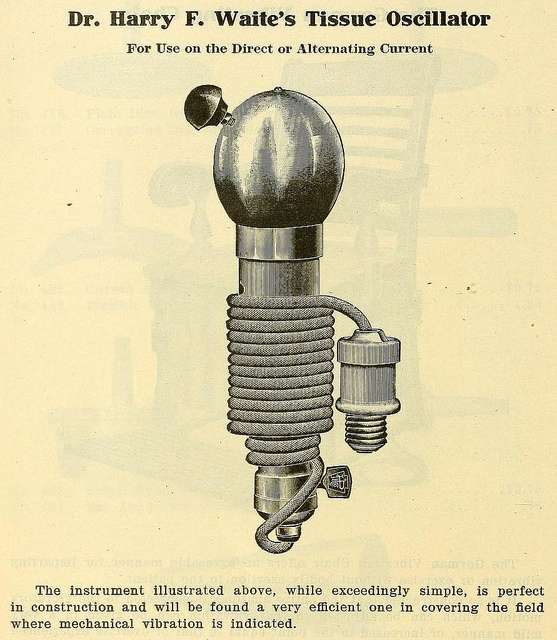 ~
~
I broke my vibrator the other day.
Well, actually my husband broke it.
No, that's not true either. The guy who came to put the new carpet in broke it.
He found it under the bed and got the wire caught and somehow broke the wire pulling on it. (At least that's how we think it happened).
But then the next time somebody used it they got a shock and when I went out to the kitchen it was on the counter all taken apart, it's little guts splayed open and it's wires spread all around.
"What's "Fred" doing on the kitchen counter?" I asked, or rather, shouted at my husband at the sight of seeing my little guy all opened up like that.
"I'm going to fix him." he said.
"But, David, it'll take you days and days to fix him."
"No it won't. I promise."
"Yes, it will. I don't want to wait."
"Well you don't have a lot of options," he said. "That's a very special vibrator."
(Gotta love a guy who has respect for his wife's vibrator).
"I know it is. I'm going to order a new one from Amazon. They have everything."
I'd had Fred for almost 20 years, having bought him in a "women's specialty shop" in Berkeley, California where a lesbian girlfriend of mine had suggested I go—adding that a then almost 60 year old woman like me wouldn't be embarrassed to buy her first vibrator there.
"They'll understand," she'd said, ever so patronizingly.
When I went in, I told the guy behind the counter with the stocking cap, goatee, and pierced eyebrows that I was looking for a vibrator, that I'd never had one and what could he tell me about the ones they carried.
Turned out he was a really well-informed employee as he definitely asked all the right questions.
"Rechargeable battery?" ("Nice option.")
"For you to use alone or with someone else?" ("Both.")
"Underwater?"  ("Underwater? Really?")
"Large wand or small hand held?" ("Show me.")
I picked out the biggest, strongest, most expensive vibrator in the store. The stocking-cap-guy rang it up and I nonchalantly handed him my credit-card as if it meant nothing to me that there was a pair of crotchless panties in the display stand right next to the cash register.
He put my new purchase into a nice pink bag and as I carried it outside to where I was parked, I swear, it came alive in my hand. I made a u-turn and immediately headed back to my hotel to try it out.
They say you always remember your first love.
I had no idea what a wonderful thing a real vibrator could be. I'd been using something else for years without realizing exactly how limiting it was.
Don't get me wrong. It was pretty innovative of me to have even thought of using the flat side of an electric toothbrush to begin with, not to mention brave of me to have tried such a small pointy thing on such a small not-so-pointy part of my anatomy and it was a big step for me to accept that my orgasms were worth $68.00,
"A true sign of self-love and sexual self-esteem." It said so right in the brochure.
Today, I still love my big, sleek, shiny, vibrator with its soft/firm rubber knob on the end that moves and twirls and well—vibrates. It never gets tired or stops too soon, doesn't sit in bars making jokes about the way I smell and doesn't compare its size to other vibrators. It doesn't even pretend to understand the words "blow" and "job," is always ready when I am, and always stays awake.
What's not to love?
"I need to introduce you to somebody," I said to David the first time he got into my bed and, reaching around behind me pulled Fred out from between the pillows.
"Well, hello Fred," my incredibly game husband said. "I think we're all going to have a really good time together!"
Back in the kitchen where my now broken Fred was so sadly laying on the counter, I ran over to the computer and found that in fact Amazon did have an exact replacement.
"Look at that, David. They have it"!  And, it could be delivered within two days.
"How much is it?" he said.
"Who the hell cares," I said.
"Order it," he said.
And I did.
Epilogue: When the new vibrator came, David said that we'd have to change its name. I told him no, we didn't have to change its name.  It was like the Kings of England. "Oh," he said, "Like Fred the 1st and Fred the 2nd?" 
"Yes." I said. "Just like that. He's Fred the 2nd."
~
Relephant read:
~
Author: Carmelene Siani
Editor: Khara-Jade Warren
Image: Arralyn!/ Flickr
~