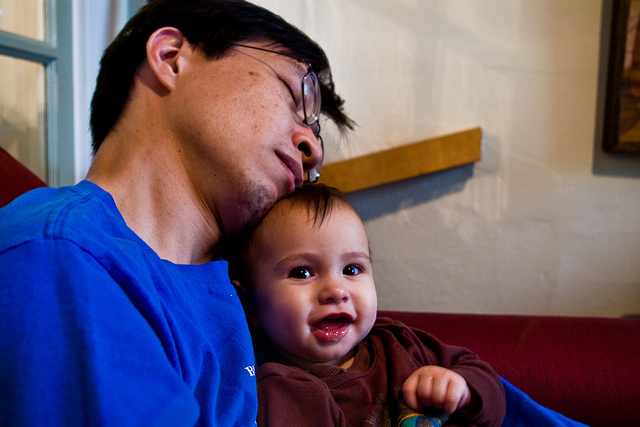 ~
~
"Any man can be a father, but it takes someone special to be a dad." ~ Anne Geddes
Once you bring a child into this world, you are a parent.
The role of parent becomes first and foremost—second to everything else.
This article isn't for the men who are amazing dads—or even those men who have stepped up to the plate, where another has stepped aside.
This is for the men who have mistakenly assumed that the role of dad is optional.
As single mothers we understand that being a parent isn't easy—but our children aren't looking for perfection.
They are looking for consistency.
They are looking for love.
This may seem like commonsense, but unfortunately it isn't.
We know that unconventional families are difficult to navigate and that sometimes the seas are so rough it just seems easier to stay on the shore—but our children aren't storms to weather, but rather ships to teach us how to navigate life.
We know that sometimes, as mothers, we make it too easy for you to step aside—and while we know that we wear our superwoman cape well, the truth is, we still can't do it all on our own.
These children need you.
We look at their shinning eyes and big smiles, giggles breaking through the clouds on even the darkest of days—and we continually wonder, how could you not want to be a part of their lives?
We know that you have tried.
We know that we have told you in the past that we think you are doing your best—but this time, your best just isn't good enough.
We've meditated and read Buddha's teachings—we've practiced non-attachment and authentic living.
But the truth is, our children don't care about any of that.
They only want you to be their daddy, and they don't understand why you seem complacent in not being a part of their everyday life.
But as mothers, we can't answer their heart's question—and we can feel the pain radiating from them.
We also know that we can't make it go away—because this pain is part of what they need to experience in their own journey.
We have never asked for you to like us now that we are divorced, and we are even okay with being the bad guy—but the thing is, and the thing you don't seem to understand is, that this isn't about us—or even you.
This is about the kids.
And we are sorry, but this time, you aren't being the dad that they want or need.
We don't know when the time will come when we will open up our lives and share it with another man—but we do know that maybe he will end up becoming an important part of their lives.
Even if he just remains their best buddy—if he never really chooses or wants to accept the role of a step parent (which would be okay) he will still be a stronger male role model than you have been, so far.
And it won't be because he's perfect—but because of his presence.
He will be there on the evenings when we are tending to the children, when they are sick, and he will be there taking pictures as they blow out the candles on another year's birthday.
We never wanted it to be this way—because we aren't looking to replace you, or to find an instant father figure for our children.
But, by simply being in our lives, this man will find himself falling in love with the way our oldest giggles like us, or how our youngest looks like us when they are sleeping, dreaming sweet dreams.
In the beginning he won't plan on falling in love with them too—but like most wonderful things, it will simply happen.
We know that you do love them—but it isn't enough.
Because as these beautiful children grow into strong young adults, they don't see life as we try to make it seem—they see it for the truth of the situation.
And we can't undo that this time.
No matter how much, as mothers, we have painted the situation in beautiful colors—they see the truth through our words by the reality of your actions.
The thing is, they really aren't looking for a superhero—they are looking for someone who cares enough to follow through on their promises and who will show them that they are worthy of love.
Because while we, as adults, have to learn to love ourselves, children still need to be taken into strong arms and showed that no matter what, they are amazing little beings who deserve every ounce of happiness in this world.
No child wants to be an option and the reality is, they should never have to be.
We know that you aren't fully aware of the consequences of your actions right now.
But, we all hope that one day, before it is too late, you will see that the only thing that really matters is that these children have so much love and amazingness to give—if only you would fully open yourself up to it.
Because they aren't looking to only be your part time hobby any longer—but your full-time children.
~ 
Relephant:
Author: Kate Rose
Editor: Ashleigh Hitchcock
Photo: flickr/Benjamin Chan