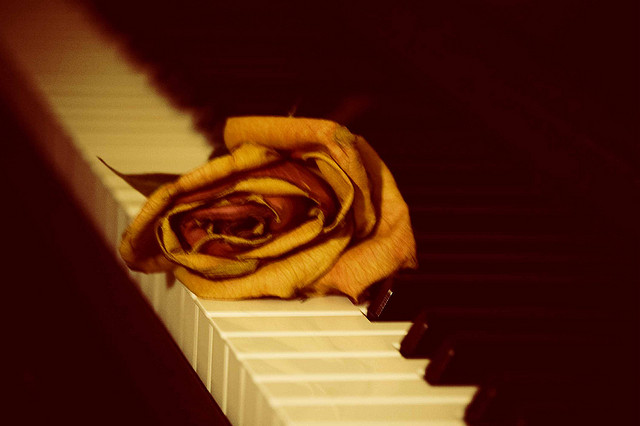 He sat down at the piano—and the whole universe stood still, silently awaiting his first note.
Flowers raised their sleepy heads, anxiously anticipating his succulent melodies, like warm rays of buttery sun.
Even the breeze held its breath, thirsting for the sweet music that poured like gushing rivers—out of him.
She stood beside him, too—his one and only love, full of pitter-pattering excitement, her smile like a bud ready to burst in early spring.
When his fingers finally hit the keys, the air became thick—filled with rose petals and static electricity. A tornado of heartfelt chaos poured out, as pieces of his juicy soul dripped all over the place, raining down a beautiful storm of pain and love, loss and triumph, honesty and struggle.
He played til' his fingers ached, til' his eyes begged for sleep, til' the entire room was blanketed in blossoms of jasmine and climbing ivy.
He made music, yes, but mostly—he made magic.
She knew that his songs were like potions, stirred together soulfully with the impassioned touch of his hand and a lone bay leaf.
Some songs would lull her to sleep, like soothing fields of lavender, and some would burst open her heart and send her bitter memories out to sea.
Some songs would make her weep, pulling the tears out of her—tears she needed so badly to cry.
And some songs were just plain f*cking beautiful.
He filled her empty heart with bouquet after bouquet of beautiful music—he made her skin dance to rhythms that sounded like falling snowflakes and exotic secrets and tempestuous hurricanes.
He made her come alive again.
Every day, he sat down and poured his entire heart into that piano—soon it sparkled, covered in emeralds of dedication and specks of golden-flecked stardust.
He had always longed for success, but what he didn't see is that he was succeeding.
Her electric smile told him he was already wildly successful.
He was a piano man, sure, but mostly—he was a medicine man.
She stood proudly by his side, as he draped the earth in moon-soaked music, like sacred vines.
He healed the world through soulful melodies—one magnificent stroke of the keys at a time.
.
Relephant:
.
Author: Sarah Harvey
Editor: Yoli Ramazzina
Photo: Flickr/Ariane Hunter