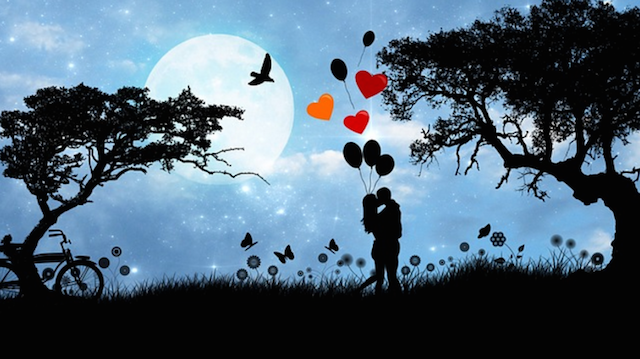 ~
~
*Eleditor's note: Astrology isn't a religion. We're not sure it's a science, either. It's magic, maybe. But, as with feng shui, say, things affect things. So as long as we don't go blaming our problems on the stars, as long as we assume responsibility for our own actions…well, hell, a little auspicious coincidence and applicable wisdom can't hurt. And so, with that grain of salt…enjoy!
The lovers of the zodiac Venus and Mars are meeting up on the November 2nd.
And the lead up is good for our love life. In particular, if things aren't what they used to be in the bedroom, pay attention. And if we're with someone new and exciting and we're smoking up the bed nightly, ditto.
On November 2nd, the lovers of the zodiac, Venus and Mars, will "conjoin." That means they will be in the same place at the same time—it only happens about once every two years and if we're interested in our love life, it's potentially important for us to know about, astrologically speaking.
If we're having issues with our partner, or things are on a slow burn and we want to heat them up, or we're in lust and we just want more, more, more of our beloved, then Venus and Mars will supply us with the energy we need. Reason being, Venus is the love and relationships planet while Mars is the red-blooded sex planet.
Here are the times of the Venus/Mars meeting around the world:
London: November 3 at 1:10 a.m.—focus on it on the evening of Monday, November 2.
Sydney: 11:10 a.m. on Tuesday November 3—the night of November 2 or morning of November 3 will work
New York: 8:10 p.m. on November 2—perfect!
If we and our beloved have been through tough times lately, it could also be a healing moment for the two of us. This is because the next astro-combination which takes place is a connection from mighty-happy planet Jupiter to healing planetoid Chiron. If we need to talk things through, find someone right to do it with (not necessarily the person we went through the rough time with).
And if we don't have a beloved but would like to, use the Venus/Mars connection to do some "cosmic" work.
Start by writing down any bothersome hurts from the past. Take as much time as needed—write it by hand, preferably. Then visualize the person who hurt you. Understand that we all have sacred contracts with the people in our lives who touch us. Consider the idea that before you both incarnated, you agreed to have this upset, so that you could learn something. What have you learned? And now see that person in your mind's eye and forgive and thank them. Send them love and see them floating off into the ethers.
If you can, follow this up with a massage or a candlelit bath at home or whatever feels right. Take time to think about what you want from your next big relationship. Visualize it. How does it make you feel? As the late, great Wayne Dyer noted, the key to manifesting is to "feel the feeling of the wish fulfilled."
We are moving from the full moon to the new moon—a special time when dreams are born.
If we're not all that interested in romance but curious about money, this Venus/Mars link is great for being proactive about cash. Don't argue about it though. Next week will bring the new moon so the more we can get clear on what we want now, the more powerful our new moon wishes and intentions will be.
Knowing where Venus and Mars are in our own astrology charts, can be helpful in terms of understanding why and how we love who we love.
~
Relephant:
Author: Yasmin Boland
Editor: Ashleigh Hitchcock
Photo: Public domain