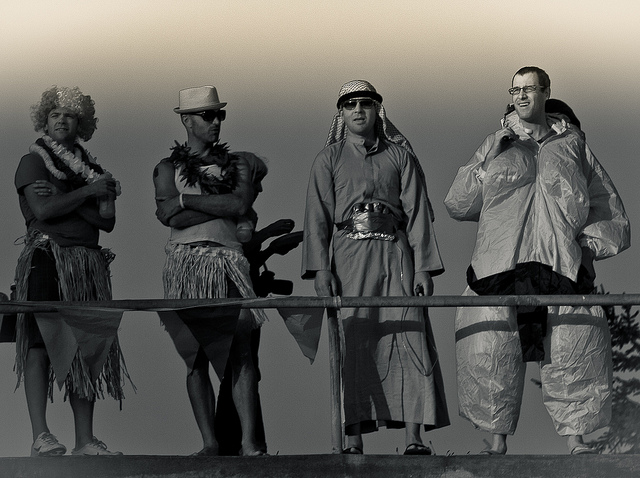 Warning: Naughty language ahead! 
Sometimes in business, in relationships or in life in general, we forget our higher selves. And it can be incredibly effective to have a reminder of who we are when we are at our best, especially when we aren't.
I had the opportunity recently to remind someone of his higher self while walking the downtown streets of my home town, Santa Monica, CA on a Friday night. (I apologize for the language here, but it's necessary to provide an exact quote to make my point.) I overheard a man behind me almost chanting, "Bitches, bitches… Where are the bitches?" A moment later, the chant continued, "Women… Where are the women?"
I turned and saw a black man that I estimated was in his late 20s. He was walking with his Spanish friend. He caught my glance.
Without any judgment, I said, "You know, I prefer the way you said that the second time."
"I'm sorry," he said. "I didn't mean to offend."
"You didn't offend me," I offered. "But you did cheapen yourself. And you're better than that and you know it. Seek bitches and you will find them. Seek women and you will find them."
Stunned, he stopped and looked at me and in all seriousness he said, "You just completely changed my life."
"No," I said. "I only reminded you of who you are. 'He who stops being better, stops being good.'" (Thank you, Oliver Cromwell.)
"Thank you," he said.
I patted him on the back. "You got this," I said, and went on my way.
Had I become personally offended, seen myself as a crusader for women, held him in judgment and/or scolded him for his choices, it is very likely he would have had some choice words in response (or perhaps just kicked my ass). Whatever the case, I am confident that had my words ridden on the energy of judgment, they would not have been received.
Coming from a place of service to him, reminding him of his higher self, encouraging him to reconnect with his own self-respect and telling him that I believed in him, my words were not only received but appreciated. And he told me they succeeded in my intentions. I am confident that anyone, particularly any women, he came into contact with that night were all the better for it. He chose to elevate himself, and others were probably elevated subsequently.
This is no different in business or in any area of life. By expecting people to be their best, believing in their best and reminding them of it, we uplift them. We become resonant leaders who inspire, instead of dissonant leaders who judge and condemn. Being in service to those people serves our cause, our business, our relationships, our lives.
In what ways are you condemning your staff, your partner, your children or your friends, and in what ways are you uplifting them? Are you reminding your staff how great they are at their jobs, even when they make mistakes? Are you reminding your partner that you're glad you chose them, even when challenges arise? Are you reminding your friends how much you appreciate them, even when you disagree? Are you reminding your kids how smart they are, even when they earn a poor grade? Are you reminding yourself that you're doing the very best you can, even when results aren't what you want them to be, trusting that they are what they need to be?
These kinds of reminders can ensure you are connecting with people and being a leader with whom they resonate. They support enduring success in all areas of business and life by uplifting and inspiring, even when things aren't as intended.
~
Author: Chris M. King
Editor: Caroline Beaton
Image: Flickr