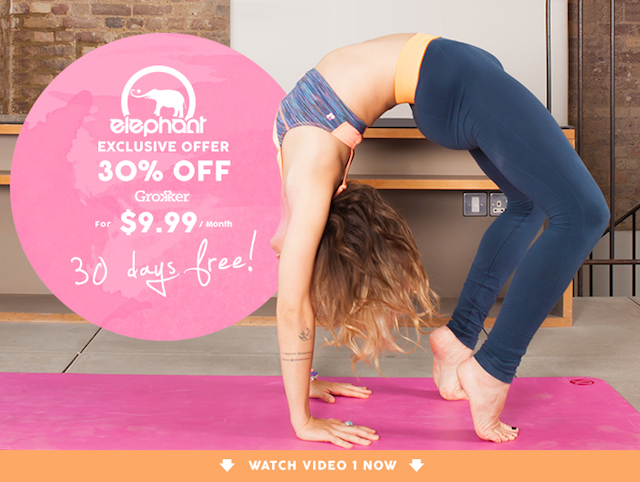 An offer for Elephant Journal Readers only: 30 Days free, then 30% off: only $9.99 / Month. We're honored to partner only with those mindful companies who can benefit our readers. ~ Waylon Lewis, ed. Start your free 14-day yoga challenge here.
You may have already heard of Grokker, an online wellness hub offering yoga, pilates, HIIT, meditation, healthy recipes and much,
much
more!
Well, have you heard of their awesome expert, Steffy White? Steffy is a pocket-sized yogi from Scotland who we think could inspire even the biggest skeptics to become full-fledged, yoga loving, wellness warriors!

Watch this video and the rest in the series, completely free!

For a limited time only, get 30 days free followed by 30% off the usual monthly subscription, meaning you pay only $9.99 per month! Click Here to Start.
Her 14-Day Yoga Challenge is a great example of the type of supportive, nurturing and effective series that Grokker offers.
It's not about being able to walk on your hands and balance on your eyelashes, whilst meditating on world peace! (Although, if you can do that, then, well… whoa!) It's simply about getting you on the mat for just 20 minutes a day to help you tone up, reduce stress, become energized and most importantly, giving you all the tools you need to make yoga a part of your daily routine, along with the knowledge to practice confidently and safely.
Steffy's 14-Day Yoga Challenge is aimed at beginner and intermediate yogis and consists of the following videos:
Flow for Balance

Yoga for Abs and Core

Yin Yoga for Hips

Upper Body Flow

Mindfulness and Breathing Meditation

Mastering Wheel Pose

Lower Body Flow

Yin Yoga for the Back

Mastering Crow Pose

Awakening Gentle Yoga

Strong Flow

Yin Yoga for the Hips 2

Rocket Standing Series

How to Balance a Headstand
Along with the videos, there's a calendar so that you can schedule your practice in advance. You will also find a supportive, inspirational online environment and a Q&A Cafe, a place where you can ask the experts and other users questions, along with the option to offer feedback of your own, they love hearing from you!
You can try the 14-Day yoga challenge and more, completely free as part of the exclusive deal we have negotiated for Elephant Journal readers! The first 30 days are free of charge, then it's 30% off the normal price at just $9.99 per month for unlimited access to Grokker! That's less than the cost of lunch!
The difference 30 days can make in improving your health and wellbeing is huge, and then it's completely up to you to decide whether or not you want to make it a long term thing. 
This deal is exclusive to Elephant Journal readers and will be for a limited time only so act now to take advantage!

"Here at Grokker we believe that a truly healthy lifestyle is multifactorial and it definitely isn't a one size fits all approach. We also understand that it can be hard to find your way through the myriad of books and websites offering advice and tips so we endeavor to put all of that, in one place! One place that you can access anywhere, anytime and in a multitude of ways whether that be desktop, smartphone, tablet or even on your TV via the web on Apple TV or Chromecast!
Are you on holiday with only your smartphone and a need to get a workout in? No problem, we've got you covered with our new App! Have you promised to make your other half a romantic meal but now are feeling up against it and totally out of ideas? No worries, we've got you, step by step! Do you just want to switch off for ten minutes and have heard all about the benefits of meditation but don't really know how to go about it yourself? We've taken care of that too, with a whole section devoted to guided meditations for beginners.
Cultivating a new healthy habit can be tough, we get that! That's why we have worked closely with experts in all different fields of health and wellness to create specific and progressive workout series, for all levels, designed with you guys in mind and to ultimately, set you up for success."

"At Grokker we want it to be a genuinely enjoyable experience from start to finish and that means that we won't ever lock you into a contract. Obviously we want you to stay but we understand that sometimes relationships just don't work out and we want to make the break-up process and painless as possible with no hidden fees or cancelation charges."
So, make that commitment to yourself, change your life for the better! Start your free trial today and begin your journey toward becoming a better you! We're so excited to join you along the way!