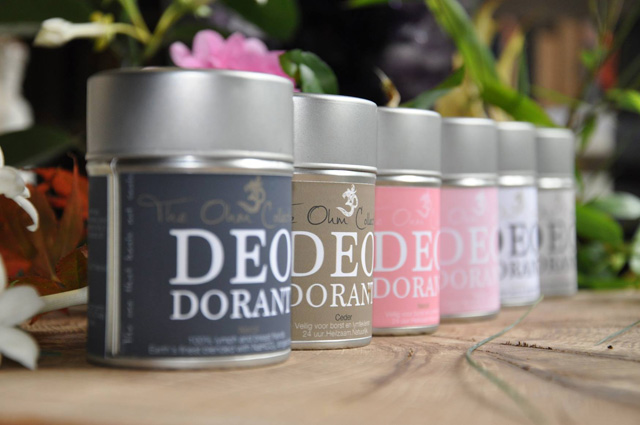 Note: elephantjournal.com received these review items for free, in return for a guarantee that we would review said offering. That said, we say what we want—good and bad, happy and sad.
~
I'm a naturally fiery person—or Pita type, if you speak Ayurvedic.
Alright, I'm basically a sweaty person.
I sweat. Quite a lot.
I sweat in the middle of winter.
I envy people who can look cool and collected both during and after a workout, or a run, or even a fairly energetic yoga class. I am not one of those people. I get rosy cheeks—okay, it's more like a red face. And have I mentioned that I sweat?
This means I've spent pretty much my entire adult life looking for the perfect deodorant. Negotiating the deodorant aisle is something other, less "glowing," women may take for granted—just grabbing what they think smells or looks good or is a deal.
But there's a blessing in disguise here for me. Looking into deodorants to try and find out which one would actually work for me has led me to realise how much toxic stuff is actually in those pretty little containers. So in a bid to eliminate the nasties, I have tried pretty much every natural deodorant on the market. They all failed me. Especially that horrid crystal stuff. I did not do well on that.
So when I was at the yoga show in London recently, hunting down indie, ethically and eco-minded companies to shout about on elephant and get onto our new market, I was sceptical when a friendly guy with a Dutch accent stopped me and started telling me about this all natural deodorant of his.
But once I got to chatting with him, I quickly liked some of the stuff I was hearing.
The Ohm Collection is a couple of young guys who are out to make "Beautiful, effective products that benefit both people and the Earth.  They don't use any chemicals or synthetic substances in any of their processes and their packaging is recyclable (and pretty cool-looking) and is mostly made of recycled materials too. They say they "chose the Ohm symbol to fortify the products and company vibrationally." with the belief that "intention and attention always need to go together, also in products."
So I left with a little tin of their Neroli scented Deodorant.
I started using it the next day. It's a powdered deodorant, a bit like talcum powder, but grainier and slightly stickier in texture. I loved the Neroli scent. I went off to teach yoga feeling pretty fresh. The other thing I liked about it was it didn't get all over my clothes, even though it's a powder, and even though I was teaching in a black shirt. I guess it's that slightly sticky texture but very little of it seemed to be wasted or dropped as I put a little into each hand and rubbed it on each under-arm.
Later, after having taught my class, come home and changed to take my boys out for a Sunday outing, all of which is pretty physical stuff—getting the boys ready even more than the teaching—I noticed I wasn't feeling sweaty. This is big for me.
I fell madly in product-love at first try that day. My underarms had finally met their soul mate.
I've been using it every day since then, over a month ago. I feel fresher, drier and happier that I'm no longer using that antiperspirant which worked better than any natural deodorant ever has for me, but which I really didn't want to use.
The secret they say is the alkalising properties of their special blend of oils and powders, which is cold-pressed. And this isn't even their antiperspirant range, which they do have.
It seems to last for ages too. You only need to use a tiny bit every day and I've still got an almost full tin. Apparently it lasts up to six months.
So not only are my lymph glands happier, my clothes better off and my recycling bin less full of empty deodorant bottles, but I feel more relaxed when I'm teaching and running around, lifting and carrying kids and doing all the things that a working mom of little ones does in a day.
The only thing I learned not to do is put it on after I've shaved. It stings a bit, even though it's natural.
I know I'm going to be getting in touch in five months or so when my tin runs out.
Goodbye deodorant aisle dilemmas! (and good riddance!)
~
Author: Khara-Jade Warren
Images: courtesy of The Ohm Collection