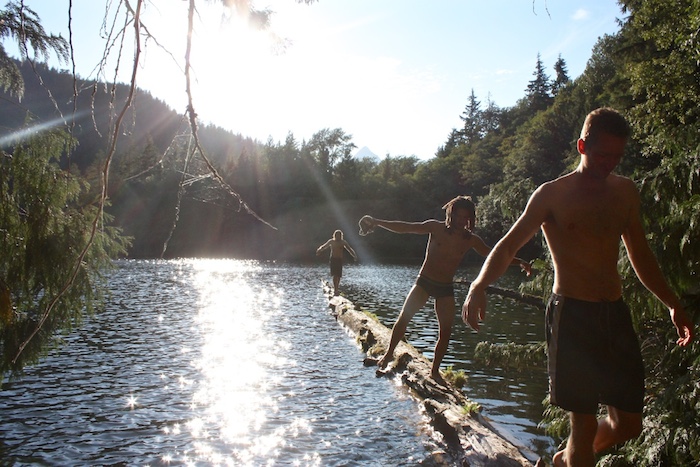 Here we are, another year starts, another year over.
But time isn't real, so I still hold on to all that is a part of me.
January stares at me like misery in it's greyness. December was tough: lots of moving around connecting with loved ones.
It's always a bit confusing, always a paradox. It's difficult to interact when we're put in a box.
Expected behaviours and distant exposures allow us to love but mostly in the context of our own little corners.
In the end it's clear that all that we are exists in duality.
I've destroyed myself a hundred times and rebuilt my mind to adapt to my surroundings. I've sought environments that showed me a human condition I was not exposed to immediately, though places and faces that lived in me organically.
I need more than Suburbia and comfortability. In discomfort comes growth and new understandings. Challenge works best if it comes from the chest. The sickness of cities cannot facilitate full learning. The civil-society lives in a bland materiality and a rigid and linear temporality. Trying to cultivate the spiritual and emotional connections that I feel internally is much harder to do externally. We don't seem to be as in touch with our divine reality over here where the wind blows westerly.  Straight across the Rockies, sweeps through the prairies and pacifies the eastern cities where we build up colonies.
We built a kingdom of concrete on the soil of ancient royals and buried their family's bones in false hopes and stolen dignity. Ripped from them memories—burned stories from their ancestry by destroying the land that harness these teachings. Setting fire to trees and spreading disease, force feeding new stories about sin and repentance. Like spirituality couldn't exist in long houses and round dances. Trauma has been etched into the land we reside.
There's sickness in our spirit, there's sickness in our mind. We funnel toxins from the earth into our lives. We gather too close and crowd where we coincide. We squeeze and cant digest the ways we've multiplied. Nor can we cope with the ways we divide.
Conflict is good when in the end you coexist without forcing the other to submit or resist.
The choice to ignore this chaos is a privilege I was born with. I don't have to see race I can believe in the myth. I can escape from the misery escape from the death. In cycles I return and escape—escape from the cityscape and return to what nature's built; but I return to the city to come face-to-face with my white man's guilt.
The forest is true and lovely but right now my work remains in the city. Responsibility is part of me it burns in me like humility—must rebuild the honour that has been abused and forgotten. White men are not monsters, just broken and rotten. Just like the shrivelled and hardened, add water and watch them soften. I have no choice but to love a white man, I am a son to a father and he is as I am. Courage is having the strength to accept when you've fallen.
Reevaluate your armour, how you swing swords that harbour, violence and aggression like paying the cost for manhood's admission. There are other ways to imagine warrior status, by standing up for what you believe is truth and justice. Remove your armour and stand strong and vulnerable. It's being truly naked that is hard and honourable.
Waves and clouds wash over me, beat me down and love me.
See me and see the ways we've divided society. Work for our collective recovery.
Prosperity is simultaneously depravity and that's not a system I can honour naturally. That's a process we've created along with greed and money.
I see all of this controversy and really just need a community that can hold me. We require communities in vibrant vibrations.
I am here for you let me love you, like salvation.
There is escape from deprivation, but only if we heal ourselves from the misery of colonial integrity.
This landscape breeds homogeneity in the worst kind of illusionary unity.
Let us overcome this contradictory kind of love story—the kind that wants us to be happy irregardless of inequality. Consuming more toxins without knowing the true costs of it. Paying with paper without knowing our labour. This whole dream is Fantasia, we live with amnesia. There's so much to unlearn, so much we forget.
There is deep discomfort inside of my chest.
But sadness is inspiring—it motivates me and is a result of my loving. The fact that I'm upset makes me happy. Being down brings me up, see that's just me feeling.
This is me living the reality of a life in duality.
If it feels like I'm running, that's just me humming like the clouds absorbing and raining. Giving up the parts of me that feed you and make me.
We must remember that life is based on reciprocity and that we don't exist without everything.
Lean into me.
Author: Ryan Avola
Editor: Renée Picard
Image: via the author