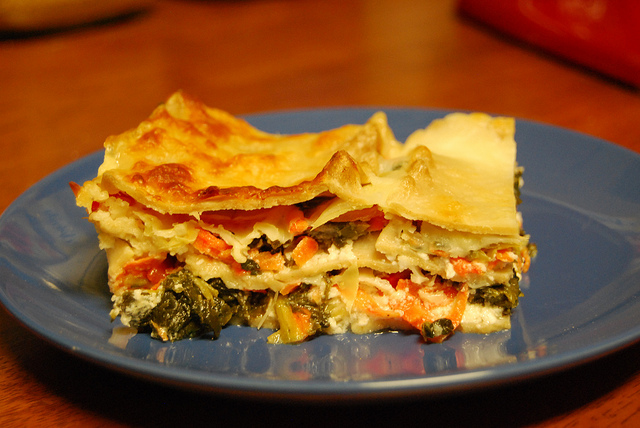 What? Vegan Lasagna?!
That was my response.
I come from a half Italian and half Cuban family—explaining my mindful eating decision to go vegan hasn't been the easiest for everyone to understand.
I love food, and the few things I can truly say that I miss are those comforting home cooked Italian meals my Mom and Grandma used to cook up, taking all day long—sauce simmering on the stove, meatballs cooking, and sweet garlic in the air.
It took me years to come close to my Grandma's meatballs and lasagna. I did get close though, and I pleased many friends over the years with my attempts. Then I went vegan, for my own peace of mind and health, as well as the health of the planet. I could no longer participate in the inhumane torture that is the meat and dairy industry. It made no sense to fight for the lives of "pet animals" but not sweet cows, pigs, chickens, and all the others. So I made my decision and I am happier for it.
I happily suffer the cravings of delicious home cooked Italian meals smothered in meats and cheeses if it means I helped save a life and the planet. Then, this amazing recipe found its way into my news feed one day.
I did a happy dance of thanks to the heavens! A delicious vegan lasagna, oh yes please!
My favorite question to get asked about my diet is, "well, then what do you eat?" And I get to answer, "whatever I want!" and I share amazing recipes like this, to show the world that yes—vegans have food fun too.
So please, I encourage you, try this deliciousness for yourself and share with friends and family. Show the world that compassionate eating doesn't have to be boring!
I followed the recipe exactly my first time, but next time I may play around and modify to my own tastes. Either way—it's delicious and oh what a comfort.
Enjoy!
4 red or yellow bell peppers (about ¾ pound)
4 large zucchini (1½ pounds), sliced on a diagonal about ¼-inch thick
1 large Italian eggplant (about 1 pound), sliced into ¼-inch-thick rounds
1 large onion (about ½ pound), sliced into ¼-inch-thick rounds
¼ cup extra-virgin olive oil, plus more for coating the grill pan
6 large fresh basil leaves, chopped
3 fresh thyme sprigs, leaves stripped from the stems and chopped
2 garlic cloves, minced
1 shallot, minced
Kosher salt and freshly ground black pepper
Herb Ricotta (recipe follows)
2 cups Basil Pesto (recipe follows)
Puttanesca Sauce (recipe follows)
1 pound lasagna noodles, cooked in boiling salted water just until al dente, drained, and rinsed (I use gluten-free)
10 ounces soy mozzarella, preferably Follow Your Heart Vegan Gourmet, shredded (4 cups)
1) Put each pepper directly on a gas burner over high heat and char, turning periodically with tongs, until the skin is wrinkled and blistered on all sides, about 10 minutes. Alternatively, you can roast the peppers using a broiler, turning them occasionally. Put the peppers into a bowl, cover with plastic wrap and let them steam for about 10 minutes to loosen the skins.
2) Pull out the cores of the peppers and remove the seeds. Pull off and discard the blackened skin. Dip your fingers in water as you work to keep the charred bits from sticking. Cut the roasted peppers into ½-inch-wide strips and put in a large mixing bowl, along with any juices that have collected. Add the sliced zucchini, eggplant and onion, tossing to combine.
3) Combine the oil, basil, thyme, garlic and shallot in a small bowl or measuring cup, season with salt and pepper, and whisk to blend. Pour the marinade over the vegetables, tossing to coat evenly. Set aside for 10 minutes so the vegetables can soak up the flavor.
4) Preheat an outdoor grill and coat with oil, or coat a grill pan with oil and put over medium-high heat. Alternatively, preheat the broiler.
5) Arrange the peppers, zucchini, eggplant and onion on the grill or grill pan (if using a grill pan, you will have to do this in batches) and grill, turning the vegetables once, until they are tender and lightly browned and have released most of their moisture, about 5 minutes per side. Or, if using the broiler, arrange the vegetables in a single layer on two nonstick baking sheets and broil in two batches. Set the vegetables aside.
6) Mix together the herb ricotta and 1 cup of the basil pesto in a large bowl. Season with salt and pepper.
7) Once you have the sauce ready, the vegetables grilled, and the filling made, you can start assembling the lasagna. Preheat the oven to 375°F.
8) Ladle about 1 cup of the sauce into a 9-by-13 inch baking dish, to just cover the bottom. Slightly overlap 6 lasagna noodles crosswise so they completely cover the bottom of the dish, with no gaps. Top the noodles with one-third of the ricotta-pesto mixture, spreading it evenly with a rubber spatula. Sprinkle 1 cup of the soy mozzarella over the ricotta. Shingle one-third of the roasted peppers, zucchini, eggplant, and onion in an even layer on top. Repeat the process, layering sauce, lasagna noodles, ricotta-pesto, soy mozzarella, and vegetables 2 more times. Finally, top with the remaining 6 lasagna noodles and sauce.
9) Cover the lasagna with aluminum foil and bake for 45 minutes to 1 hour, until bubbly. Remove the foil and top the lasagna with the remaining 1 cup soy mozzarella. Bake for another 5 minutes, or until the cheese has melted. Allow the lasagna to cool for 10 minutes before cutting into 8 squares.
10) To serve: Divide the remaining 1 cup pesto among eight to twelve plates, spreading it out with the back of a spoon. Set a lasagna square on top.
Herbed Ricotta
4 cups Kite Hill almond ricotta
6 fresh basil leaves, finely chopped
4 fresh flat-leaf parsley leaves, finely chopped
3 garlic cloves, minced
1 shallot, minced
Kosher salt and freshly ground black pepper
1) Mash together the almond ricotta, basil, parsley, garlic, and shallot in a bowl. Season with salt and pepper. The ricotta can be prepared in advance, covered, and refrigerated for up to 5 days before using it as a pasta filling; leftovers keep in the refrigerator for up to 5 days.
Basil Pesto
2 cups fresh basil leaves
½ cup fresh flat-leaf parsley leaves
¼ cup nutritional yeast flakes (see Note)
¼ cup pine nuts, toasted
4 garlic cloves, smashed
½ teaspoon kosher salt
¼ teaspoon freshly ground black pepper
¼ teaspoon red pepper flakes
½ cup extra-virgin olive oil
1) Combine the basil, parsley, nutritional yeast flakes, nuts, garlic, salt, black pepper and red pepper flakes in a food processor and pulse until a paste forms, pushing down the basil and parsley as needed. With the motor running, pour in the oil in a steady stream, making sure it directly hits the blade (this is the best way to distribute the oil and emulsify it evenly and quickly). Transfer to a container. If you're not going to use the pesto immediately cover with plastic tightly.
Puttanesca Sauce
¼ cup extra-virgin olive oil
6 garlic cloves, minced
2 shallots, finely chopped
1 teaspoon red pepper flakes
¼ cup dry white wine
2 tablespoons tomato paste
6 cups marinara sauce (I used store bought this time)
1 cup pitted Kalamata olives, halved lengthwise
1/3 cup capers, drained
8 fresh basil leaves, cut into chiffonade
Kosher salt and freshly ground black pepper
1) Put a medium pot over medium heat and add the oil. When the oil is hot, add the garlic, shallots, and red pepper flakes and cook, stirring, until the shallots are translucent, 2 to 3 minutes.
2) Pour in the wine and cook, stirring, for 1 to 2 minutes to evaporate some of the alcohol. Stir in the tomato paste and marinara sauce and bring to a simmer. Reduce the heat to medium-low, add the olives, capers and basil, and season with salt and black pepper. Gently simmer, stirring occasionally, until the sauce has thickened slightly, about 30 minutes.
Bon Appétit everyone!
Relephant read:
Author: Lindsay Carricarte 
Editor: Catherine Monkman
Image: Flickr/Lindsay Attaway