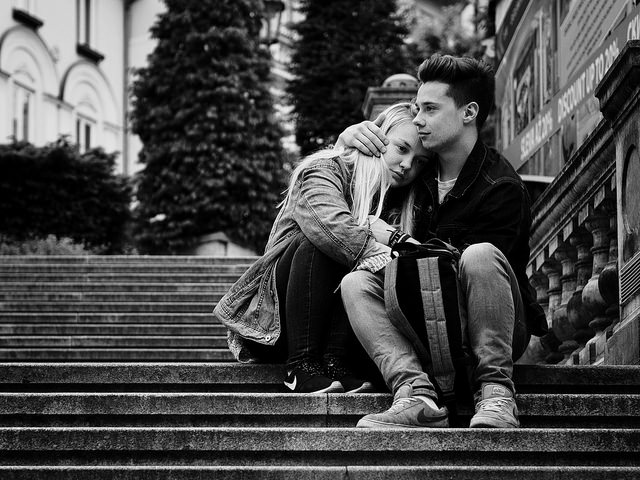 I could have been your first love.
That glance across a crowded dance floor
All those years ago now
Could have turned into magic
If only one of us had the nerve
To say hello;
There could have been slow dances
Our young hearts fluttering madly in our chests
Dances that led to walking me back to my dorm room
A quick, shy kiss as I wrote my number
On the back of your hand.
I could have been your first love
Running into you on campus
Pure coincidence
You'd never wait with your bike
At the first bus stop on campus
Just to see me step down
So you could walk me to class;
No, you would never do that
And I would never get up an hour early
Just hoping you would be there
So you could walk me to class
And still get to yours on time.
I could have been your first love
I could have walked with you for hours
Talking about everything and nothing
Sitting in coffee shops
Helping you with your homework
Because English was never my true major;
I could have stayed up with you
Through all those crazy cram sessions
Over cases of Mountain Dew
And gallons of coffee
Because that's what engineering students do,
And I could have fallen asleep beside you
On that ridiculous XL Twin bed
Night after night,
Cuddled close but never going there
Until we both aced our finals
And swapped home phone numbers before winter break
I could have been your first love
We could have gone skiing at Snow Creek
On our first New Year's Eve
And found ourselves counting down to midnight
In your apartment, all alone,
Because why would we want
To be anywhere else
But ringing in the New Year of 1997
Surrendering our innocence to each other.
Yes, I could have been your first love
And it could have been magical,
But if I had the choice to be your first love
I'd much rather be your last.
~
Author: Sydney Isle
Editor: Toby Israel
Image: Sandra Druschke/Flickr
~