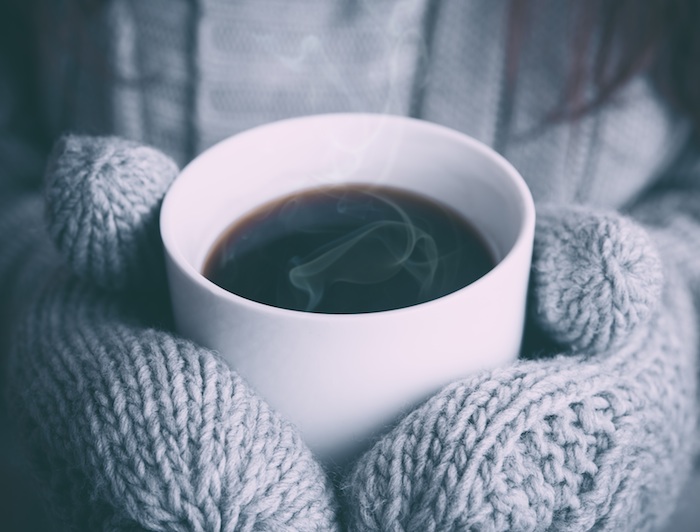 Do you find yourself looking out the window at snow and crying? Do you spend 97 percent of your free time researching job opportunities on Caribbean Islands?
After the pretty lights and holiday parties come to a close, my brain settles into "Ugh, I hate winter." And I grumpily hunker down for the slow cold trudge from January to March.
However, I decided to take a different approach to winter this year. I'm slowly embracing the positives: Fuzzy Socks, Electric Blankets, Hot caffeinated beverages, Onesie Pajamas, Snow Days (*raising hand* teacher here!), Scarves that are not only fashionable but functional, The cute hair-sticking-out-of-your-stocking-cap look.
Here are ways to take that embrace to the next level.
"Hygge" is an attitude prevalent in the country of Denmark, having earned itself the title "world's happiest country." The Danish word doesn't have a direct translation to English, but its basically the concept of coziness. If someone says your home is "hygge," they are complimenting the feeling they get by being there. They are enjoying the twinkly lights and the smells and the feeling of warmth and fellowship. The Danish people purposely engage in creating a cozy and grateful attitude in the winter.
Because Denmark has a lot of cold dark hours of winter, at times up to 17 hours a day. The Christmas holiday season is strong with Hygge. Americans dismiss this approach once January hits. Well this year, my husband has been forbidden to take the Christmas lights down until spring.
2. Go with the "slow."
Ancient Chinese medicine believes that human beings should slow down in the winter. This allows us to live in harmony with the natural cycle of the seasons. The cold and darkness of winter encourages us to reflect, replenish, and conserve. Winter is Yin. I will take this as permission to take it easy. And conserve my energy. Instead of acting on that project I have in my head, I will save it, think on it, and put it into action during the outburst of new life and energy in the spring. I give myself permission to rest.
Yin Yoga is so appropriate for the winter season. It's characterized by loooooong poses, held for 3 – 5 minutes, with the purpose of increasing mindfulness of the sensations in your body. It helps create space to receive gratitude, and compost any feelings that are not your own, feelings projected onto you from others. Gravitate to poses that target the kidneys.
4. Hibernate.
Hibernation isn't just for bears. In winter, we find ourselves wanting to sleep more, eat more, and hole up indoors. Meanwhile, the modern working world often acts as if the seasonal changes are no longer relevant to our lives. We should take a cue from the shorter days and reduce our activities to fit the reduction in energy.
Without feeling guilty, we can allow ourselves time to restore the mind, body, and soul, so we are ready when the days grow longer and the awakening of life in the spring catapults our energy to higher levels.
Vitamin D, the sunshine vitamin, has several important jobs. Not only is it important for normal growth and development of bones and teeth, it facilitates a normal immune system. It has also been shown to reduce risk of multiple sclerosis, heart disease, type 1 diabetes, cancer, and developing the flu—possibly even breast cancer.
How can we get adequate Vitamin D? Well, the number one way is through direct exposure to sunlight, which is of course at a minimum in the winter. Get outside for a 15 minute walk anytime the temperatures are at a tolerable level (for me: temperatures at about 10-degrees higher than my age! Don't skimp on the sunscreen though!)
We can also use a vitamin D3 supplement. My favorite is the Slice of Life gummy brand. They advertise gluten-free, dairy-free, allergen-free, and all natural flavors. There are food sources as well: salmon, sardines, egg yolk, shrimp, milk, cereal, yogurt, and orange juice. Beware of D-Ficiency! Recent studies have shown that 50 percent of adults and children worldwide are Vitamin D deficient!
Turmeric Tea is a wonderful way to warm up and combat those winter blues. After reading the research, this nutrient-dense drink's benefits seem unlimited. Used primarily in India, it is often called "Golden Milk" and is an anti-inflammatory and has proven anti-cancer qualities. Turmeric is also known for its benefits to digestion, immune function, liver health, arthritis, and depression. Its wonderful before bed as it aids relaxation and helps boost the immune system when sleeping.
Here is my personal recipe:
Ingredients:
2 cups of milk (almond, coconut, and other milks can be substituted).
1 tablespoon Turmeric
1 teaspoon Cinnamon
1 teaspoon honey or to taste
Pinch of Black Pepper (enhances the bioavailability of the turmeric
Pinch of Cayenne Pepper
Optional: 1 tablespoon of Cacao, for Turmeric Hot Chocolate!
Instructions:
1. Combine ingredients into a small sauce pan and heat for 3-5 minutes over medium heat until hot but not boiling
2. Simmer on low for 10 minutes. (Allow the heat a chance to enhance the benefits of the Turmeric)
3. Drink immediately.
So no more winter blues (or SAD, or Seasonal Affective Disorder, as many people are familiar with). Pay attention to the cycles of the sun. Engage in healthy sleep habits. Embrace winter, slow down, sleep more, eat well, and demand less from yourself!
Author: Heather Reynolds
Editor: Renee Picard
Image: Padurariu Alexandru at Unsplash