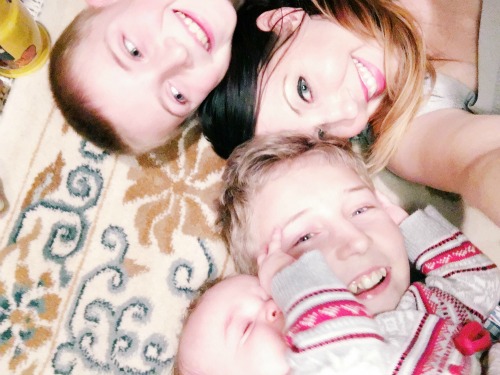 When I had my first child, I remember the inner terror when people would ask me the question, "What do you do?"
I would answer with the rehearsed response, "I am a wife and mom" or something like "I work in the family business."
On the outside it seemed a perfectly legit answer; on the inside I died a little each time I spoke it because it wasn't my truth.
It took me many years, sleepless nights and a life-altering postpartum depression to realize that I had lost myself inside of these answers. The truth was that I no longer knew who I was or what I did because I had given away my power and allowed roles (and other people) to define me.
I was living and parenting from my mind and had lost my ability to connect to my life from a soul centered place. I chose to change this and I did so by making the decision to take back control of my life, and yet completely let go and give up control all at the same time.
It took me leaving every thing I knew behind, including a very successful family business and a ten year marriage to venture out on my own and rediscover how to answer these questions from a place of authenticity.
Ask me today "what do you do?' or "Who Are You?" and my answers are very different than they used to be. They go something like this: I am a seeker and a dreamer. I am a teacher and a student. I am a force to be reckoned with. I am a lover of beauty, a mother to many and a sister to all. I am a spiritual being having a human experience. I choose love over fear and I live with an attitude of gratitude.
I am also now a licensed psychotherapist, certified counselor and Gabby Bernstein coach; a meditation teacher, a speaker, a mom of three children and a wife to my high school sweetheart; however, the difference now is I will no longer lose myself inside of these titles or roles.
This, I believe, is what has transformed me into one mindful, soulful, bada** mom. I stopped living and parenting from my head and began doing everything from my heart and soul.
Here are seven steps that have changed the way I live, parent and lead.
1. Defines new roles.
She is a woman not defined by a title yet she is defining new norms and allowing her voice to be heard. She is creating her own life instead of living one that was given to her and she is shining her light in a big way. She will not be lost inside of a role; instead, she will define new ones.
2. Stands firm in her authentic truth.
She is not afraid to be a thought leader, a soul seeker and a searcher of truth. She stands firm in who she is and teaches her children to do the same. She speaks up and out and does not allow her voice or her light to be dimmed.
3. Embraces vulnerability.
She embraces vulnerability and knows that getting hurt is a much better alternative to not feeling at all. She expresses herself through fashion, feelings, words, movement, laughter and most of all, her story.
4. Tells her story.
She no longer hides behind any limiting belief or allows other people to dictate who is is supposed to be. She makes that decision standing in her own power and she creates a life that she is wildly obsessed with.
5. Celebrates life (including herself).
She knows that she is worth being celebrated and she spends her days celebrating others. She supports the world and she begins by supporting herself and her family. She teaches her children to love and be loved and she does this by modeling it for them.
6. Does not seek external validation.
She does not need anything outside of herself to complete her because she knows that she is already complete. The search for fulfillment in food, relationships, a size or shoes comes to an end and she teaches her children that she is complete and enough and so are they.
7. Shines her light and gives others permission to do the same.
She goes out into the community and as she shines her light and stands in her truth, she gives others permission to do the same. She is small but fierce and wants so much for you to know that you can be too.
As a mom, how will you go forth into the rest of this year answering the question, "Who Are you and what do you do?" When I am asked I will now answer, "I am Heather Regan and I am one soulful Baa** Mom, woman and being and I shine my light in a big way."
Author: Heather Regan
Editor: Renée Picard
Photo: Author's Own