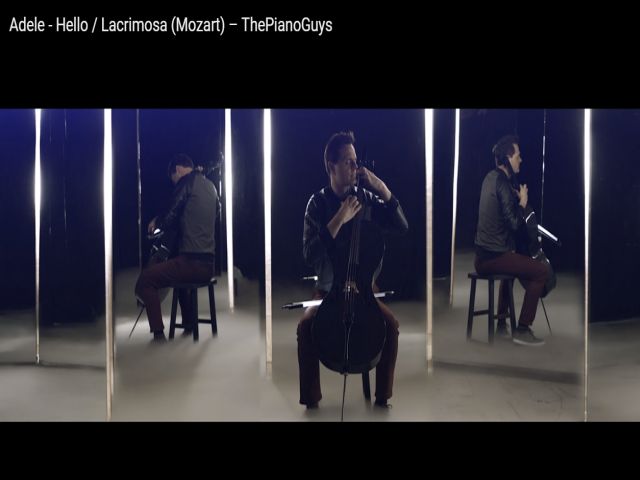 "Hellocrimosa" is a stunning mash-up of Adele's "Hello" with Mozart's "Lacrimosa."
It is the work of The Piano Guys, an American foursome who reinvent current pop songs through a piano and cello interpretation, with some of the great classical compositions mashed in for added wow-factor.
And they do indeed wow!
Uploaded just three days ago, "Chello" (their own nickname for the project—for obvious reasons) has been viewed over 2.5 million times so far and is bound to rank high in your favorite treatments of Adele's massive hit.
They refer to it as:
"A musical experiment bridging 18th century spiritualism and 21st century secularism. Imagine Mozart and Adele in the same room in an intense co-write session, quill and pen in hand, respectively. Picturing this hypothetical hangout helped to spark the creative combination of the two."
They have so beautifully melded the classical with the contemporary—created using 100 tracks of both electric and acoustic cello—that it belies the challenges they faced in this project. If unfamiliar with Lacrimosa (as I was), it helps to listen to it too, so as to fully appreciate the quality of the mash-up.
The Piano Guys explain it as follows:
"As you can hear, both tunes' divergent traits presented challenges. One wallows in a wide, painstakingly minor 12/8 time and the other drives a poignant bi-polar major/minor common time. One draws its power from the fullness of a grand chorus and orchestra, the other from the isolation of a lone voice and piano. One conforms to age-old counterpart canon and musical theory, while the other is conveyed via verse/chorus pop song parlance."
But their painstaking efforts have produced a work of stunning beauty. To steal their own words (again):
[The two pieces] "share the same fundamental feeling — "Lacrimosa" (meaning "weeping" or "tearful") mournfully bemoans spiritual death, while "Hello" gripes about relationship regrets. Different centuries. Different realms. Same emotion. Perhaps we aren't as far from our predecessors as we think we are."
This has been my first introduction to The Piano Guys, but I've been enjoying lots more of their tracks all afternoon. Check out "Chello" below and when you're done, head on over to their YouTube channel for plenty more treats.
Relephant:
.
Author: Hilda Carroll
Editor: Yoli Ramazzina
Photo: YouTube screenshot.