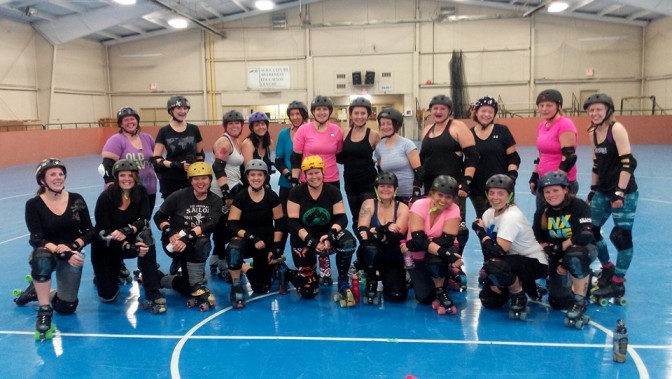 How often do we take the opportunity to experience something for the first time?
When such opportunities arrive do you jump in with both feet or sit on the sidelines?
I recently was presented with this new experience and was stuck somewhere in between, with one foot in and the other immobile. It was with the understanding that opportunities, when presented, give us room to face fears, to learn and to evolve that I began to careen forwards.
In the end, it was this new, wide open space that kicked the other foot into gear and right into a pair of roller skates. It is the mystery that so intrigues me—unknown possibilities that will continue to unravel as I roll forward towards this new adventure.
The much anticipated first night of practice had arrived. A new team was in the process of forming where I live and here I was ready to face fears and evolve! I could hardly sleep the night before—it felt just like the first day of school…way back when.
As we were gearing up, "Crusher" introduced herself to us beginning with how she had been injured at a "bout" and explaining frankly that "we would get hurt!"
In that moment, I was tempted to roll right out of there! But how does that saying go—no pain no gain?
So I continued to gear up and then sat there holding my mouth guard wondering what I was supposed to do with it. I had never worn a mouth guard before, so I couldn't quite grasp how this flat disc was supposed to fit around my teeth.
Back into my bag it went. I crossed my fingers that I would not knock my teeth out on this night.
Then my wheels hit the floor and I wavered as I searched for balance—then when it came, I was a superstar!  Suddenly I felt like I had travelled back in time to Saturday afternoons in the 1980's, roller skating around the disco glow lit rink, gliding to the tunes of Loverboy, Rick Springfield, Billy Idol and Survivor.
I quickly learned that this was not to be an evening of reverie. The disco days ended as we were all called to meet in the center. There was work to be done!
As the women gathered around I realized that I was no spring chicken amongst this group. Was this call to grow and evolve a mid-life crisis in disguise? What was I thinking?
Snap out of it I told myself. It didn't matter that I was this forty to fifty something year old  who had this grandiose image of being fit, fabulous and flattened! In that moment I vowed to not let perceptions of age hold me back. How often do we do that? Consider ourselves too young for this or too old for that? If we can stop judging ourselves and what we are capable of based on chronological age, then the sky's the limit! Or in this case—the roller Derby rink!
The first thing we were taught that evening was the "derby stance." I knew my years of tree planting throughout Canada's great Northern Wilderness would pay off! The trick is to squat down just so—enough so you don't pee on yourself but not so far down that your butt gets pricked on stinging nettles.
As the practice continued, we learned "T-stops," "the plow," "crossovers," and "falling on your knees" (I was pleased that the knee pads worked so well). There were a few tumbles throughout the night and though I was able to save myself this time while flailing ever so gracelessly, I know that I'm not immune to the bruises that I will proudly adorn.
I'm all ready for the second practice! I've learned a thing or two about mouth guards and already there is a comraderie amongst these women rolling around together for the first time as chats of fundraising, social events and "derby bouts" light up my phone between practices.
This call to explore the unknown has created a new energy that I'm wide open to experiencing!
Author: Katherine Czerlau-Lima
Editor: Renée Picard
Photo: Author's Own