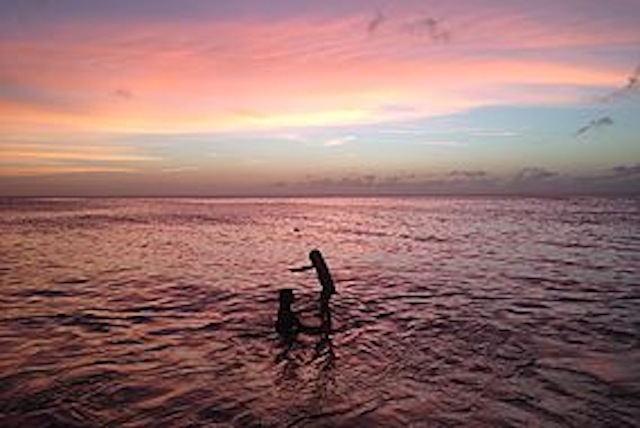 As a young girl, I never doubted my ability to swim in the ocean.
Growing up with parents who moved closer to be near it, a brother who travelled far and wide to surf it, and a sister who could swim for miles, the ocean became the very heart of our family.
Our weekends were centered around the water and vacations were taken every summer to our second "home" down in Frisco, NC. We lived and breathed for water. We pretty much still do.
After following my family, who has for so long followed the waves, I settled down on the North Shore of Oahu to live closer to my brother, his wife, and their three kids. I watch them raise my niece and nephews in a beautiful, innovative way—rooted in the natural world and yet transcendent of old ways. They oftentimes, teach me.
It is not through my writing about it, ironically, but through my direct experiences that I can't help but want to conserve the waters that have been so deeply etched into my heart. Catching a wave to me is like riding into a timeless place. It is untouched and unseen until a person knows it for themselves. My dad and my brother taught me this.
I have a mom who cleans the beach daily, picking up trash, reminding me that it's little things daily that can create a ripple effect. She also moved to be close the water. There is no doubt in my mind that the negative ions found by the ocean can significantly decrease a person's stress levels.
I have a sister who is one of the most prolific writers I've seen and was a quick swimmer in high school. I believe her words are inspired by the water and her inner fire. Even as a teenager, we all sensed she had this gift. She could look at tough things and has a heart that can embrace people who others might not have the patience for.
After a whiplash injury, my sister-in-law suggested floating in the ocean. I had tried acupuncture, massage therapy, pretty much everything, but it was the feeling of being held up on the surface of the water and in the sun that ultimately healed my neck. It was then that I recognized that the ocean is meant to be in communion with, that it will be there for us, if we are there for it. My sister-in-law taught me, above all else, to trust in the flow of life.
All people, in one way or another are impacted by the coastlines. The question at this point in time is, how do we, as a people, make an impact? The body, that is made up of mostly water, is the same as the earth. Knowing this, how can a person best utilize their skills to innovate new ways to assist in healing the ocean? Taking care of the ocean is taking care of the self. When someone knows this, on a visceral, experiential level then how can they not be called to act?
There is a place I visit now with a massive banyan tree and I am reminded every time I walk by it, that just like my own family tree there are many roots to be passed down. We are all an extension of the natural world and the more we sense it, the better the chances of taking care of it.
It is, in large part because of my family, that I now know what it means to preserve the heart. I remember what they taught me everyday and because of that I paddle out a little further, and connect with people who either remind me or could use the reminder of why we are here and what the ocean means to each of us.
So, whether it is teaching a kid how to surf or picking up a plastic bottle that has washed up on the shoreline, a person is not only conserving the ocean, they are preserving the heart of the world for future generations down the line.
~
Author: Kristin Klein
Editor: Travis May
Photo: Author's own, Flickr/Alexandra Bellink