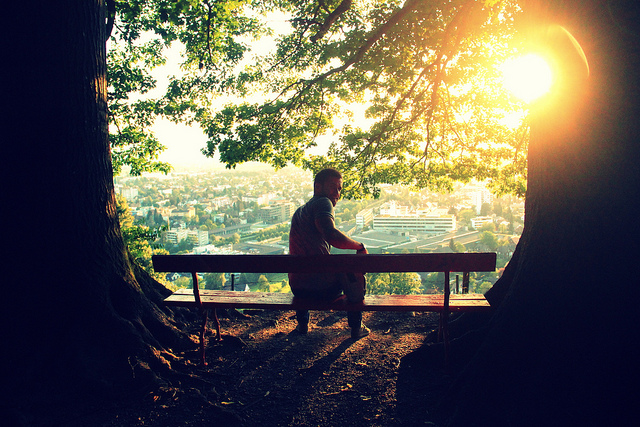 Today I cried making my coffee.
I cried because you're not here.
I cried because my heart aches to feel your arms wrapped around me.
I cried because the enormity of my emotions terrifies me.
I cried because I miss you and I know you don't miss me.
I cried to release some of this pressure so I could breathe again.
I cried because my coffee went cold.
And every part of me still wants you. Every part of me wants to breathe you in once more and gently run my fingers down your spine. I play moments over in my head and I can see the sparkle in your eyes and the shake of your shoulders as you laugh at something I said.
But it's time—time to release myself the way you have already released me.
Right now, this feels impossible. The thought of not thinking of you baffles me, but I've been here before. I've been completely vulnerable and had my heart broken, even if you don't believe that for a second. I've felt my chest cave in and my world spin and I've been petrified that the feeling will last a lifetime and that the constant ache will never relent.
But it did, and it will this time as well.
So today, I am releasing myself. I am being kind to myself. I am allowing myself to feel everything that comes to surface and letting that feeling stream down my face as I make my morning coffee.
I am being okay with my own vulnerability, and I'm no longer blaming you for not being okay with yours.
I want to say that I think of you and send nothing but positive, loving thoughts, but it's too soon. Instead, I will think of you and feel my chest ache. I will think of you and wince a little as I feel the coolness of the sheets next to me. I will think of you and remind myself that it was real. I will think of you and thank myself for taking risks. I will think of you and acknowledge how brave I am for being vulnerable. I will think of you and love myself in the ways that you didn't know how to.
I will think of you and release myself.
Releasing you, and with that, the idea of what could have been, might be one of the hardest things I've had to do. But it's easier knowing you have already released me.
I'm the one holding on. You are free, and I want to be free too.
And in all of this, we have to be kind to ourselves. There will be days that the thought of you consumes me, but there will also be days that I won't think of you at all.
One day you might be ready to share your life and your heart with someone, but as I release you, I also release the idea that it could be me.
Let's promise to be gentle with ourselves, to love ourselves through the hurt and to never stop being vulnerable.
Because one day someone is going to enter my life and share his heart with me and nurture my precious heart as I share mine, and all of this will be worth it.
So today I'm telling myself to take a deep breath, trust, and release.
~
Relephant reads:
~
Author: Skye Hughes
Editor: Khara-Jade Warren
Image: Elade Manu/ Flickr
~