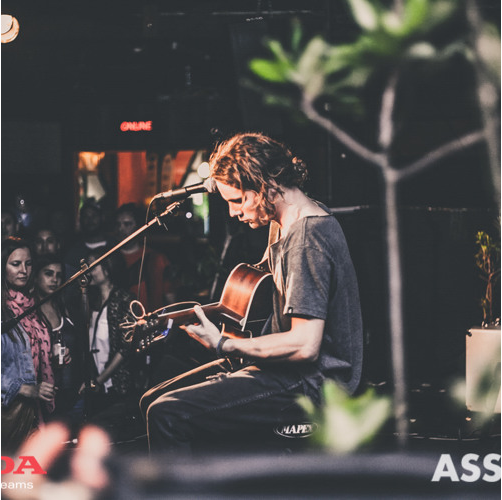 **Author's Note: I don't write solicited reviews. If I'm taking the time to write about music, it's because I really, seriously love it.**

~
I don't think I've ever been to a place where so many people were dressed like me.
Long skirts, feathers in hair and felt hats abounded. No, it wasn't a festival—it was a Wednesday night in Cape Town, South Africa.
The small venue was filled to capacity for Cape Town native Sean Koch's concert. Air was scarce and the line for the bar unmanageable, but spirits remained resolutely high. Then again, with the music on offer, "a fusion of alternative folk, naturally blended into a foot-tapping, fun-loving country surf style," how could the mood be anything else?
Cape Town is a small world kind of place. Every other person I meet here seems to know someone I know—and I'm not from these parts. After a new friend introduced me to Sean's music several weeks ago, I happened to meet several other people who knew him too.
Now, I can't get these songs out of my head.
Fans new and old converged on Cape Town's infamous Long Street Wednesday night to celebrate the launch of Sean's debut EP, Natural Projection; I have rarely felt so at home in a bar full of strangers.
There was something subtle in that room, difficult to define, yet utterly exhilarating.
Was it the djembe rhythms that spoke of freedom and joy?
Was it Sean's infectious good humor that leapt from the stage to the crowd like wildfire?
Was it the self-proclaimed "country surf style" and "smooth guitar riffs" that had my body swaying of its own accord?
Yes. All of that. And more.
Lyrics like, "Good times keep rollin', nobody can control them but you," "I wanna flow like the birds up in the sky," "I'm gonna pack up all my things and road-trip through the night" and "Your mind is a picture and it's too hard to frame" spoke directly to my wandering soul, and I wasn't alone.
Have a listen. This music is sure to rock your February—and maybe your life!
~
~
Author: Toby Israel
Image: Soundcloud
~