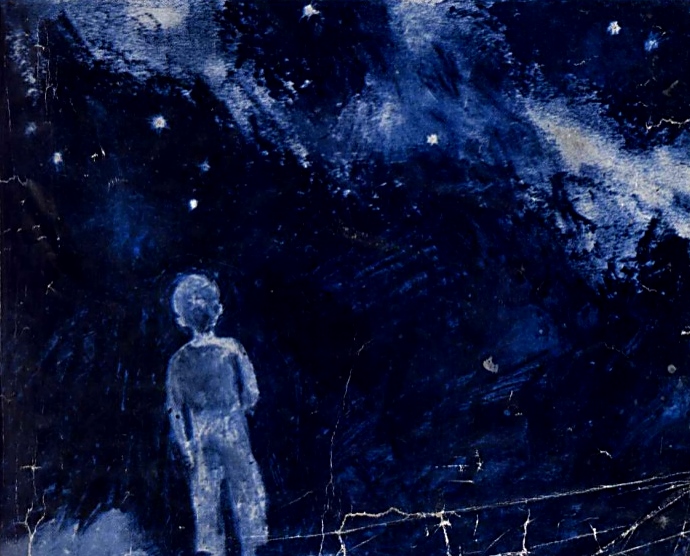 "Just think about it, mom. In a couple years, I'm going away to college, and then you'll be on your own."
The room erupts in laughter and I think, isn't that just like my son. He's typically the center of attention, though that is rarely his goal. He's one of those wise old souls, with deep Pisces waters stirring behind wide chestnut eyes.
It's hard to choose his best quality, as he seems to be all the best parts of his father and me. To describe him simply, he just has "it." That X factor thing—a quick wit, charisma, intelligence, compassion, kindness, drive, humility, and the looks.
Certainly, I'm biased—but there's something special about him.
He was trying to talk me into getting a handgun that particular day—something I have no intention of doing. I've never even held a gun. The Buddhist part of me cringes at the thought of it. But, he knows that soon I will be without him, and he worries about me.
Four years ago, my baby boy became the man of the house when his father and I divorced. He was only 12 then. My tender-hearted little love struggled to make sense of everything as his whole world changed. When the illusion of picket fenced perfection was taken from him, along with it he lost his innocence, a piece of his identity, and the safety of our family unit.
As the dust settled on our new life, my child took on a new role. He was the baby no longer. Suddenly, he became the catcher of the spiders, the reacher of the top shelf, and the carrier of the heavy groceries. He settled into his new role with ease, always watching over his sister and me.
It broke my heart to learn that my child slept with his baseball bat, "just in case." Without the protection of his father in the house, he had placed himself in charge of our security. I'm a firm believer that children should not be tasked with grown-up responsibilities. But, in the chaos of tearing down and rebuilding my life, I didn't see that he carried the weight of the world on his young shoulders.
My son watched as his family fell apart. He felt my grief as his sister left the nest and went away to school. He watched me navigate the most challenging years of my life, sometimes very poorly. But also, he has watched me discover myself, find my path, and embrace my life in a new and wonderful way. We have come through the fire together, our relationship galvanized in honesty, trust, and mutual respect.
What can I say to my son, to ease his worry? How can I convince him that I will survive when it is time for him to go out into the world and make his own life?
This is my prayer:
Lay down your burdens, my prince. The battle is won. You have fought well, and as always, you have made me proud. There is no need for worry now, sweet one. The storm has passed, and we are safe.
Have you forgotten that you were born of a brave warrior queen? There is no challenge too great for me. I know my power, and choose my battles with care. A thousand angels watch over us, always. Cast your armor aside, and take solace in their wings now, my love. It is time to rest, time to dream.
Turn your cares from the dangers of the world, and focus instead on your goodness. How will you choose to share your perfect light? What do you dare to accomplish with the many gifts you've been blessed with? Remember that all the power in the universe resides inside you. Even on the darkest night, you are never alone.
When you remember the storm and the struggle of it, please look back in gratitude. Just as storms come to cleanse and nourish the earth, they must come to change the landscape of our lives. Look for the rainbows, and trust always that the winds come to scatter seeds of opportunity for us. Without the rains, how can they grow?
Remember that even in my brokenness, my love for you is bigger than the harvest moon, and more infinite than the summer stars. Nothing in this world could ever change that, my darling. Just as no amount of time, or distance could ever separate you from me. My blood is your blood, and our hearts once beat together within the same human shell. Certainly, our spirits are bound eternally.
Please know that when you leave this space, I will carry on. My tears will be my gift and my prayer as you go out into the world to find your way. Trust that all will be well, my child, and it will be well. There is no time for trouble. Only celebration and joyous anticipation of what's to come.
You are destined for greatness, dear heart. The Earth is your kingdom. You can be, do, and have all that you choose in this life. You need only to pursue it in gentleness and authenticity. See with your soul, listen with your heart, trust your intuition—and you'll never be led astray. Find your path and follow it passionately, my son. The world is waiting for you.
Convincing my son that I will be fine "on my own" may be an impossible task. I'm learning that in the same way that I love, nurture, and protect my children, they love, nurture, and protect me.
I never intended to become a single parent, and certainly, it has been one of my greatest challenges in this life. But, being a single mom has ultimately allowed me all the space I needed to be the kind of mother I always wanted to be. The more authentic I am in my relationship with my kids, the closer we are.
Convincing them not to worry about me is as unlikely as convincing me not to worry about them. Though it pains me to know that my children grew up too soon, I am grateful for the difficult times.
It was in our struggle that we found our strength, and truly came together as a family.
Author: Renee Dubeau
Editor: Emily Bartran
Photo: Filipov Ivo/Wikimedia Commons