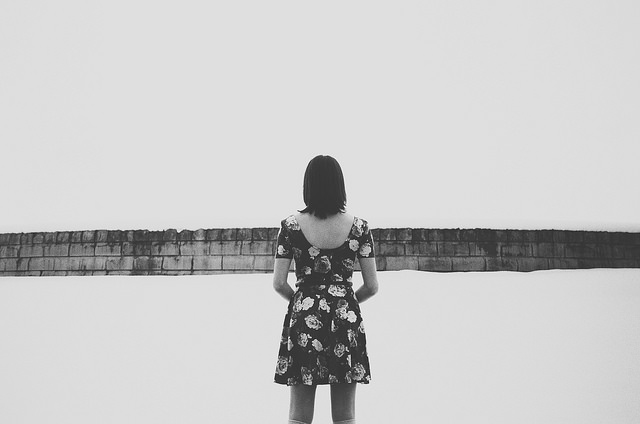 **Warning: Strong language and themes ahead!**

~
To the women like me. To so many of us. Who still don't understand it.
Who have thoughtlessly been told by those around us not to speak of it. Not to feel it. Not to cry, scream, joke, laugh and pull our hair out from it.
Not only to all the women who know that society is lying when they say they love us, they'll care for us, they will help us and hold us when things go wrong, but also to the women who say a giant fuck you—
I'll hold myself up high, I'll fix myself over time, and I will cry. I will scream; I will talk in public about it without lowering my voice to a whisper, because in Australia alone a third of women have had an abortion. Seventy percent of these women feel that they had no alternative.
To all of you who have been poked and prodded, twisted and turned raw. Who have bled and shed while you toppled over with pain, distressed and unsure how something that is supposed to bring you so much joy can cause you so much pain—
I am like you.
I was lucky. I am in love. In one way or another, the little egg that latched onto my insides was produced and performed into my body out of love—not out of force, out of neglect or out of believing I owed someone something.
However, in some ways, that made it harder to believe that this was not the right thing for me when I saw those two little pink lines light up on the white backdrop like a bite from a bull ant sure to welt.
I am young.
But I am not so young that I am still a baby myself. I don't believe in society's standard of, "Well, once you have a baby you can wish your life away." And over the past two years of my life, whilst traveling on no money, I have often wondered what I would do, how I would handle the situation if I were to fall pregnant.
Every time in the past—before last September—in my mind, I had kept it. But reality is different from the stories we make up in our heads.
It was do-able. It would have been born into love, and in the end, it would have made me and my partner so, so happy.
However, my heart ached for more; my selfish self wants more right now. A sunset over the mountains in Rishikesh while I sip chai after a yoga class. A three-month hike across Spain's El Camino with nothing to worry about but myself and whether my feet will blister.
A baby, or a very pregnant me, was a little less ideal. A free, un-swollen, 23-year-old me would be much more inclined to go through with said motions.
I fought hard with myself, with what my body was telling me was right, natural and beautiful. Six months on, I still feel so much pain—so much, for lack of a better word, regret for the decision I made—that sometimes I still cry myself to sleep.
I listen to certain songs that I listened to when I went through that whole transition, and I think about how that fetus will never hear the lyrics—the lyrics that somehow sound like they were written for him or her.
I cry. I tell my partner I'm sorry for crying. That I know we made the right decision, but that I need to be sad. And I am lucky that he understands, that he can accept my anxiety and my full sadness over it.
It was all I wanted to talk about at the time. And I felt trapped and alone, even though I had incredible support from the man who was going through it with me.
To those having to go through it alone, from an experience forced or controlled, I salute you.
You feel no one quite understands. I feel no one ever will.
A baby.
A baby is something I have known I will want since I was old enough to walk. I have my future babies' names written down in my journal. I talk about it on a daily basis with my partner.
And on days like today, I cry for the baby that was miraculously starting to evolve in my tummy—that I had to decide was just not ready for the world yet.
And I am not alone.
~
Relephant Read:
~
Author: Natalie Frizza
Editor: Toby Israel
Image: Holly Lay/Flickr
~