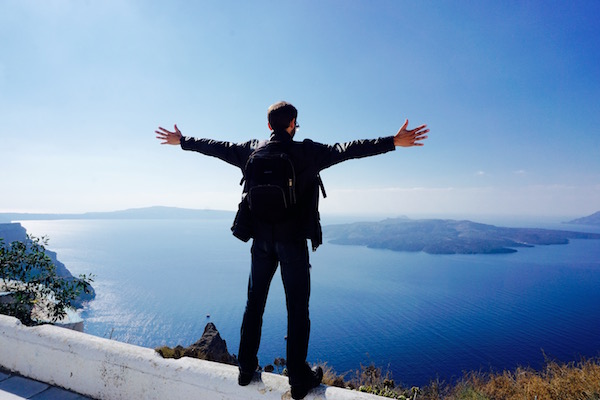 Donald Trump running for president was funny at first and I remain entertained by his speeches so much that I can't tell a
Saturday

Night Live skit or Jimmy Fallon impersonation from the real thing.

Oddly enough, there isn't much of a difference. The Trump campaign has provided America with the most entertainment and drama since season one of Survivor.

However that is all that he provides—entertainment.

I will consider voting for Trump if he submits his debate videos to America's Funniest Home Video but I cannot and will not vote for him to lead our country as the next president of the United States of America.

I've been traveling around the world for the past six months and anytime I announce that I am from the United States I get the same question, "What do you think about Donald Trump?"

As you might expect, I have yet to meet anyone abroad that supports him. Some take him for a complete joke and others are mortified that he is even allowed to be considered a candidate.

I admit that I am underqualified to discuss politics and misinformed rants on social media are the last thing I wish to contribute to. However, since Trump is so clearly underqualified to be a presidential candidate I thought it would be helpful to provide a rescue boat in the case that Trump is elected into office and sinks America.
Here are five ways to leave America if Trump becomes president:
1.  Move to Europe to become an Au Pair
If you are looking to experience a new culture and lifestyle and in the meanwhile helping a family in Europe then moving abroad to become an au pair might be for you. It is perfect for young adults that enjoy doing childcare and light housework in exchange for room and board, pocket money and an experience of a lifetime.
I only recommend this if you genuinely enjoy spending time with kids and helping out around the house. It can be hard work but the reward will be worth it for the right individual. For more info check out Au Pair Europe.
2.  Teach English Abroad
This is the most popular opportunity for people to see the world while earning money. Some of the most popular cities to teach English abroad in 2016 are Vietnam, Thailand, South Korea, China and Spain. This is a brief overview because there are so many opportunities in big and small cities around the world. In countries like Vietnam, you have the potential to save over $1,000 USD per month while living quite comfortably.
If you are a native English speaker with an American accent then you are already qualified. If you have your Bachelors Degree then you will have no problem finding a job and finally, if you have all of the above and a teaching certification such as TEFL, TESOL or CELTA then most countries will be throwing money at you to teach. The ability to earn enough money to comfortably live abroad while saving over $1,000 each month is just icing on the cake to learning a new language immersed in a new culture. Check out Dave's ESL Cafe for more details.
3.  Move to a Tropical Paradise
There are so many people who don't travel because they think it is too expensive. That's only true if don't make an effort to budget your travels. You can get a private bungalow on a beautiful clear water beach in the South of Thailand for $12 a day. Between food and daily expenses you can live like a king for under $30 per day. In fact, I am writing this from Koh Lanta, Thailand—a beautiful tropical island that I've been spending less than $20 per day for the past week while dining on fresh seafood and coconut infused drinks.
Living in paradise doesn't mean you have to dip into your savings account either. You can work from your laptop or get a job in the local community. Services like VIP Kid start out paying their teachers $16 per hour to teach English on Skype to children and adults in China. After a few months you can be making over $20 per hour. Spend a few hours throughout the week and not only will you be breaking even but you can even stash away some cash.
4.  Work One Year in Australia or New Zealand with their Working Holiday Visa
Australia and New Zealand offer a working holiday visa to foreigners under 30 years old. This is a great opportunity to see a side of Australia that backpackers passing through will never see. You can work on a vineyard harvesting some of the worlds finest grapes, lend a hand with scuba diving companies near the coral reef or be a bartender just about anywhere.
The visa allows Americans to spend one full year in their choice of Australia or New Zealand earning money like a local. This is your chance to really experience what it is like to live like a true Aussie or Kiwi. You can find full details on the Australian Working Holiday Visa here and info on the New Zealand Working Holiday Visa here.
5.  Become a Gypsy Pirate
Okay, not a traditional Jack Sparrow kind of pirate but you can work on a boat and travel international waters while getting your scuba diving certification. Typically you would start by learning the ropes and being a helping hand on deck to earn your stay. Over time, you will learn about scuba diving, boat maintenance and, if you are ambitious enough, you can even become a certified boat captain.
My friend has been sailing around the world for the past five years and has seen parts of the deep ocean you will only see in a James Cameron film. In that time she has become a certified scuba instructor, boat captain and all around bad ass world traveler. Her occupation reads "Gypsy Pirate" which couldn't be more accurate.
Now don't get me wrong, I am a proud American and believe it is the best country in the world. The irony with Trump supporters waving their American flags around is that everything Donald Trump stands for is the complete opposite of what the USA was founded on.
Voting for Trump couldn't be any less American.
There is no doubt that he is a successful business man but that has very little to do in terms of presidential qualifications which ironically seems to be one of his biggest advantages. Trump supporters are tired of the way the country has been led by politicians in the past and they are ready to chuck a Hail Mary down field to see if radical change is the answer.
If you look past his poorly crafted speeches you will see that all of his points lack any real substance, coherence or rational thought. The next time you listen to Donald Trump, I want you to focus intently on his language. Pay close attention to his choice of words and delivery method. Notice how they drastically differ from the other candidates.
Instead of crafting well articulated speeches to answer questions and provide real solutions to the problems facing America today, he uses a completely different tactic. Trump ignores the fact that his offensive words will be used against him because he isn't selling rational ideas like the other candidates. He is selling the American people a feeling.
When asked a question, you will find Trump consistently does three things: he repeats himself a lot, uses simplistic negative vocabulary to induce fear and he makes racist and offensive comments to draw attention away from providing a relevant response.
I'll admit, he can deliver one heck of a sales pitch and really stir up emotions by focusing his efforts on stoking a feeling derived from fear and hate. But Donald Trump is not well informed on international policy and he has failed to prove his qualifications to run a country since the beginning of the election.
Any skilled businessman can sell you a car without actually knowing anything about it and that is exactly what Trump has been doing since day one. He isn't selling the American people on his intelligence or ability to run the country, he creates a feeling that grabs attention and uses it to his advantage.
I thought this comical nightmare would end before it even started but if "The Donald" has made it this far in the presidential race, then it is time to do my part as an American citizen by standing up for what I believe in.
I am currently traveling in Southeast Asia for the remainder of the year but that doesn't mean I am going to sit back and do nothing. In a world so tightly connected by the internet, I can be as involved with this election in Thailand as I could from my living room in New York.
There is still plenty of time to take action and actively learn about all of the candidates to make an educated decision when it comes time to vote in our new commander in chief. I am confident that the closer we get to election day, the more difficult it will be for Trump to use smoke and mirrors to deflect attention away from his inability to provide a dignified response.
If you find yourself tuning in each week to watch Donald Trump's campaign the same way you did with Jersey Shore then maybe you should ask yourself, why is that? When it comes time to vote, please understand the impact it will have on your daily life and the future of our nation. Your effort goes a lot further than dialing in to vote for your favorite American Idol.
I believe there is a slim chance of Donald Trump being elected president of the United States of America but the sheer idea of it is entertaining, yet utterly terrifying at the same time. In either case, it is best to have a contingency plan for the worst case scenario.
These five ways to leave the country if Trump is elected president are all legitimate options to travel and live abroad but don't look at them as an excuse to run away from America if Trump grabs hold of the steering wheel. Look at it as my comical twist on a most serious topic. The same tactic used by Donald Trump himself.
The beauty of our country is that every person can make a difference. Get absentee ballots, donate money, invest your time and vote in every election. America has always been great because the power is in the hands of the people.
How will you choose to exercise your rights this election?
~
Author: Rocky Vitali
Editor: Katarina Tavčar
Photo: Author's own